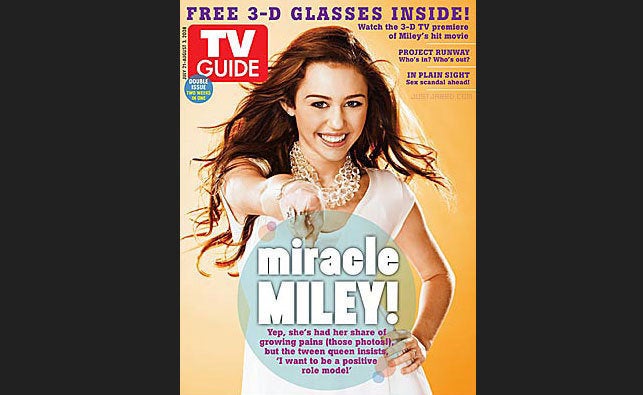 Hannah Montana star Miley Cyrus talks to TV Guide in their upcoming issue. She talks about God, her new album, her 3-D movie, and the seven things she can't live without.

On what she'd like to work on in the future: "I'd love to do a younger, cleaner version of Sex and the City."

On her controversial Vanity Fair photo spread: "I don't dwell on the negativity. I want to be a positive role model, so we just try to keep [that stuff] as much not talked about as possible."
On her 'sudden' fame: "It was insane. All of a sudden I woke up one day and went to Macy's and saw myself on a T-shirt. I feel empowered when I see my face on a T-shirt. A girl wouldn't be wearing a shirt with me on it just because she liked my show. She must look up to me."
On her love for God: "I don't know what I would do without a God that blesses me with the ability to do this."

On wearing a purity ring like fellow Disney stars the Jonas Brothers "I like to think of myself as the girl that no one can get, that no one can keep in their hand. Even at my age, a lot of girls are starting to fall and I think if [staying a virgin] is a commitment girls make, that's great."

The seven things she can't live without in honor of her latest single, "7 Things": 1) "The Bible. It's my 'how-to' guide for life." 2) "My mommy!" 3) "My Yorkie Roadie and my lovebird Zazu." 4) "Grilled cheese. Mmm..." 5) "Music and my beautiful Gibson guitar." 6) "My black Chuck Taylor Converse sneakers." 7) "My Sidekick."
The TV Guide July 21st issue is on newsstands Thursday, July 17th
Popular in the Community