We already know that Miley Cyrus was somewhat miserable during her "Hannah Montana" years, but apparently she was miserable and underpaid. 
As part of newly released excerpts from her cover story for Elle's October issue, the former Disney princess describes a set of experiences far too common for women in the industry. You know, the gender pay gap, having no ownership over your own material, being taken complete advantage of, etc. 
"I did not grow up spoiled in any way. I just wanted to be on TV. I mean, at one point — they'll probably kill me for saying it — I was probably the least paid person on my ['Hannah Montana'] cast because I didn't know any better," she told the magazine. "I was just like, I can be on Disney! Yeah, I want to do it!"
If that 40-year-old who played Miley's teenage brother was making more money than her, we are officially living in the darkest timeline.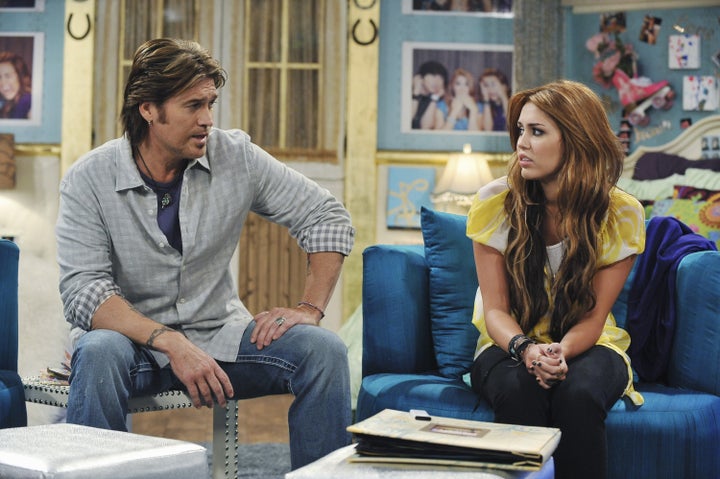 Before shattering her "good girl" image with a tongue wag and a twerk, Cyrus starred on the popular tween series for four seasons and did a feature film, but her time with Disney was hardly ― to use a phrase ― the best of both worlds.
Being in the spotlight at such a young age gave Cyrus body dysmorphia, she told Marie Claire in 2015, as well as intense anxiety attacks stemming from pressures to always be "pretty every day for so long."
Luckily, the singer slowly started to regain control of her voice with the help of her mother (um, paging co-star/father Billy Ray), which helped her transform into the happy hippie we know today. 
"My name was Miley on my show, but I didn't own my name — we didn't think about that," Cyrus recounted. "Like, yeah, you can use my name on your show, sure! My mom started understanding how many people take advantage of a child, so she hired smart people to protect me in that way. I'm happy that when I was younger, people protected me and put me in a position where I can now control my music."
All of this is besides the point, right? After all, Hannah Montana is "dead." Long live Miley. 
To read the full interview with Cyrus, head over to Elle. 
REAL LIFE. REAL NEWS. REAL VOICES.
Help us tell more of the stories that matter from voices that too often remain unheard.
BEFORE YOU GO
PHOTO GALLERY
Miley Cyrus' Most Outrageous Outfits