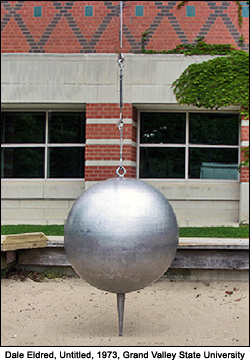 Few people in the United States are oblivious to the Miley Cyrus VMA twerking performance that took place on August 25. Her mild provocation proved effective in scandalizing many who have not yet come to terms with the fact that contemporary pop culture is an expression of juvenile sexuality. Ms. Cyrus' latest "strike," however, is not so much her doing, as the consequence of her fans' intrepid enthusiasm. Only this time, the perceived offense is not against some nebulously-defined conservative sentiment, but an actual public artwork, the 1973 "Untitled" sculpture by the late Dale Eldred (1933-1993), which was co-opted by a handful of Grand Valley State University undergraduates as a prop for reenacting Miley Cyrus' latest music video "Wrecking Ball."
To be fair, Eldred's "Untitled" was a chance casualty, its only fault being an oversized pendulum, close enough in appearance to a wrecking ball. Complete with a sturdy metal chain, the "Untitled" was perfect for Miley Cyrus role-play, as it gave the students a chance to swing and sway in the raw, just like the starlet did in parts of her video that has grossed 163,847,247 YouTube views as of this writing. The students' renditions did not go viral as did the original, but still attracted enough attention from the university authorities to bring about the removal of Eldred's sculpture in the bid to put a stop to more swinging tributes.
When approached by the press, the GVSU Facility Services cited safety concerns as the reason for their decision to remove the sculpture and place it in storage indefinitely. The students, peeved by the confiscation of their newly discovered plaything, complained. According to a September 17th article in The Guardian, they gathered at the sculpture's former site to protest its removal but "officials [did] not appear to have been moved." The protest, needless to say, had nothing to do with the recognition that removing a site-specific artwork from its site is tantamount to its demolition; rather, they took issue with the administration's encroachment on their right "to have fun," as one of them, Rya Northrop, told the Grand Rapid Press.
So let me address the overlooked issue of the removal of Eldred's site-specific sculpture, and the implications of this removal.
Some two years before Miley Cyrus was born, in January 1990, the artist Richard Serra gave a very fiery lecture at Yale University on site-specific sculpture. Serra's take-no-prisoners attitude was prompted by the destruction of his post-minimalist site-specific sculpture "Tilted Arc," commissioned in 1979 by the United States General Services Administration Arts-in-Architecture program for the Foley Federal Plaza in Manhattan. The wall-like sculpture was constructed in 1981, but was eventually removed following a prolonged public debate. Some 1,300 local employees, finding it cumbersome to navigate around the 120 foot long structure on their way to their lunch trucks, signed a petition for its removal. Despite the overwhelming opposition to the removal of the sculpture, and despite Serra's insistence that for site specific works removal equaled destruction, it was finally dismantled the night of March 15, 1989.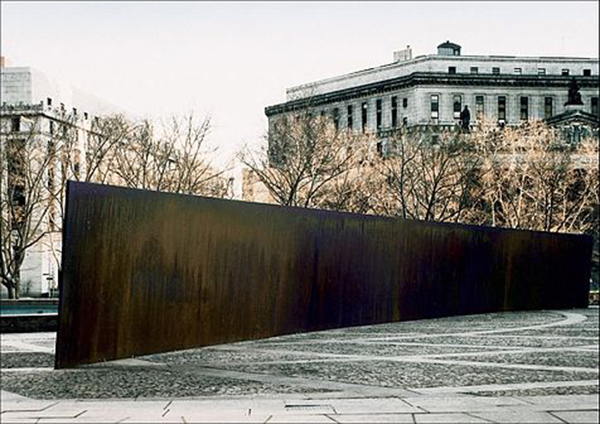 Richard Serra, Tilted Arc, 1981, Photo Credit: U.S. General Services Administration (Wikipedia)
In his lecture, Serra delineates the difference between the modernist "self-referential" sculpture that is inherently hermetic and non-discursive (i.e. it references only itself and its author without engaging the surrounding environment), and the site-specific works that "invariably manifest a value judgment about the larger social and political context of which they are part." He points out the problematic nature of contextual quality in site-specific works that inevitably "run the risk of being read as tokens of those institutions." His conclusion, in resolving this inherent conflict, is that a sculpture should work "in opposition to the constraints of the context, so that the works cannot be read as an affirmation of questionable ideologies and political power" of the said institutions. That is, once the work is submitted to the authority it becomes contextualized, or plugged into the institution. From this point on, its meaning is dictated by the surrounding environment, and its fate is determined by the intelligence (or the lack of thereof) of the institutional bureaucracy.
A sad example of institutional mismanagement of site-specific sculpture occurred recently at the University of New Mexico campus where Bruce Nauman's 1988 "Center of the Universe," sculpture was "amended," for the ease of maintenance. An additional tightly meshed grill was added, completely negating the artistic intent of the work that once allowed the viewers to experience "centeredness."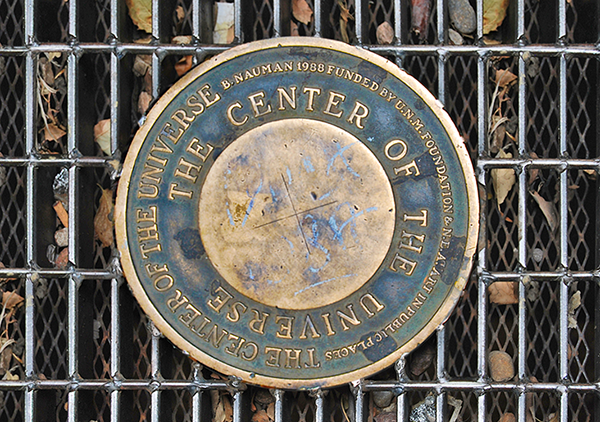 Bruce Nauman, Center of the Universe, 1988, University of New Mexico
If we apply the above reading of site-specific work to Eldred's 1973 "Untitled," the paradigm Serra referred to as "submission to authority," emerges with troubling clarity. While Eldred's actual sculpture appears to be an embodiment of a scientific concept -- a pendulum -- created to take its proper place in front of Seymour and Esther Padnos Hall of Science, its latest avatar as a pendulum-cum-swing accurately reflects popular culture supplanting scholarly university culture. In other words, Eldred's public sculpture, by virtue of being part of the campus environment, was recontextualized to gain a new meaning in the zeitgeist of popular culture. Its scientific symbolism gave way to social symbolism, as the pendulum, mounted by naked coeds, became a metaphorical tool for the destruction of romantic relationships. (Miley's video is about the wrecking of hers).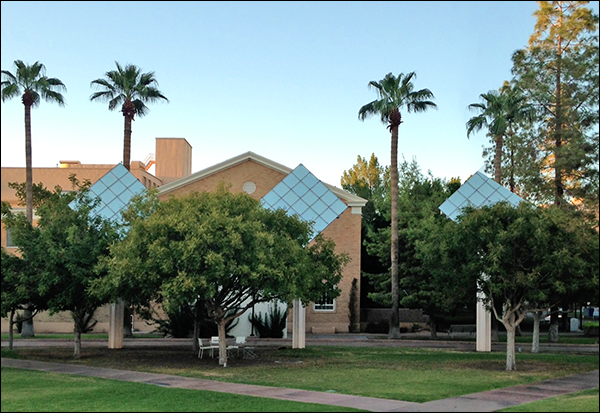 Dale Eldred, Time Garden, 1990, Arizona State University, Tempe
The supreme irony of this situation is that the sculpture, which was probably doomed to remain in public art obscurity, is now a fixture of entertainment blogs. Unlike Eldred's 1990 installation "Time Garden," which is competing for attention with an adjacently planted citrus grove on my very own Arizona State University Tempe campus, his GVSU "Untitled" has been instantly immortalized, not in the increasingly dismissed canon of modern public sculpture, but in today's mighty and powerful canon of pop culture. Thank you, Miley! Never mind that the sculpture no longer graces its original site. It has been removed, and, therefore, destroyed, if we are to side with Serra. But then again, who knows if Serra's own canonical "Tilted Arc" would be in every art history survey book were it not for the saga of its destruction.
Popular in the Community