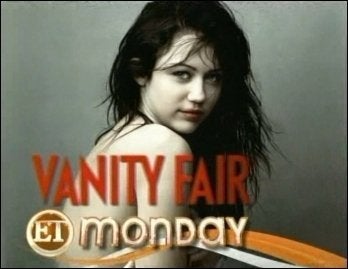 Cyrus has issued a statement saying she is "embarrassed" by the Annie Leibovitz photo (scroll down for image):
"I took part in a photo shoot that was supposed to be 'artistic' and now, seeing the photographs and reading the story, I feel so embarrassed," she said in the statement. "I never intended for any of this to happen and I apologize to my fans who I care so deeply about."
"I'm sorry that my portrait of Miley has been misinterpreted," she said in a statement. "Miley and I looked at fashion photographs together, and we discussed the picture in that context before we shot it. The photograph is a simple, classic portrait, shot with very little makeup, and I think it is very beautiful."
A Disney spokeswoman, Patti McTeague, faulted Vanity Fair for the photo. "Unfortunately, as the article suggests, a situation was created to deliberately manipulate a 15-year-old in order to sell magazines," she said.

The article, written by Bruce Handy, seems to support that claim, quoting Ms. Cyrus as saying, "Annie took, like, a beautiful shot, and I thought it was really cool. That's what she wanted me to do, and you can't say no to Annie." She also said of the photo, "I think it's really artsy. It wasn't in a skanky way."...

Beth Kseniak, a spokeswoman for both Vanity Fair magazine and Ms. Leibovitz said, "Miley's parents and/or minders were on the set all day. Since the photo was taken digitally, they saw it on the shoot and everyone thought it was a beautiful and natural portrait of Miley."

At the very least, Ms. Cyrus and her advisers do not seem to be on the same page as Disney. The company learned of the photo only when "Entertainment Tonight" started showing its promos.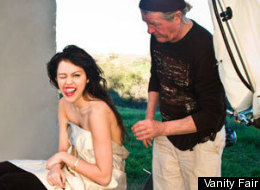 Vanity Fair has put behind the scenes photos with a happy Cyrus like this one up online - Miley Vanity Fair photoshoot here. UPDATE: Vanity Fair has taken it down, at least temporarily. The slideshow is still visible here.

Previously:
The June edition of Vanity Fair hits newsstands soon, and by an ad running on syndicated entertainment show "Entertainment Tonight" shows teen queen Miley Cyrus is the subject of a photospread. Days after photos of the Disney star Cyrus in a bra crossed the internet and the AP, Cyrus' bare shoulders and back are seen in this photo, taken from a still during the ET ad. Fans will know in the next few days just how much more of Miley is featured in the monthly mag.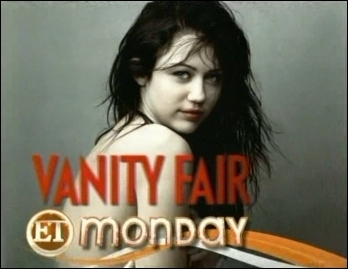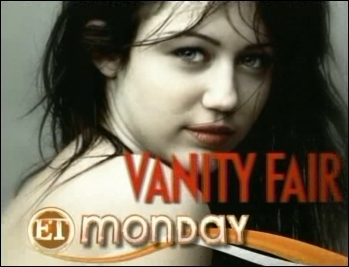 Support HuffPost
The Stakes Have Never Been Higher
Popular in the Community