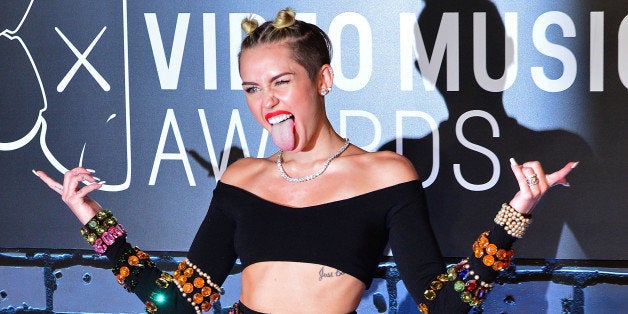 So, in case you have been in a coma lately, you should know that Miley Cyrus twerked her way through a pretty controversial performance at the VMAs. It's almost as if all other news has stopped and Syria no longer matters. Here's the crucial info: Miley humped a bear, simulated oral sex on an African-American backup dancer, and wore some weird plastic granny panties. Depending on where you saw the show from, it was racist, or too provocative, or problematic to call it too provocative, or really just offensive to teddy bears everywhere (seriously, the Teddy Bear Fund issued a statement, but we'll get to that in a bit).
To help sort through the outrage, here's a roundup of the media backlash, so that you can have something smart to say, when your dad asks you to explain what the deal is with this "Miles Cyrus" person.
The Cultural Appropriation Response: Miley's performance was racist.
Cultural appropriation, just so we're clear, refers to picking and choosing elements of one culture by a member of another culture. It is specifically not okay, when the person picking and choosing is rich and white. And minstrelsy, the word used by Jody Rosen, evokes the black face minstrel shows of the Mark Twain era. In the modern sense, it refers to adorning oneself with elements of black culture, in an attempt to achieve a particular image. As Jezebel explains it: "Basically, [Miley], as a rich white woman, is 'playing' at being a minority specifically from a lower socio-economic level. Along with the gold grill and some hand gestures, Miley straight-up appropriates the accoutrements associated with certain black people on the fringes of society."
The Feminist Response: Criticizing Miley is blatant slut-shaming.
Just so we're clear on this one, slut-shaming, which trickily enough can even occur in the absence of the word "slut," refers to "the idea of shaming and/or attacking a woman or a girl for being sexual, having one or more sexual partners, acknowledging sexual feelings, and/or acting on sexual feelings." Furthermore, it's "about the implication that if a woman has sex that traditional society disapproves of, she should feel guilty and inferior." Slut-shaming is problematic as a means of controlling sexuality.
Backlash To The Backlash: The feminist response failed to acknowledge blatant racism.
According to some, the feminists focused on the slut-shaming (see above) blatantly ignored the racist aspects of Miley's performance (see even further above). As Anne Theriault put it in her blog for HuffPost: "Now, let's be clear: there was definitely a lot of slut-shaming going on, and it was really fucking disgusting. But what was equally disgusting was white feminists' silence over Miley's minstrel show."
Backlash To The Backlash To The Backlash: The white feminists focusing on silence over cultural appropriation did not spend enough time focusing on slut-shaming.
The Parents Television Council And Parents In General: [Charlie Brown teacher speaking], blah, blah, blah something about Hannah Montana.
The director of public policy, released a statement some grumbling, saying, "MTV continues to sexually exploit young women by promoting acts that incorporate 'twerking' in a nude-colored bikini. How is this image of former child star Miley Cyrus appropriate for 14-year-olds."
The Bear Association: Rawr
We're sure literal bears were upset by Miley's performance, but the real life Teddy Bear Fund (an organization "dedicated to giving out stuffed animals at abuse shelters") said, "Miley made a poor choice to use a universally loved children's teddy bear in an offensive way." ALSO:
Calling all HuffPost superfans!
Sign up for membership to become a founding member and help shape HuffPost's next chapter
BEFORE YOU GO
PHOTO GALLERY
Miley Cyrus' Transformation