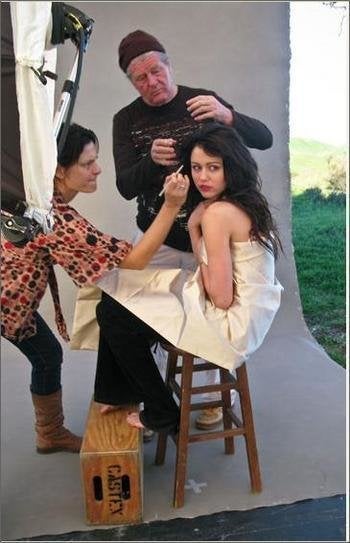 Her father Billy Ray is reportedly very upset, as he left the set before the photo that caused the outcry was taken.
From Academy Award winner Sally Field and former Disney star Hilary Duff to the girls of MTV's The Hills and Rosie O'Donnell, "Extra" has the below reactions from Tinseltown regarding the 15 year-old's pictures. Plus, see what fellow teen-queen Hillary Duff had to say.

Sally Field: "I love Miley Cyrus. My granddaughters are completely and utterly over the moon. I watch Hannah Montana....I think, 'Let it go for God's sake'...It's a beautiful picture."

Hilary Duff: "It's a lot of pressure. I don't know how I would even begin to give her advice because I feel she has a huge career and she'll learn how to deal with it."
Lauren Conrad [The Hills]: "I found it a bit silly. I thought she looked beautiful in the pictures. I didn't find it that inappropriate. I think it's difficult. It s a lot of pressure on her since she is a role model, but I think she's doing a good job."

Heidi Montag [The Hills]: I think she's a young girl in Hollywood and she's just having fun. Exploring herself."
Spencer Pratt [The Hills]: "I didn't think it was that bad. Supposedly, she's wearing a top underneath. It's artistic."
Tila Tequila [VH1's A Shot of Love with Tila Tequila]: "I think it's hot. When I was 15, I was doing the same thing except a bared it all....She's just showing her back. She's growing up. I don't think she's doing anything harmful. If the media keeps pushing her, pressuring her, she might end up messed up. But right now, I think everyone should just let her have fun. She's not doing anything scandalous. I think she's hot!"
Emmy Rossum: "I think she's a role model for kids, but I think she looks beautiful."
Rosie O'Donnell spoke out about the so-called scandal on her blog saying, "I had two photo shoots with her [Annie Leibovitz]. It's intimidating. Annie Leibovitz. I also didn't think it was a pornographic photo in any capacity. I thought it was kind of a beautiful portrait, you know. I like the one of her and her dad too. It's Annie Leibovitz people. Leave Miley alone!"
Hillary Duff told People:
"Everyone goes through things and takes their own path," Duff said Monday a press event for her new movie War Inc. "Who am I to judge decisions that she made?"

Still, Duff says she would not have chosen the same path for herself. "People are pushing you to do something, and if you want to do it, that's your choice, you know?" added the singer-actress. "It's not what I would choose to do, but if she did then that's fine. That's her choice."
Star editor Bonnie Fuller is also upset, and she's mad with Miley's parents, and voiced her displeasure in her own Huffington Post blog.
Popular in the Community