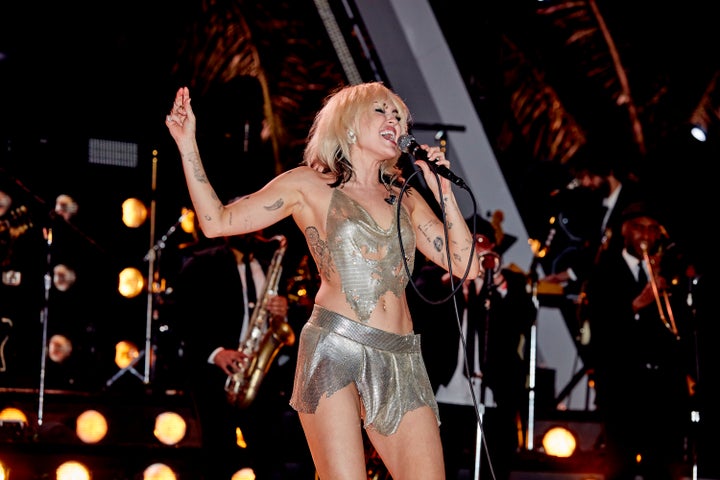 Less practiced and chaos-averse performers might have let the fear of publicly exposing themselves on national television get in the way of the show, but not Miley Cyrus.
In the grand and very cursed tradition of live New Year's Eve performances, the "Plastic Hearts" singer rang in 2022 with the NBC special "Miley's New Year's Eve Party" alongside co-host Pete Davidson in Miami on Friday night.
After the clock struck midnight, Cyrus performed her hit songs "We Can't Stop" and "Party In The U.S.A." only to suffer a major wardrobe malfunction while transitioning between the two. Dressed in a sparkly silver halter top and mini skirt, the singer discovered that she'd come almost fully undone a few beats into the patriotic party anthem.
Before she could continue much further, her top appeared to totally break, and Cyrus held it in place for a few more seconds before dispensing of it all together. Presumably to avoid a hefty fine from the Federal Communications Commission, the now topless singer turned her back to the camera and exited the stage, as her band and backup singers continued with the song.
Missing barely a full round of the famous chorus, she quickly returned to the stage in a red blazer and finished off the number.
"Everybody's definitely looking at me now," Cyrus sang winkingly, before joking that she's "still in the most clothes that I've ever worn on stage."
Later on in the evening, the former Disney star seemed to reference the hiccup, remarking that the special was "all about being flexible, rolling with the punches, and making the best out of even the worst circumstances."
"That resilience shouldn't end here. Let's bring that into the New Year with us," she told the crowd of vaccinated fans at the end of the show. "We've all learned how to expect the unexpected, and rather than see it as a problem, let's see it as an opportunity. I wish everyone here in Miami and everyone watching from home a happy and healthy 2022. Thank you for making tonight possible. You were really all that I needed to have the ultimate party."
Davidson also poked fun at the moment, joking, "I heard we may have had a little boob slip, so in solidarity, here's my boobies," before lifting up his own shirt, according to The Hollywood Reporter.
Earlier in the show, Cyrus and Davidson kicked off the fun with a parody version of Will Smith's "Miami." And to end the night, the singer gave fans the first taste of her soulful new ballad "You" while dressed in a plunging, sheer red ensemble that featured oversized pink feather boa sleeves.
"Miley's New Year's Eve Party" also included performances from Saweetie, Jack Harlow, Brandi Carlile, Anitta, 24kGoldn, Kitty Ca$h and Cyrus' younger sister, Noah.
Watch the performances below.
Popular in the Community