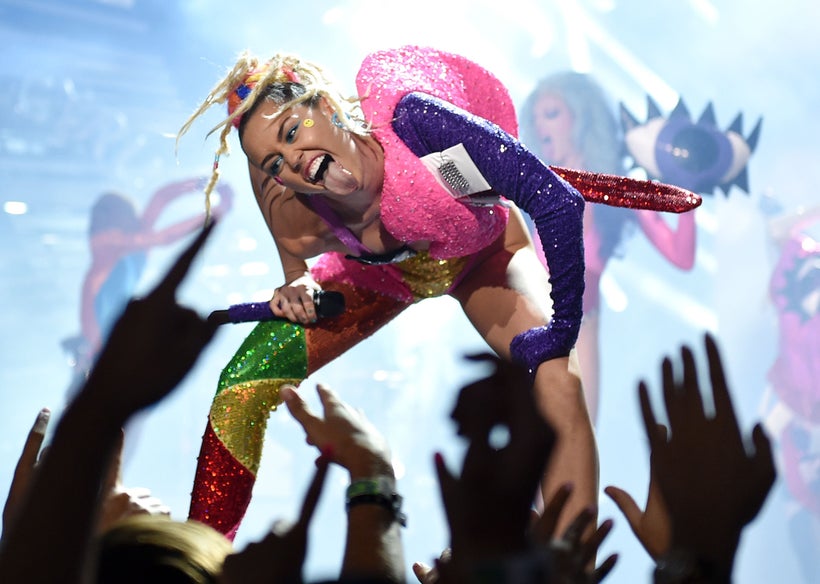 By guest blogger Dr. Melvin L. Williams
Like many members of the hip-hop community, I rolled my eyes in consternation during Miley Cyrus' 2017 Billboard Music Awards performance, which was much hyped following her recent interview with the publication. In the Billboard interview, Cyrus conveniently denounced her ties with the "hip-hop" scene, insisting that she felt convicted over hypersexual and materialistic narratives that celebrate Lamborghinis, Rolexes, and "girls on cocks." Instead of the "hypersexual and materialistic" version of Miley presented on her Bangerz album, fans were now presented with a "new," "improved," and "politically charged" Miley—clean of drug addiction, and, cleansed of more importantly, her disastrous and rife with Black cultural appropriation, 2013 MTV Video Music Awards performance with Robin Thicke.
Oddly, the "new" Miley made me reminisce more about her escapades with hip-hop in 2013 and usage of African-American imagery, colloquialisms, and women to achieve commercial success. Marked by tongues, teddies, and twerking, Cyrus was a pop culture sensation as she infamously twerked in a unicorn onesie on YouTube and gained the attention of prominent hip-hop artists such as Jay-Z, Juicy J, and Wiz Khalifa. Equipped with hip-hop producer Mike WILL Made It, Cyrus embraced hip-hop's aesthetics, dance moves, and objectification of Black women with open arms, riding the wave of a global fascination with Black female sexuality and the musical genre.
Trading in the "J's on her feet" and atrocious jersey dress for a modest white crop top and shorts, the "new" Miley Cyrus was finally center stage at the Billboard Music Awards performing "Malibu," a country-pop, albeit summery, record that simply made me vicariously chuckle with Nicki Minaj at the end of her performance. However, Cyrus' previous appropriation and recent abandonment of hip-hop presents a deeper issue when applied to the history of White participation in Black musical forms and representations of Black and White femininities in popular culture.
To be clear, Miley Cyrus is not and has never been a reflection of authentic hip-hop culture. As noted by Tricia Rose, hip-hop is a cultural form rooted in African-American and Caribbean history, identity, and community that encompasses more than reductionist narratives about materialism, misogyny, and sexual intercourse. However, Cyrus does represent the commodification of hip-hop music by an industry produced under a White-dominated structure that habitually advances negative stereotypes of Blacks and propels White artists forwards as gatekeepers of the genre. Of equal importance to this conversation is the fact that these artists are often more commercially successful than their Black and Latino counterparts. Based on these industry politics, Cyrus was never an illustration of hip-hop culture, but rather a reflection of a commodified record industry and Whites' historic fascination with Black music for quasi-transformative purposes.
To thrive as a recording artist, Cyrus had to "purge" any references to her squeaky clean Hannah Montana image to become what Gail Dines refers to in Pornland: How the Porn Industry Has Hijacked Our Sexuality as "fuckable" and "visible" in popular culture. To become "fuckable" and "visible," Cyrus and a larger morally bankrupt record industry feebly cashed in on a global fascination with hip-hop by including (coded: pimping) Black rappers for street credibility and then resorting to a deeply flawed parody performance of Black female sexuality like many of her White female pop singer predecessors (e.g. Christina Aguilera, Fergie, Taylor Swift, Gwen Stefani, Katy Perry, Madonna).
By twerking on the Internet and using Black female dancers as literal props during her live performances, Cyrus conveniently embraced and mirrored the misogynistic practices of Black male rappers by dominating and exploiting Black female sexual behavior. She was both a performer and oppressor of Black female sexuality, using it as a tool to gain access to hip-hop culture and co-opting into a system of domination with Black male rappers to oppress the Black women from whom the practices originate. These actions resulted in heavy backlash for Cyrus and remain some of her most embarrassing television depictions. As a result, it should come as no surprise to audiences that she is now "done" with the "hip-hop" scene.
Cyrus embodies White privilege at its finest. While Black women face sexist discourses in hip-hop based on booty dancing and explicit depictions, White women are somehow shielded from these narratives by their Whiteness and can appropriate, benefit, and detach from Black culture when convenient. Moreover, her criticism of hip-hop's "suck my cock" persona supports a longstanding history of White women positioning themselves as superior to Black women solely on the basis of virtue. Since slavery, Whites have sexualized their worlds by projecting hypersexual narratives, disassociated with Whiteness, onto Black bodies. Black women have specifically been used as fetish objects and presented as entertaining, hypersexual, and pleasurable to mass audiences since Sarah Bartmaan, also known as Hottentot Venus. These racist and sexist representations become amplified when coupled with rap visual media's fascination with Black sexuality, big butts, and porn culture.
But, Cyrus is not the only person complicit in this process. We cannot forget about the Black producers and rappers who have also benefited. While Miley was undoubtedly a willing participant and puppet for record executives and a mass public, Black producers and rappers who co-signed her success also served as ventriloquists in her appropriation and eventual commercial success. Cyrus' decision to not include producers Mike WILL Made It and Pharrell Williams on her new album and take credit for their commercial successes illustrates how Whites exploit Black artists and lay claim to all successes attached to them. The same construct is clear now with the emergence of Katy Perry's new image, that not only appropriates hip-hop culture but also leverages the underground vogue/ballroom culture of the LGBT community. The fact that Cyrus could so easily make a lauded "departure" from the hip-hop scene she once leveraged to make her a pop star, should push our community to become more critical of appropriations of Black cultural forms by White female pop artists.
Bio: Dr. Williams is an Assistant Professor and Coordinator of Graduate Studies for the Communications Specialist Master's Program at Alabama A&M University. As a researcher, he examines the intersections of race, gender, and sexuality in Hip-Hop culture.
Calling all HuffPost superfans!
Sign up for membership to become a founding member and help shape HuffPost's next chapter
This post was published on the now-closed HuffPost Contributor platform. Contributors control their own work and posted freely to our site. If you need to flag this entry as abusive,
send us an email
.