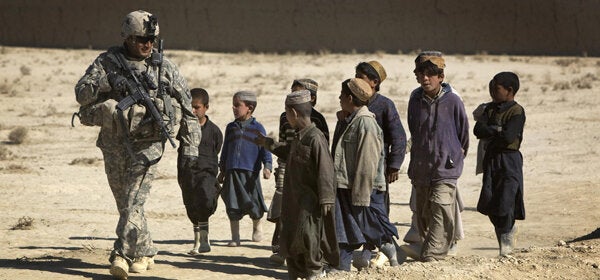 A meeting this month in Kabul turned acrimonious when USAID and Department of Defense (DoD) officials briefed international aid agencies on the new policy of the US government. The plan, titled Civilian-Military Cooperation Policy, outlines that USAID will "cooperate with DoD in joint planning, assessment and evaluation, training, implementation, and communication in all aspects of foreign assistance activities where both organizations are operating, and where civilian-military cooperation will advance USG foreign policy."
Attending the meeting were top US officials and representatives from CARE, World Vision USA, American Red Cross, Save the Children, Mercy Corps, International Relief and Development, CHF International, Islamic Relief USA, Catholic Relief Services, the International Rescue Committee and InterAction, all of whom receive funding through USAID.
The Chief Operating Officer of USAID, Alonzo Fulgham, said he understood that non-governmental organizations might be less than enthusiastic about military-civilian cooperation, but already the DoD is "very active in development efforts around the globe" and it's time that the relationship with USAID was clarified.
It is USAID policy "for all operating units to cooperate with DoD in joint planning and implementation...in all aspects of foreign assistance activities where both organizations are operating and where civilian-military cooperation will advance USG foreign policy," Thomas Baltazar, the Director of USAID's Office of Military Affairs told the meeting.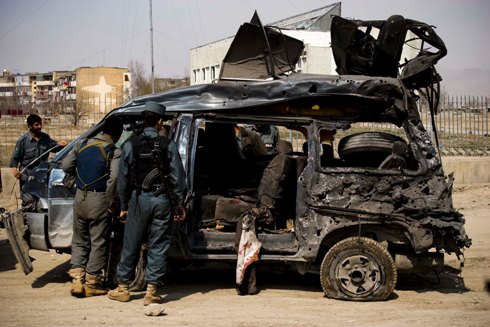 David Lang
A delegate from InterAction, the largest coalition of US based NGOs, representing 172 organizations, accused USAID and the DoD of a classic "bait and switch." InterAction had previously supported DoD allocating budgets for "reconstruction, security, or stabilization assistance to a foreign country," but now they felt that the motivation was " to fund development projects favored by the military".
This new expanded sphere of DoD influence means that it will be able to create and enlarge its humanitarian programs. It will also take a greater role in policy-making, decisions and directives about the funding of security assistance programs and humanitarian activities.
Critics argue that new humanitarian programs at DoD may weaken development goals: who will have the final say if U.S. foreign policy and development goals conflict with military objectives in unstable countries where the issues of development and security can be intertwined?
Elizabeth Ferris, Senior Fellow from the Brookings Institution, told the Huffington Post that any increased relationship between the US military and humanitarian aid is extremely difficult and potentially lethal. "Once insurgent groups (or governments in some situations) perceive that a humanitarian organization is acting to pursue military or political objectives, that organization loses the protection it had by virtue of respect for humanitarian principles. If it is known (or suspected) that a humanitarian NGO is not only treating wounded kids in an insurgent area, but is also passing on information about that area to military officials, the NGO usually loses its protection from all sides. Rather than being seen as acting impartially on the basis of humanitarian need, it is seen as a party to the conflict -- and too often, fair game for attacks on its staff by insurgents."
In Afghanistan's case, aid workers have become a target in the past year, often suspected of spreading Christianity, western cultural values or for being spies. It is a difficult terrain to navigate, complicated by gender, religious, political and ethnic issues, and Elizabeth Ferris argues that American NGOs are in a particularly difficult situation.
"On one level, they are accountable to their donors. On another level, they need to be seen as independent, impartial, and neutral in order to be true to humanitarian principles and to win the confidence of the population," she says. "If they are seen as being a 'force multiplier' (in Colin Powell's famous words in 2003, referring to American NGOs in Iraq), they lose credibility as humanitarians."
Ferris says that figures indicate that U.S. international aid is becoming increasingly militarized. "From channeling something like 4% of U.S. overseas assistance a few years ago the military channeled something like 22% of all U.S. aid last year," she says. "Which means that rather than aid being seen as a response by the U.S. population to suffering people in need, it is increasingly seen as another tool of U.S. foreign policy."
In a November 2007 speech at the University of Kansas - widely reported because it seemed, at the time, out of character - Defense Secretary Robert Gates called for "strengthening our capacity to use "soft" power" through civilian agencies like USAID and the State Department. Gates was concerned "that we have yet to create any permanent capability or institutions to rapidly create and deploy [civilian] skills in the future."
He called for "a dramatic increase in spending on the civilian instruments of national security -- diplomacy, strategic communications, foreign assistance, civic action and economic reconstruction and development."
Elizabeth Ferris at Brookings Institution agrees that more money should go to civilian-led projects, not the combining of civilian and military institutions and agendas. She thinks that many organizations will decline further involvement with USAID under this new policy. The agency has acknowledged that many NGOs may find it out of the question to deal any longer with USAID.
"If US humanitarian NGOs refuse to work under these conditions," says Ferris, "The [U.S. government] can turn to for-profit contractors to provide the needed service without the bother of dealing with humanitarian principles. "
Related
Popular in the Community