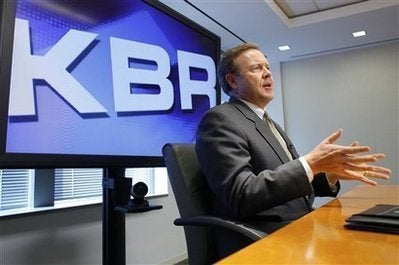 NEW YORK -- Taxpayers may be on the hook if U.S. military contractors in Iraq incur liability while carrying out their work.
More than 120 military contracts include indemnification clauses -- essentially, promises that the Pentagon will pick up the tab if contractors are sued. The information was disclosed on Thursday in response to an inquiry by Rep. Earl Blumenauer (D-Ore.), who was concerned that contractor Kellogg Brown Root was granted indemnity amid a lawsuit claiming that the Halliburton subsidiary knowingly exposed soldiers to cancer-causing chemicals in Iraq, as previously reported by The Huffington Post.
Though Blumenauer said the Pentagon appears to show a "diligent, responsible process for work carried out in the United States that protects taxpayers from liability in cases of contractor negligence," he expressed concern about what he called "far looser standards" for work in Iraq.
The list of contractors include major airlines American, Continental and United, as well as military contractors Raytheon Missile Systems, General Dynamics, L3, Lockheed Martin, BAE, and Boeing. Other indemnified companies include Mason and Hanger, a company which stores and transports containers of the nerve agent VX, and several firms that maintain facilities to destroy chemical agents.
Few details appear in the documents released by the Department of Defense, although the Army does describe a $646,351.50 payment to anthrax-vaccine maker Emergent to cover the costs of two lawsuits brought by U.S. soldiers who claimed they were sickened by the vaccine. In one class-action suit, Ammend et al v. BioPort, the plaintiffs claimed that the Emergent subsidiary BioPort caused them to "suffer extreme pain and suffering" through its carelessness and negligence. In several other similar cases, the Pentagon refused to pay the contractor's litigation costs.
With Rep. Kurt Schrader and Sens. Ron Wyden and Jeff Merkley, all fellow Oregon Democrats, Blumenauer introduced legislation in September that would require regular reporting to Congress of contracts that contain such clauses.
Calling all HuffPost superfans!
Sign up for membership to become a founding member and help shape HuffPost's next chapter