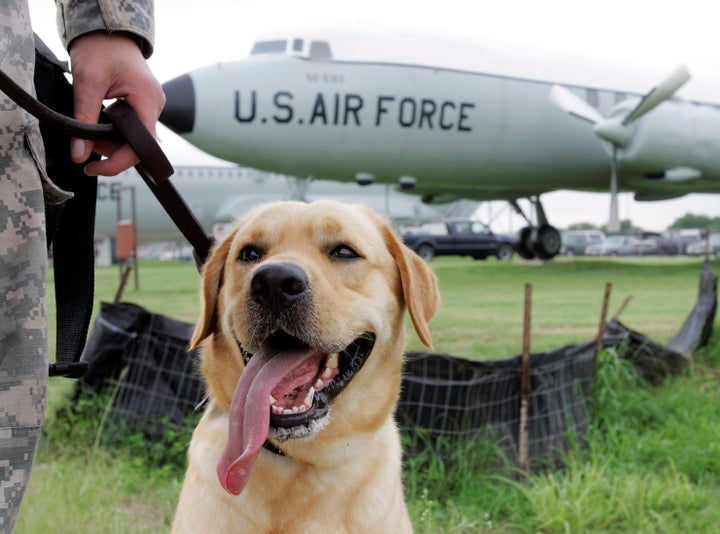 Though military dogs fight alongside soldiers on the battlefield, these warriors are still qualified as "equipment" under federal law, making it difficult to give them the care they need when they retire.
The number of active-duty canines tasked with finding explosives and insurgents has increased from 1,800 in 2001 to 2,700 in 2011, according to the New York Times. But while these "troops" make the same sacrifices as their human counterparts, they are not officially considered members of the military -- a status discrepancy that advocacy groups say has to change with the passing of recently-introduced legislation.
Click through the slideshow to learn about inspiring military hero dogs. Story continues below.
PHOTO GALLERY
shelter dogs
The Canine Members of the Armed Forces Act would work to streamline the adoption process and ensure that retired military dogs get appropriate medical care they need, a critical consideration now that military dogs are returning with the same injuries as their human counterparts.
Yet, despite the fact that these warriors are partaking in high-profile missions, and are contracting crippling conditions, they aren't guaranteed the medical care they need and are often denied adoption.
When former Marine Cpl. Megan Leavey survived a roadside bomb with her military dog, Sgt. Rex, -- in 2006, all she wanted was to return home with her beloved pooch, the Daily Mail reports. But after a year of recovering together, Leavey learned that the Marine Corps. had decided to euthanize the German shepherd because an injury would interfere with his bomb-sniffing abilities. She embarked upon a five-year, highly publicized campaign to get her dog home.
"As a safety precaution, they don't give all dogs away," Leavey told the news source. "The dilemma with me is the minute they say he can't be adopted, because he's sick and because he can't work, they'd have to put him to sleep."
The two were finally reunited in March.
Advocacy groups hope that by pushing the passing of the Canine Members of the Armed Forces Act that dogs, like Rex, will be able to seamlessly return home with their handlers, or other owners who are eager to take them into their homes and get the lifelong veterinary care they need after risking their lives for their country.
The House of Representatives has moved forward with the provision, and now advocacy groups are calling on supporters to urge the Senate to get involved too.
"Like their human counterparts," Sayres writes, "our military dogs deserve a happy retirement from service."
Learn how you can make a difference in passing the Canine Members of the Armed Forces Act here.

REAL LIFE. REAL NEWS. REAL VOICES.
Help us tell more of the stories that matter from voices that too often remain unheard.
BEFORE YOU GO