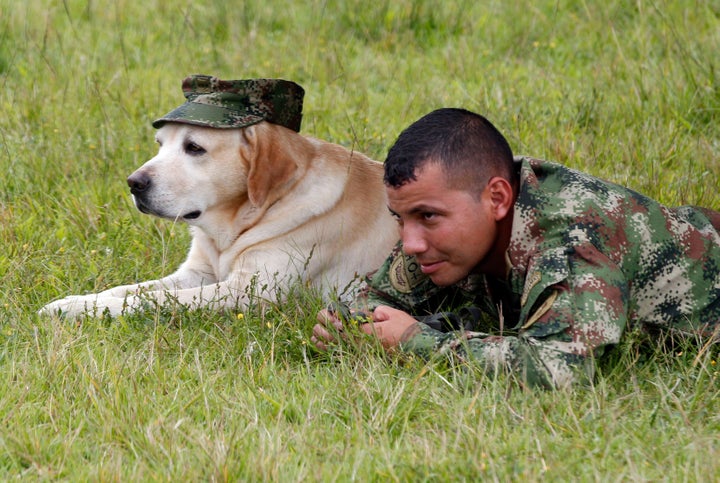 When you raise your flag on Veteran's Day, make sure to keep the four-legged heroes in mind, too.
The honorees included Bino, a Dutch Shepard, who spent 14 months in Iraq and completing special service missions to help fight the war on drugs.
"They're treated exactly like a soldier, in every way, shape and form," Robin Ganzert, president and chief executive of the American Humane Association told CNN."For example when a military war dog is killed in action, there's often a funeral."
The canine branches of the American military have proved to be invaluable assets. For one, their sense of smell supersedes that of their handlers, according to CNN.
The U.S. military first looked into bringing on war dogs after the attack on Pearl Harbor, a tactic Germany and France had employed since World War I, the Associated Press reports. Since then, these pooches have been tasked with finding explosives, insurgents and drugs, and searching for missing people.
Even after spending six years and nearly $19 billion on creating better ways to detect bombs, the Pentagon admitted in 2010 that its most sophisticated technology was no match for a dog's nose, Wired.com reported.
"Electronic equipment is great in the laboratory, but out on the battlefield, you can't beat the dogs," Bill Childress, manager of the Marine Corps working dog program told the Los Angeles Times.
Cairo, who was deployed to Pakistan as part of the elite team that assassinated Osama bin Laden in May, is just one recent example of how war dogs are enhancing the military. After learning about Cairo, President Obama insisted on thanking him in person, the New York Post reports.
"There was a dog?" the Post reported Obama having asked. "I want to meet that dog."
To ensure that the canines' skills are maximized, they are outfitted with protective eye wear, body armor, gas masks and even vests that allow them to jump from helicopters, according to Foreignpolicy.com.
But, giving these hero hounds the recognition they deserve is a relatively new phenomenon. During the Vietnam War, the army classified dogs as "surplus equipment" and, after serving their country in war for months, the dogs were left behind as the human soldiers returned home, the news outlet reported.
With President Clinton's signing of a 2000 law allowing military dogs to be adopted and the recent media blitz surrounding Cairo's service, these pooches are not only now getting a hero's welcome home, they're also finding families to take them in.
"All the animals find a home," Gerry Proctor, a spokesman for Lackland Air Force Base in San Antonio, where the military's dog adoption program is based told the AP. "There's a six-month waiting list right now for people wanting to adopt. And (the applications) have gone up substantially since the raid."
Popular in the Community