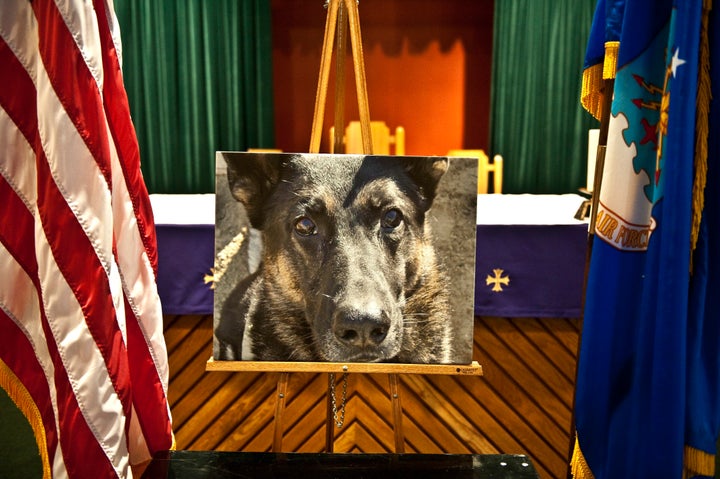 This Memorial Day, Americans are rightfully paying tribute to the brave fallen military men and women in uniform who have made the ultimate sacrifice in the line of duty.
But what about the Military Working Dogs – or MWDs – who have accompanied their handlers on the front lines, through war zones, during the long, lonely months spent away from home? The unfortunate fact of being in a war zone is that not only human soldiers are sometimes wounded and killed but also their canine counterparts.
Like their human counterparts, sometimes they succumb on the battlefield or after they return home. The military gives them the respect they deserve in light of their service, often providing a memorial ceremony in the form of a "missing dog" display, consisting of an empty kennel, leash, and an inverted food bucket signifying the unbreakable bond between a handler and dog, centered in the chapel's front stage.
There is nary a dry eye in the bunch.
"It is appropriate to honor their service," said Lt. Col. Barbara Sherer, chaplain and co-coordinator of many ceremonies honoring MWDs. "Military working dogs are an important part of the military team and sometimes they are taken for granted."
In the spring of 2009, military working dogs and their handlers from a base near Baghdad attended a memorial service for Kevin, a military working dog that died of cancer. As his death was unexpected, his handler Staff Sgt. Aaron Meier took it pretty hard.
"Kevin was the highlight of my day," said Meier, who worked alongside his dog for over four years. "Kevin was a great patrol explosive detector dog," he said. "I could flip his on and off switch easily because of all the training we did together." Kevin was one of the first dogs to participate in Operation Iraqi Freedom and was on his last deployment when he became ill. Meier was planning on adopting the dog when he retired.
At the service, soldiers read poems in his honor, Taps was played by a trumpeter, and the other dog teams left snacks in Kevin's bowl as a tribute.
At another memorial, Staff Sgt. Robert Calhoun, an MWD handler spoke of his deceased partner Rony. "All I ever wanted was to save lives and contribute to the mission success," he said. "Rony saved lives. Rony saved my life when we went into an abandoned compound, and he found a 155-round before I stepped on the pressure plate. Before we left, we were awarded the Bronze Star. He's the reason he brought us home.
"I had the honor of standing by his side, holding his paw, softly sighing as his heart stopped beating," he continued. "I'll always cherish the moments we had together and know for a moment in time we were untouchable. I'd say this to Rony: thank you for your commitment, loyalty and trust. You will always be in my heart, and I will always love you. Rest in peace, my little warrior."
Here is a photo montage to remember some of America's finest soldiers on four legs.
(All photos and captions courtesy of Lisa Rogak)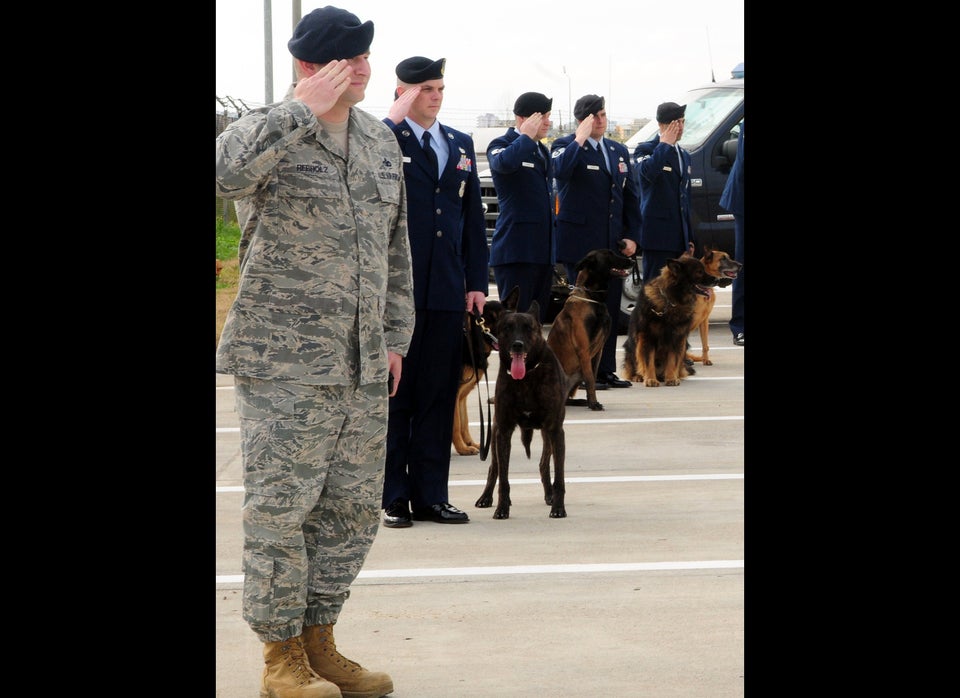 Memorial Day Dogs Of War
Popular in the Community