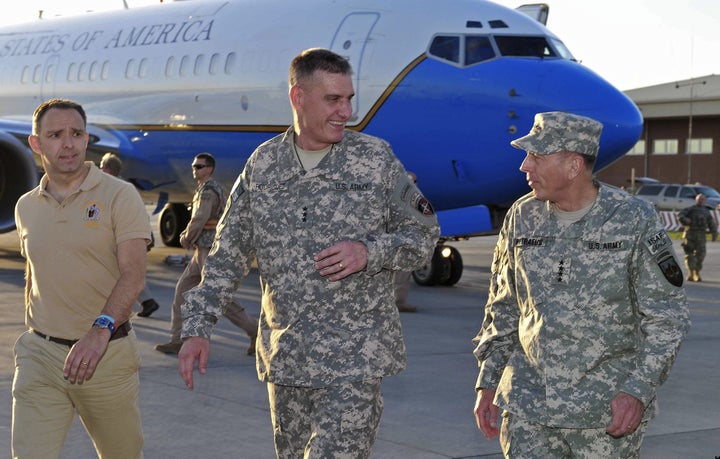 WASHINGTON -- A top U.S. commander in Afghanistan is contradicting comments by Joint Chiefs of Staff Chairman Adm. Mike Mullen on whether a military offensive by Pakistan is necessary to win the war, reflecting frustrations over pinning down metrics for success.
At the Pentagon on Tuesday, Lt. Gen. David Rodriguez, the No. 2 commander in Afghanistan, briefed reporters about U.S. progress in pushing Pakistan to go after militants in North Waziristan, a haven for Taliban and al Qaeda along the Afghanistan-Pakistan border.
The Obama administration has described the pursuit of suspected terrorists into Pakistan as one of its key objectives in the war. "With regard to al-Qa'ida's Pakistan-based leadership and cadre, we must remain focused on making further progress toward our ultimate end state, the eventual strategic defeat of al-Qa'ida in the region, which will require the sustained denial of the group's safe haven in the tribal areas of western Pakistan, among other factors," wrote officials in their December strategic review.
"We cannot succeed in Afghanistan without shutting down those safe havens," Mullen said earlier this month.
But at Tuesday's briefing, Rodriguez said that Pakistani failure to go after the safe havens would not be a "mission stopper" (emphasis added):
Q: If the Pakistanis do not move decisively into North Waziristan, taking on Haqqani and other militants in that area, can the -- will you be able to deliver -- how much of a setback to your efforts on the Afghan side of the border will that be in the springtime? How important is it for Pakistanis, not just to continue in Bajaur where they are, but move into North Waziristan?

RODRIGUEZ: Well, again, all that has a positive impact on what we're trying to do. And it also leads to the durability of what we have to build on the Afghan side of the border. So we're working together for them to continue the operations, especially against those that threaten the Pakistani state. And together, we think that will move in the right direction.

Q: Can you win without them? If they don't do any more than they're doing now, can you be successful in Afghanistan?

RODRIGUEZ: I think we can, but again, that gets back to the durability that you have to build in the Afghan security forces and the Afghan government. But I think that's doable if it doesn't continue, you know, if it doesn't get significantly worse. [...]

Q: -- but you know, the thrust of the debate in Washington is that Pakistan needs to go to North Waziristan. If I hear you accurately, that's not -- it's not necessary militarily for the United States to win in --

RODRIGUEZ: That's not a mission stopper in my mind. And again, everybody, whether it be the Pakistani leadership, the U.S. leadership or the international leadership, is all focused on that issue now about Pakistan and encouraging them to do more and we are, too.
Many critics of the war have been frustrated at what they view as the Obama administration's changing definition of success in the war in Afghanistan. "I think America is tired of the war, I don't think anybody knows what success looks like, and I don't think most Americans can justify why we're there," said Rep. Jason Chaffetz (R-Utah) in a December interview with The Huffington Post.
On Tuesday, Gen. James Mattis, the head of U.S. Central Command, which oversees the war in Afghanistan, said that he was "uncomfortable" with the Obama administration's timeline for withdrawal, although he acknowledged it weakened the Taliban's arguments.
"Having a conditions-based withdrawal is also a way to refute the enemy line that somehow we are there to occupy this country forever," Mattis said at an event in London sponsored by the Policy Exchange think tank. "I think there is actually a strength to it. ... Militarily, I'm uncomfortable with it, as all military men are, with the uncertainty, the unpredictability of war."
Popular in the Community