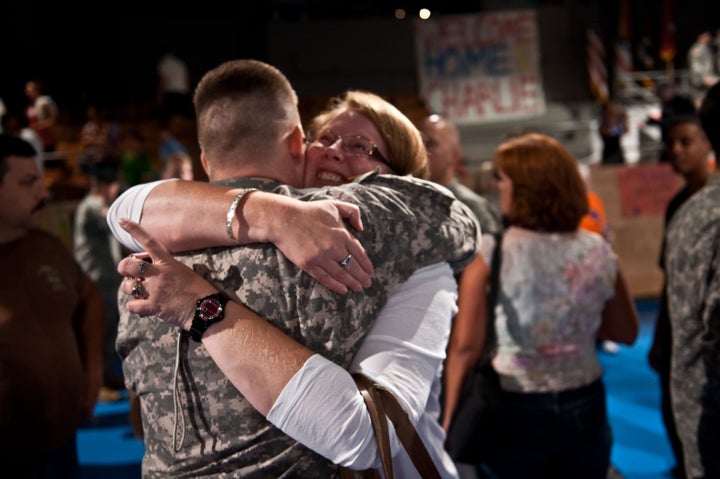 WASHINGTON -- Among the 14.8 million Americans looking for work, the men and women married to military personnel face barriers others don't.
Military families move on average every 2.9 years, making it hard to pursue a single career or accumulate the experience employers want. Labor markets near sprawling bases like Fort Hood, Tex. or Fort Benning, Ga. are often saturated with overqualified military spouses eager for work. Many times, the certification or license required for skilled professions like nurses or teachers are state specific, adding another bureaucratic hurdle to overcome with every move.
Of course, many military spouses -- mostly women -- run their households singlehandedly while their partners are deployed or away on long training missions. And many wives are expected to volunteer long hours running the military's family readiness groups, which provide communications and support to families, while their husbands' unit are deployed.
Small wonder military spouses are having a difficult time finding work. The most recent data from the Bureau of Labor Statistics, from November 2009, shows 8.4 percent of military wives were seeking jobs and couldn't find one, compared to 5.3 percent of women in civilian families.
"It is difficult -- you are constantly moving so having a career is extremely hard,'' said Kristy Kaufmann, whose husband is an Army officer. "Sometimes you can get a job waitressing or at the post exchange, but for people who want more of a career, that can be challenging.''
For enlisted troops, the pressure on spouses to find work can be intense. "They don't get paid a lot of money, so you really have to have a dual income family,'' said Kaufmann, who consults with the Defense Department on spouse employment issues.
To make matters worse, when a military spouse loses her job because her partner is transferred, at least 14 states -- including states with military bases, such as Idaho, Missouri and Louisiana -- don't provide unemployment insurance because such transfers are seen as "voluntary.''
Tianne Travis had a job she loved, working at a bank while her husband was stationed at Eglin Air Force Base in Florida. But she was thrown out of work when he was reassigned to Andrews AFB in Washington. "That's the way the military is,'' she said. "I resigned and came to Maryland and was really searching.'' Although the Pentagon and Labor Department offer help,
she and others have found the process to access the right kind of help bewildering.
Applying for a federal job, for instance, can be tricky. Even though military family members often get precedence for federal jobs, Travis didn't know all the inside tricks to getting a job. "Your resume has to have all the right key words in it for someone to even look at it,'' she discovered. "I had to pull that information on my own.''
But those who've been in the military community for a while have seen big improvement in the job picture for military spouses. "When I came into the military 23 years ago, the big question was whether military spouses should work. You had to convince people you could be successful in your own right and still be supportive of your military spouse's career,'' said Pamela McBride, the wife of an Army officer and a successful businesswoman, job counselor and author of books on successful career-building.
Since that time, when job opportunities and career assistance was "very limited,'' there has been "an explosion of assistance and training'' for job-hunting military spouses, she said. But success depends as well on personal drive and determination, and she advises military spouses to "take a deep breath,'' look around and define your goals.
Rather than just seeking a job, she said, "We have to learn how to define our own success, which may not be a corporate career and climbing up all the steps. Make a wish list of what you want to do, and use a slow deliberate approach to get there, filling in gaps in your resume, networking, working with people who can help.''