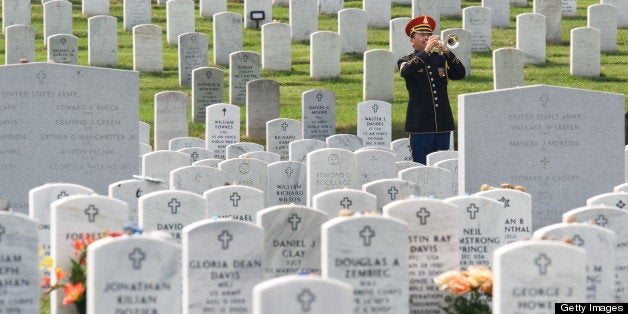 The ceremony itself was no more than 20 minutes long and took place nearly six years ago, but Ami Neiberger-Miller remembers it as if it happened yesterday.
It was Aug. 16, 2007, 10 days after her 22-year-old brother, Christopher, had died from an IED blast while on patrol in Baghdad. His body had been transferred to Section 60 of Arlington National Cemetery, an area reserved for soldiers who die in Afghanistan and Iraq. He was to receive a burial with military honors for his service.
"It was relatively short. There were prayers, volleys were fired and the service members folded the flag and presented it to the family. The family received the flag and there was taps," Neiberger-Miller, who lives in Purcellville, Va., recalled. "It lasted less than a minute, but those notes were incredibly powerful. It went to the core of our emotions and stuck with us."
Taps, a simple 24 notes played on the bugle, has been offered as the final salute to America's fallen ever since the Civil War. But trained military band members who can play the memorial tune, which was designated as the "National Song of Remembrance" by Congress last year, are in ever shorter supply. On Memorial Day, Arlington National Cemetery will air a documentary centered on the increasingly rare buglers.
A serviceman rendered a live taps performance that first time Neiberger-Miller was at Section 60, and she will visit again on Monday. Arlington is perhaps best-known for the tradition where the sounds of taps echo across the vast cemetery year-round, during veterans' burials and ceremonies at the Tomb of the Unknowns. And though taps players are often found at funerals for those who have died during active service, America's "final salute" for many departed active and inactive service men and women is also frequently played electronically, either via a CD or a switch of a button on a digital bugle that looks nearly identical to the real thing.
"At the turn of the century there were thousands of performance buglers in the military and even organizations like that American Legion, Boy Scouts and Veterans of Foreign Wars training boys and men to bugle as a hobby," said Jari Villanueva, a music historian who played in the U.S. Air Force Band for 23 years and is currently the director of Veterans Affairs for the Maryland National Guard Honor Guard. "But these days, young boy buglers are all but gone, and one of the first things to go with any cuts in the military are things like bands, where the buglers come from."
So while the 633,000 veterans estimated by Veterans Affairs to die each year are guaranteed military funeral honors under federal law, the "musical purity," as Villanueva calls it, varies for each (312 service members died in active duty in 2012, according to the Department of Defense). In addition, only a fraction of those who die, or their families, request military honors.
There were 255,284 military funeral honors conducted in 2012, according to Lt. Cmdr. Nate Christensen, a Department of Defense spokesman. Christensen said the department doesn't keep track of how many live taps performances there are versus electronic bugle performances, but he said that 95 percent of services are conducted with live bugles or electronic bugles as opposed to the CDs that were frequently used before 2002, when the digital bugles were first tested by the military as it noticed the dwindling pool of bugle players.
"While a live bugler is always preferred, in many cases, members of funeral details do not have musical training," Christensen wrote in an email. "More than 16,000 ceremonial [electronic] bugles are now in use by military units and veterans service organizations."
"The playing of Taps is often performed by volunteers and members of veterans service organizations. We are grateful for the support of these individuals who often augment our funeral support to families during what is a very difficult time for them as they mourn their loved ones," he said.
To most ears, the difference between a live performance and recording of one of the nation's most haunting and symbolic tunes is difficult, if not impossible, to discern. But for people such as Tom Day, a lifelong bugler who was trained in a drum a bugle corps while growing up on the outskirts of Chicago, the difference is a palpable "stolen dignity," he said.
Thirteen years ago, Day founded Bugles Across America, a nonprofit network of 8,000 volunteer horn players throughout the U.S. and in several countries abroad. The network offers to dispatch a local civilian bugler to a military funeral via requests submitted on its website. The service is free to mourning families, and in states and rural areas without robust military funeral programs, groups such as Day's are often more common at funerals than official military band players. His group is one of several in the U.S. that have grown to offer volunteer taps performers for military funerals. "There is no amount of money or technology that can buy the feeling you get playing taps for a family, the last time they are seeing their loved one and veteran," said Day, a 73-year-old resident of Berwyn, Ill. "It's something sacred to us and to them. It brings tears. We call it the hardest 24 notes."
While the notes themselves can be played by fewer people, the sound is one of the first that many young Americans hear because of how frequently taps is played at national events, Villanueva said. It can be traced to a French bugle tune used in the early 19th century to call for "lights out" for American infantry members, but the modern-day version is credited to Union Brig. Gen. Daniel Butterfield, according to the VA.
In 1862, while mourning the death of more than 600 soldiers in Harrison's Landing, Va., Butterfield modified the traditional late-night call -- shortening and lengthening notes and simplifying its sound -- and had his brigade's bugler, Oliver Willcox Norton, try it out. It was quickly adopted for the funeral of a cannoneer, where the captain overseeing the burial instructed his men to play the music and not fire the traditional three volleys because the enemy might interpret them as a call to battle (In today's funerals, volleys are fired). More recently, the televised funeral for President John F. Kennedy was the first time millions of Americans were able to see a burial ceremony at Arlington National Cemetery and experience "the power of taps" together, Villanueva said.
"Every person can recognize the tune within the first three notes," Villanueva said. "When you hear it, it just brings you back immediately to every time before that you've heard that sound.
"Taps rises up to a high point and then comes slowly down, and think of how a person's life builds, reaches that high crescendo and then comes back," he describes. "It's amazing how much is packed into a piece of music that is 24 notes long and lasts 50 seconds."
Below, a gallery of Memorial Day observations across the country: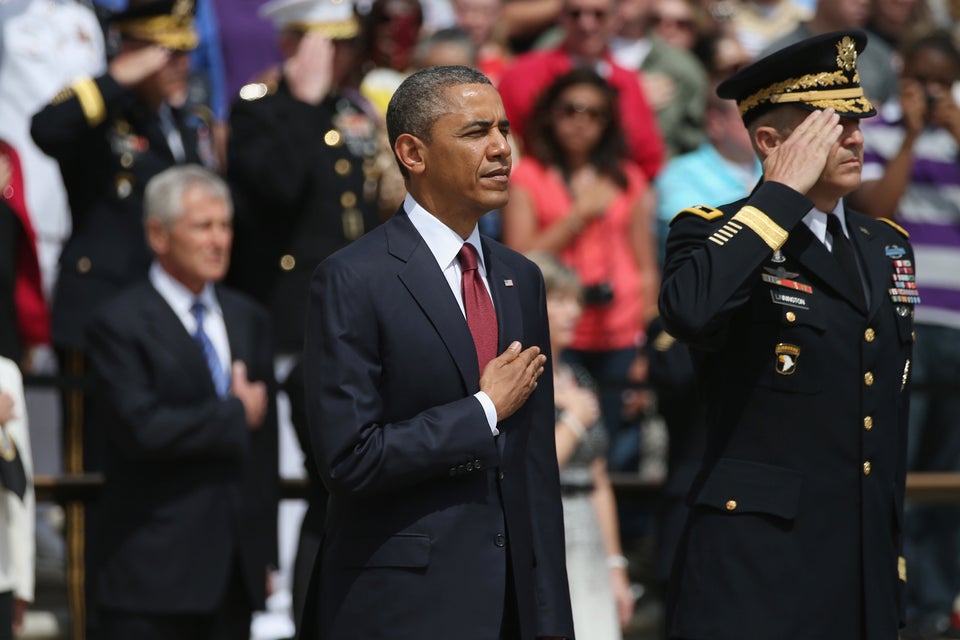 Memorial Day 2013
Related
Popular in the Community