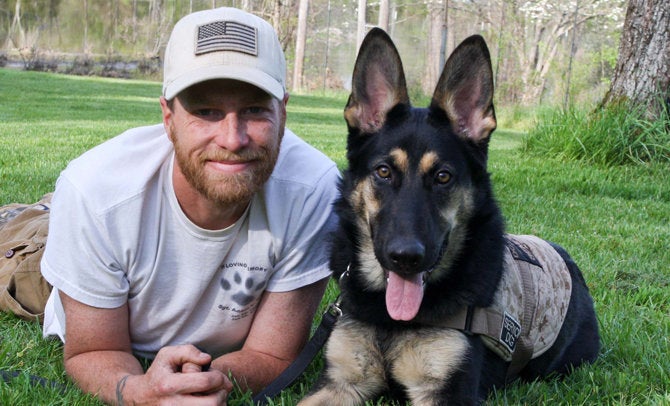 Christopher Baity always wanted to work with animals.
His parents bred and trained dogs when he was growing up. He thought maybe he'd become a veterinarian. But eventually, Baity found his niche as a dog handler for the U.S. Marine Corps. He worked with drug dogs and bomb dogs during deployments to Japan, Iraq and Afghanistan in the early 2000s.
When he came home in 2009, Baity said he couldn't imagine finding different work. He had spent his life with dogs. So, he improvised.
A few years ago, Baity had the idea to start an organization that pairs trained service dogs with injured or critically ill veterans.
"There was a huge need," said Baity, founder and executive director of Semper K9 Assistance Dogs, in an interview with The Huffington Post. "I saw the benefit that service dogs could provide."
Baity is this year's recipient of the Red Bandanna Hero Award, presented by HuffPost and the American Heroes Channel, which recognizes everyday heroes.
The first time Semper K9 paired a service dog with a veteran was perhaps the most rewarding, Baity said. It was 2015, and he had been working with Buster — named after a Vietnam Army veteran — for more than a year, teaching him and training him to meet the needs of his future handler.
Then Baity met Russell Walters, a veteran who suffered from post-traumatic stress disorder and traumatic brain injury. He worked with Walters for over six months before he felt both Buster and his new owner were ready for the transition.
The long hours and hard work paid off the night Baity watched the pair go home together.
"To see the look on his face, it's almost like you could see a change — an instant change," Baity said of Walters. "It felt like I was on springs. It was miraculous, I don't know how else to describe it."
Other matches have been similarly powerful. One veteran's young daughter greeted Baity with a hug, thanking him because "my dad is a new person."
"Those are the things that almost bring me to tears every time," Baity said. "To me, that's what it's all about."
Semper K9 is a Virginia-based nonprofit that launched in 2014. Because it provides the dogs to wounded veterans at no cost, Baity said he plans to use the $10,000 donation from the Red Bandanna Hero Award to train another service dog.
"It's very humbling," Baity said, adding that he was honored to receive an award inspired by Welles Remy Crowther, who rescued 12 people after the 9/11 attacks on the World Trade Center. Baity will be recognized Friday night at the annual Red Bandanna Game, a football game between Boston College and Clemson University.
Calling all HuffPost superfans!
Sign up for membership to become a founding member and help shape HuffPost's next chapter
BEFORE YOU GO
PHOTO GALLERY
Meet Our Body Image Heroes