Top military officers described threats to our military's readiness this week before the Senate and House Armed Services Committees in appeals to boost spending. I was struck by Assistant Commandant of the Marine Corps, Gen. Glenn Walters' call on Tuesday for 3,000 more Marines, because by his estimation, our current force is "insufficiently manned, trained and equipped." Army Gen. John Nicholson said Thursday that thousands more troops are needed in Afghanistan to break a "stalemate." While the hearings focused on expanding the military budget under a new President committed to a defense buildup, it's critical that we recognize that the national security of the United States depends on a fit and healthy military force. The cost savings achieved by improved health and fitness could, in turn, be spent on equipment and supplies.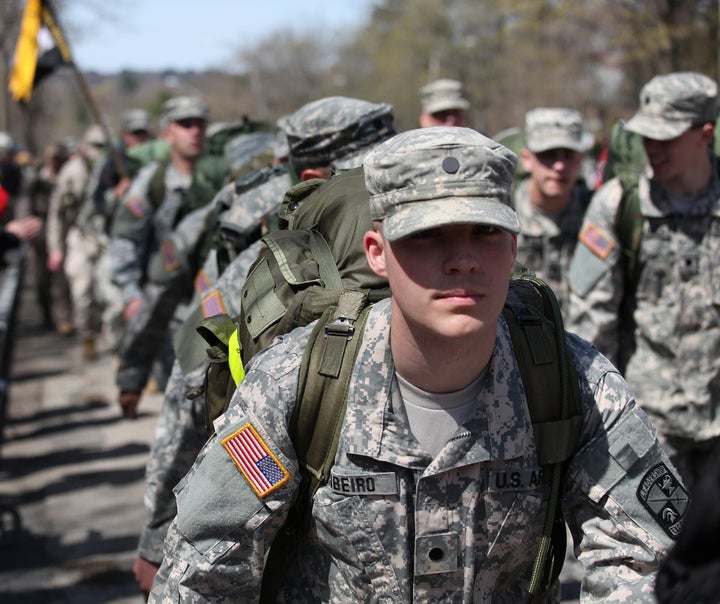 Technology and machinery will not substitute for the human capital of our armed forces. Obesity in military personnel impairs fitness, health, and severely affects the retention of our service men and women According to the 2015 Army Health of the Force report, 76% of soldiers who are non-medically ready to deploy have a musculoskeletal injury, which we know are strongly associated with overweight and obesity. The report also notes that we spend $137 million annually to replace soldiers discharged due to issues with weight control, or $75.9K per new recruit.
Obesity and overweight also hinders recruiting. Less than a third of the prime recruiting pool (17-24 year-olds not in college) meet the core military eligibility requirements. Being overweight makes more than 10% of otherwise eligible recruits unacceptable for service. Among actual applicants, failure to meet body composition standards is now the top medical disqualifier, a trend that has increased by 70% from 1995-2008.
Health and Wealth: Military Families, Veterans also at Risk
TRICARE estimates that overweight and obesity cost the military health system nearly $106 million in lost productivity and $1.1 billion in associated medical expenditures annually. Data indicate that up to 30% of youth, 45% of military spouses, and 72% of veterans have either overweight or obesity. Although broad military changes in dietary intake and sedentary behavior somewhat mirror those of the civilian population, the physical and psychosocial stress associated with stringent fitness standards, overseas deployments, and frequent relocations may put service members, their families, and veterans at increased risk for psychological and physiological changes that contribute to weight gain.
Targeted investment in evidence-based programs that promote healthy weight across the lifespan can improve personnel retention and readiness, reduce system-wide healthcare costs, and boost individual morale. Many military leaders and policymakers have begun to pilot innovative approaches, including Preventing Obesity in the Military Community. This newly established research program targets obesity prevention and treatment during high-risk periods for weight gain—pregnancy and early infancy, adolescence, young adulthood (after the first tour of boot camp), and years immediately preceding/following departure from active duty. The Healthy Base Initiative (HBI)—a component of the Department of Defense's Operation Live Well campaign—tested a series of short-term demonstration projects across 14 pilot sites to assess the ability of various environmental and behavioral interventions to make good nutrition, active lifestyles, and tobacco-free living the norm among service members and their families. The 1-2 year implementation period was too brief to capture meaningful population-level changes in prevalence of overweight and obesity, but the HBI framework included an extensive family of performance measures that may be useful when assessing similar programs among civilian populations.
It is clear we need increased investment in programs and policies that improve health and fitness among our military and civilian populations. Achieving improvements can also help reduce military force and veteran health care costs and improve our military's performance and our ability to deploy troops. As we discuss military budgets and investments, we at the Redstone Global Center for Prevention and Wellness urge military leaders and policymakers not to lose sight of the critical value of our human capital.
Popular in the Community