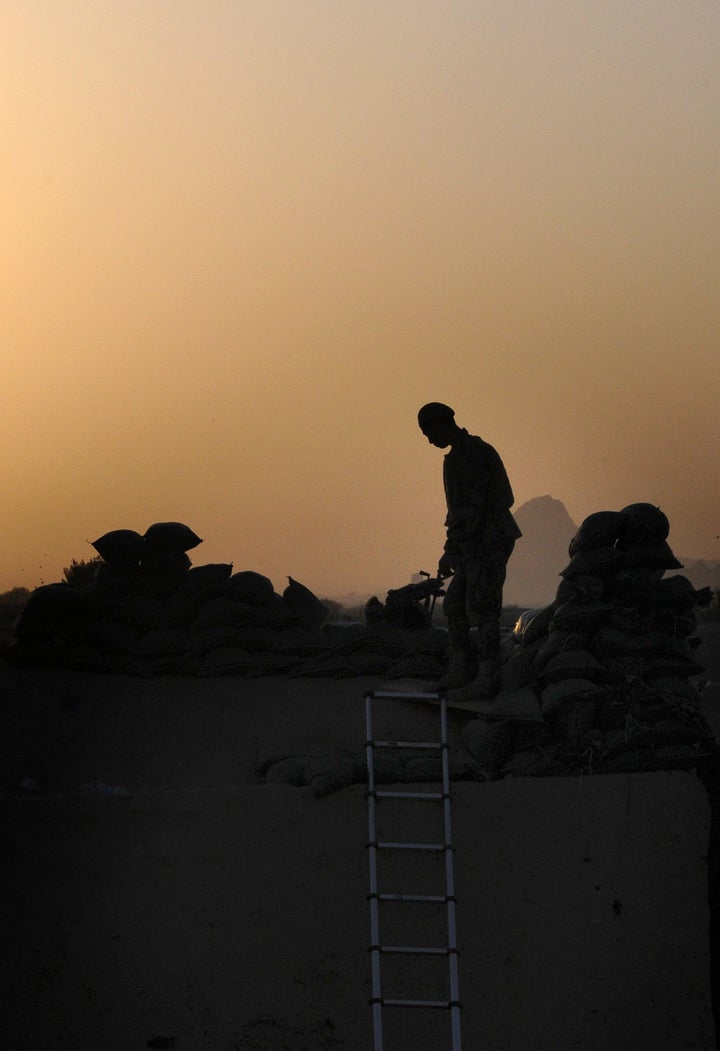 Despite all the attention paid to the use of private military and security contractors on battlefields it is true, as many in that industry say, that it is not that new; at least not as an organizational phenomenon. In fact, the problem of adjusting American military organization to new social, political, and strategic realities has perplexed military thinkers since the closing days of World War II; proposals for reform have proliferated since the end of the Vietnam War. Substitute outsourcing and privatization for new realities and the challenge seems much more familiar.
Put simply, the U.S. once had a vertically integrated process to transport troops, run supply chains, and maintain equipment. Today, the military outsources these functions to private companies.
These workers drive trucks, cook meals, maintain equipment, and provide security. Nation-building activities include building roads, schools, and dams in Iraq and Afghanistan. When these jobs are subcontracted, soldiers and civilians work together in coordinated duty and employment. This integrated model constitutes a new war-labor paradigm.
Still, every now and then an unappreciated aspect of the readjustment comes to light. That is the subject of this article.
In 2010 Michael H. LeRoy, a professor at the University of Illinois College of Law published a paper exploring the question of how losses are compensated when civilians and soldiers are seriously injured or killed in integrated settings.
Increasingly, soldiers serve under the direction of contractors. Meanwhile, civilian employees work for private sector firms that are directed by the military. Thus, some soldiers engage in non-combat activities such as building water treatment plants, while civilians work in combat support roles such as guarding mess halls and supplying troops.
LeRoy points to two incidents that help illustrate the two poles of the paradigm.
First, was a Halliburton supply convoy that tried to deliver supplies to U.S. troops in Iraq. Six truck drivers were killed after their group was ambushed in 2004. The day before, a similar convoy was attacked, killing a co-worker. The work so unsafe that managers contemplated an interruption of services, but they decided to go forward, leading to the death of their employees.
The workers' survivors, suing in tort, believed that job ads misrepresented the safety of work in Iraq. A judge rejected Halliburton's defense that it has immunity from suits as a government contractor. Thus, the survivors' legal claims are proceeding to trial.
In the other case soldiers served on a non-combat mission under a civilian contractor. As they worked at an Iraqi water treatment plant, they developed bloody noses -- a sign of poisoning from the sodium dichromate in pipes.
Fearing-long term effects from this deadly toxin, the soldiers sued KBR. An Indiana court will decide whether their claims are dismissed under a doctrine that bars tort recovery for injuries that arise during military service.
LeRoy asks should the soldiers only receive service member benefits, or should they be allowed to pursue tort and other remedies?
Is this just a technical legal issue or does it have greater significance? According to LeRoy:
When courts award or deny monetary relief in these war labor cases, they decide whether civilians and soldiers perform "work" or "service." The distinction has profound consequences for compensating war losses. This study sheds light on growing judicial scrutiny of the integrated use of civilians and troops by asking: How are civilians and soldiers who are co-mingled in this military system paid for death and injury? Do sovereign immunity theories bar recovery? Do courts order arbitration of these claims? If courts try claims, what laws apply: torts or worker's compensation?
LeRoy examined injuries to both soldiers and civilian contractors and what, if anything, the received in way of compensation. He found that:
Private military forces do not usually qualify for workers' compensation because they work beyond state borders. Only a few states apply this law for injuries outside their jurisdiction. The Federal Employees' Compensation Act is a workers' compensation law for federal employees, but it does not apply to contractor employees. Thus, most private military force employees fall in a workers' compensation void. However, the Defense Base Act applies to some of these workers. It pays civilians who are killed or injured on public works projects outside the United States.
He also found that that no soldiers received workers' compensation for their losses.
This is not surprising. When soldiers die during active duty, the United States provides survivor benefits. These include monthly payments to spouses, children, and other dependents under the Dependency and Indemnity Compensation and Survivor Benefit program. Alternatively, survivors are eligible for lump sum payments from the death gratuity program. This provides a maximum benefit of $ 100,000. Service Members Group Life Insurance supplements this automatic benefit by allowing soldiers to buy up to $ 400,000 in insurance.
But in some cases, servicemen or their estates and survivors, believed that death and injuries were proximately caused by contractors. But these lawsuits were unsuccessful. Courts applied sovereign immunity doctrines to dismiss these claims.
This doctrine reflects a long-held view that the United States must give consent before a party may sue it. In specific instances, the federal government has waived its sovereign immunity -- for example, where individuals sue on a government contract
LeRoy has reviewed the legal cases against various contractors by both soldiers and contractors and has created, as one would expect from an academic, a typology. I won't try to explain it here but some of his findings are noteworthy.
The cases in the typology lead me to suggest four public policy options for compensating civilians and soldiers who are killed or injured while they work together in a war zone. Before I discuss these possibilities, I explain how the current array of contractor defenses present obstacles to these alternatives. The success of contractor immunity defenses appears to have several objectionable short-term effects. They terminate court proceedings that result in intensive fact-finding. A potential byproduct of ending discovery is to shield contractors from answering questions that implicate public interests. Contractors have a special relationship to military commanders. It does not necessarily follow, however, that sexual assaults of civilian workers should be hidden from public scrutiny, or that air-taxi companies with poorly trained pilots should be free from judicial discovery when their possible negligence kills service members, or plausible claims of contractor indifference to the likelihood of civilian-employee slaughter by enemy ambush should not be tried to a United States civilian court.
LeRoy offers five options
Option One: Preserve the Status Quo

Option Two: Create a Federal Workers' Compensation Policy for Civilians Who Work with Military Forces in War Zones

Option Three: Apply Extra-Territorial Provisions in Current State Workers' Compensation Laws to Civilians Injured in a War

Option Four: As a Condition for War Contractors, Private Employers Should be Required to Pay More Generous Death, Disability, and Health Insurance Benefits

Option Five: Improve the Compensation System for Soldiers Who Are Killed or Injured While Serving with Private Contractors
On the plus side LeRoy found that doing nothing, Option 1, is better than it sounds. He noted:
The present method for resolving death and injury claims does not necessarily need to change. Most civilians and service members are able to try cases in civil law courts. This means that judges are open-minded in responding to the new war-labor paradigm. In other words, courts are not dismissing complaints simply because incidents occurred: (a) outside the United States, (b) in active combat zones, and (c) in conjunction with military command. These three points are remarkable given that courts usually dismiss liability suits against contractors by applying immunity doctrines. In sum, courts are grappling with the new war-labor paradigm but have ponderous methods to rule on claims.
After detainees and their survivors sued the company for abuses committed by CACI employees, the contractor sued to have its insurer defend it in this lawsuit. Interestingly, the detainees sued on an employment tort - negligent hiring and supervision. The insurance firm refused to defend CACI because its contract only covered activities in the United States. Affirming a lower court ruling that relieved the insurer from a duty to defend the contractor, the Fourth Circuit rejected CACI's arguments that the policy provided coverage for activities that occur a "short time" outside the coverage area.
LeRoy found this troubling. His article concluded thusly:
Viewed in the context of this study, CACI raises difficult questions: If Iraqi detainees have a possible employment-law cause of action against a military contractor, why are the seriously or fatally injured employees of these contractors forced to endure many years of pre-trial maneuvers to bring their damage claims before a United States court? Why do United States troops face the same types of obstacles for recovery when Iraqi detainees are cleared to sue war contractors in American courts? And, if a war contractor is willing to pay for liability insurance for its aggressive interrogation business in an Iraqi prison, why does the same type of contractor not provide workers' compensation for cooks, mechanics, guards, engineers, pilots, and truck drivers who work in the same combat area? The United States has set an inexorable course for privatizing and commercializing the waging of its wars. However, when companies contribute to the death or injury of service members or civilian employees, there needs to be a better method to improve the compensation for these losses.
REAL LIFE. REAL NEWS. REAL VOICES.
Help us tell more of the stories that matter from voices that too often remain unheard.