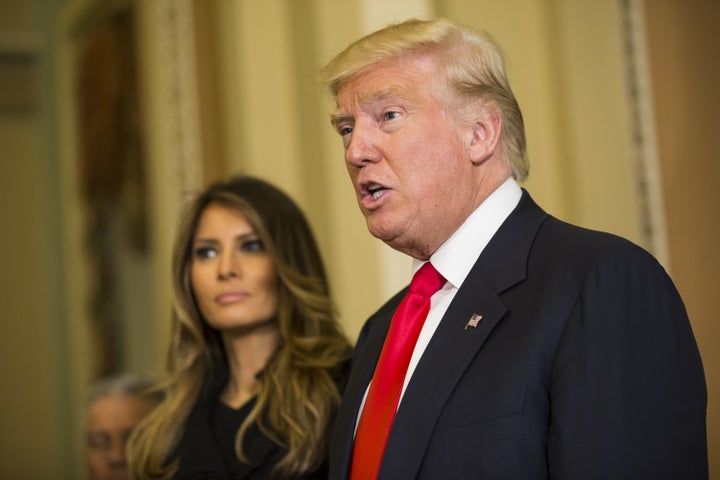 International military and security experts have warned that if Donald Trump wants to protect U.S. national security, he must fight to combat global climate change ― a phenomenon the Republican president-elect has dismissed as "bullshit" and a "hoax."
In a consensus statement Monday, an international forum of security experts called on world leaders to "build on the exemplary international action on climate change achieved in 2015." Failing to do so, they said, could increase the risks of violent conflict and economic instability.
"Climate change is already contributing to social upheaval and even violent conflict by making bad situations worse. It places stress on water, food and energy resources," the members, including several retired U.S. military leaders, wrote. "As competition for already scarce resources increases, climate change could halt or even reverse peace and development gains made over the past decade."
The statement comes as The Center for Climate and Security is delivering its comprehensive climate change "briefing book" to Trump. The lengthy document ― released in September and prepared by the center's Climate and Security Advisory Group, a non-partisan group of 43 U.S. military, national security and other experts ― recommends the president-elect and his administration include the risks of climate change in their national security planning.
"Just as any good business owner or CEO would not consciously ignore a risk to their enterprise based on ideology, a president can't ignore the risks of climate change," retired Navy rear admiral and advisory group member David Titley wrote in an opinion piece last week in the Washington Examiner. "They are real, they are happening now, and they impact both men and women serving in our Armed Forces today, and our millions of veterans at home."
Although still early, it's hard to imagine Trump taking the experts' advice.
Trump has also said he would cut all federal spending on the issue, including for climate change research, cleaner technologies and assisting communities already threatened by climate impacts. And he has turned to climate change denier Myron Ebell and fossil fuel lobbyist Mike McKenna to help with transition work at the Environmental Protection Agency and Department of Energy, respectively.
Climate scientists have not minced words about what a Trump presidency could mean for the environment. "To quote James Hansen, I fear this may be game over for the climate," Michael E. Mann, a professor of atmospheric science at Pennsylvania State University, told The Huffington Post last week.
"We must think beyond energy policy, and integrate climate risk into national, regional and international security planning in a way that is commensurate with the risks," they wrote.
Related
Before You Go
Here's What The 10 Leading GOP Candidates Think Of Climate Change
Popular in the Community