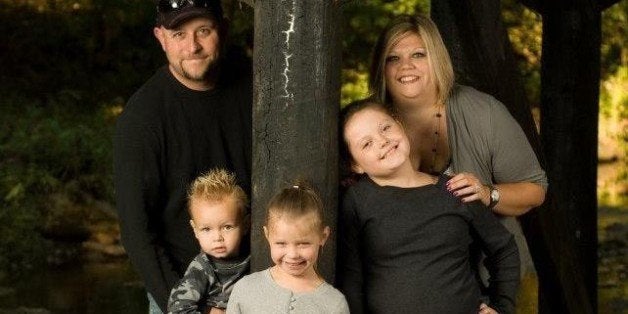 HATTERAS, N.C. -- Staff Sgt. Joe Payne, an Army combat engineer, survived Afghanistan. It was coming home seven years ago that shattered his marriage and nearly killed him.
"When he got home safe we thought it was the end of the biggest battle," Joe's wife Mary, now 31, told The Huffington Post. "We didn't realize that the biggest battles were still ahead."
A decade of war has taken a toll on the nation's military families. For years they have been lauded for their resilience, for enduring frequent deployments and the physical and mental wounds that often accompany their loved ones when they return. But now, with the pace of deployments easing, with combat troops retiring from the familiar structure of military service and trying to adjust to civilian life, marital strains are emerging.
A grinning, easy-going teenager, Joe Payne had enlisted in 1997 right out of high school in Asheville, N.C. He loved military life, including a 2003 deployment to Iraq. He and Mary were married in 2004. During his second tour, in 2005-2006, he traveled Afghanistan's roads to hunt down hidden improvised explosive devices, the deadly homemade explosives that have killed thousands of American troops and Afghans. These "route clearance" missions are among the military's most dangerous. Death was everywhere. Payne himself was shaken and stunned by dozens of blasts and was knocked unconscious twice.
But it was the death of four friends, in an IED detonation on March 12, 2006, that sickened his spirit. They had been close; they and their wives and kids had socialized together back home at Fort Bragg, N.C. In Afghanistan, under the stress of combat, the five men had grown even closer, sharing an intimacy deeper than what many civilian couples experience.
When Payne ran to their wrecked Humvee he found three were dead, killed instantly. The fourth soldier was still alive, barely. "I packaged him for the helo," Payne said. Meaning that he strapped on tourniquets, eased a breathing tube down the man's throat, pushed in a large-bore IV needle and jabbed him with morphine. The wounded soldier was bundled onto the medevac helicopter still alive. Minutes later he, too, was dead.
Payne came home that October and was diagnosed with severe post-traumatic stress disorder and debilitating flu-like symptoms that doctors eventually realized was malaria. But the enormity of his grief, the overpowering sense of loss, were things he said he simply couldn't find a way to share with Mary. Instead he acted angry, abrupt. He would disappear for hours at a time. He couldn't sleep and would stay up for days, then collapse into an exhausted slumber from which he'd jerk awake, sweating with nightmares of that wrecked Humvee with his four friends in it.
Things got worse. By 2009 the Army had medically retired Joe, ending his plan for a military career and separating him from his friends. The U.S. Department of Veterans Affairs lost his paperwork, delaying his disability payments. His family was growing, with two young daughters and a son on the way. But Joe couldn't find a job, and didn't qualify for unemployment. Car loans and mortgage went unpaid for months and the bank was about to seize their two cars and foreclose on the house, which had been in Mary's family for generations.
"I wanted so bad to take care of my family," he said. "I just couldn't do it."
Deeply ashamed and depressed, Joe withdrew. "I literally shut down so no one was getting in," he explained.
"He was a completely different person," Mary said. "We had a lot of fights. I was trying to get him help, and he was trying to stay in bed."
After five years of marriage, things had come to an end.
Certainly many, perhaps a majority of military couples have relationships as strong as their civilian counterparts. Yet in one measure of trouble, divorces among active-duty enlisted troops have increased from about 34,000 a year in 2000 to almost 50,000 in 2011, according to Defense Department records.
Pentagon officials said that rate held steady in 2012 as well.
Troubled marriages are harder to measure among those who have left the military. Studies of Vietnam War vets show married veterans struggling to adjust after their return, having difficulty with parenting and communicating with their spouses, and suffering from greater anxiety over intimacy and sexual dysfunction. Roughly 38 percent of their marriages failed within six months of their return, and the divorce rates for those with PTSD, a common battlefield injury, were twice the rate of those without PTSD.
Today's veterans, especially those with PTSD, may be facing the same daunting odds.
According to the VA's National Center for PTSD, between 286,000 and 520,000 of the 2.6 million military men and women who have served in Iraq or Afghanistan may be suffering from PTSD. A 2012 Defense Department study found that only 54 percent of service members who screened positive for psychological health needs or traumatic brain injury in post-deployment health assessments went to the VA facilities for treatment.
There is some good news for today's generation of veterans, though: a growing recognition that military families need help despite the stoic face they often present to the outside world. They are more willing to seek help. And more help is available. The Defense Department, the VA and dozens of private volunteer organizations offer resources and often counseling to military families. The Army's Strong Bonds program, for instance, offers marriage skills training for couples.
But officials and marriage specialists believe that these programs reach only a minority of troubled couples. Some veterans don't trust the government with their private lives; others are reluctant to admit they have a problem.
"How many military families are in trouble? We don't know the numbers, but I would say it's lots, lots, lots," said Jerry Powell, who recently retired as an Army paratrooper and senior chaplain to counsel military and veteran couples full time outside Fort Bragg.
Many programs for military couples recognize that marriage repair is a long-term endeavor and that short-term retreats can't heal relationships -- but they can help get the process started.
That's the approach taken by one non-profit, the Wounded Warrior Project, which recently invited eight couples to an oceanfront beach house in Hatteras for three days to help rejuvenate and strengthen their marriages. The eight couples included veterans with physical injuries and chronic pain, and a female nurse who, like the others, struggles with PTSD and mild traumatic brain injury. And Joe and Mary Payne.
While most of the couples at the retreat asked not to be identified by name, Joe and Mary wanted to tell their story, to pass on what they've learned to other military couples.
Mary's advice: "Realize that there are others going through what you're going through. Reach out for help, before it gets to where it got for us."
In their darkest hours back in 2009, Joe had come to feel his wife and kids were a constant irritant rather than a source of support and comfort. He stayed away more and more often, and finally moved out, abruptly abandoning her and their children. "That was a shock," Mary recalled. "I was really mad: here I had stood by him through everything and I couldn't believe that he'd just left." She was terrified, she said, that off by himself he would take his own life.
But she was unwilling to give up. Searching the Internet for help one night, she found the Wounded Warrior Project. Their compensation specialists got Joe's disability payments expedited, and just as important, brought him a bicycle. He hopped on and pedaled away -- and found relief in new-found freedom and mobility. Within months he was racing competitively, and eventually began the swim-bike-ride of triathlons. And he and Mary began to get back on track.
Of course it's not that simple. Not so easy to rebuild communication and trust in a marriage that has suffered so much damage. That's true for any marriage. For many military couples, layered on top of normal marital strains are the extreme anxiety, irritability, insomnia, depression and hyper-vigilance that can accompany PTSD and mild TBI.
Separated during long deployments, military husbands and wives have learned to cope without their spouse. Communication skills have deteriorated.
Like others who came here, Joe and Mary recognized that after nine years of marriage, they needed a stronger relationship. With his VA disability compensation and a good job, Joe, now 34, has made the family financially stable. He has moved back in and is close with his two daughters and their son, born in 2010. But the damage to their marriage had been deep, and they knew they couldn't repair the lingering wounds on their own.
The three-day retreat, provided without expense to the couples, included some standard marriage therapy focused on re-establishing intimacy, rediscovering what had brought them together in the first place and finding forgotten ways of communicating.
But like other programs designed specifically for military couples, the Wounded Warrior Project retreat involves only veterans and is run only by veterans, who are trained as combat stress recovery specialists and understand the effects of PTSD and traumatic brain injury. This retreat, for instance, was designed and run by Joe Brazzle, a former Army sergeant who served three tours in Afghanistan and returned with PTSD. He lost most of his eyesight and suffered other wounds in an explosion and now travels with a devoted black-and-white Great Dane service dog named Hope.
The veterans-only atmosphere is intended to create a safe space of understanding and forgiveness that enables both husbands and wives to unburden themselves in ways they wouldn't do at home.
It's often difficult for a soldier or Marine to admit fear or weakness to his wife; far easier to do it in a group of other wounded combat veterans. And in the telling, the veteran's wife and other spouses listen and gain insights that can help them understand and defuse the squabbles they've been having.
"Being disabled can have huge negative psychological effects," said one veteran who spoke up in an early group session.
"I was a magnificent athlete, I never had to study to get ahead, it all came naturally. Now I can't work out, so I'm gaining weight around the middle. I can't hear and I have a soft-spoken wife and she will never speak up, and when I say 'Huh?' she'll say, 'Oh, never mind,' and go away," he said with irritation. "It's not being able to do what you used to do, and I'm agitated. You resent it more and more."
As his voice rose, his wife, sitting at his feet, began to squirm uncomfortably. He leaned forward to touch her shoulder. "I'm not angry with you," he said. "I am angry at the disability -- angry at the people who have a normal life. I try not to lose my temper. It's a crappy position."
Other veterans spoke of the difficulty of learning to speak. At war, men often communicate with grunts, swear words and sarcasm. "A-a-aay-yo!" could mean, "Hey, I'm back from the mission, I'm safe, thanks for watching my back. Love you, man." It works better in the field than at home, one veteran allowed. And sarcasm? "We use it to cover up that we're confused or scared, calling each other names, stuff like that," said another veteran with a thick beard. "Then when you come home you can't communicate. The Army never prepares you for that."
At a sunrise session of yoga on the beach, the couples practiced relearning physical intimacy, facing each other in a crouch, then slowly rising while holding hands, depending on each other for balance. Sitting back to back, arms linked, alternately leaning forward to take the partner's weight on the shoulders. And finally, for minutes of deep breathing and meditation, lying side by side, head by the other's feet, each with a hand resting gently on the other's heart.
Later, skill-building. "I want you to tell your partner, what is it about him or her that you are happy about," Brazzle said. "It may be difficult because you may not have said it in a while," he added. "If you can't say it, write it and pass it to your partner."
"The goal here is to start figuring out how to live together, to have fun and be excited together," he said. "How do we become friends again?"
He also urged the veterans to learn to listen. "Us military guys, we like to fix things," he said. "That's what we do. So your wife tells you she wants to talk about a problem and right away you want to rush in to fix it. Well, no -- maybe all she wants to do is have you listen, and not fix it. Just listen."
And when irritation causes an angry exchange that begins to escalate, recognize the approaching explosion and signal a "time out" with your partner. Go away and cool off.
After three days of exercises and discussions wedged between play time -- experimenting with surfboards, paddle-boarding and an evening sail -- there was tentative progress.
"I appreciate you telling me I'm brave," one veteran told his wife. "Because sometimes I don't feel so brave."
Another couple agreed they would signal a time-out when a squabble was brewing. He would go to another room by himself for a while, but they disagreed on what would happen next: she wanted him to have a plan; he wanted just to relax. That went unresolved.
A veteran acknowledged in front of the group, "I've been abusive, harmful. Bad. I appreciate her commitment to me."
"Tell that to her," urged Mary Fisher Murray, one of the project facilitators. "Look at who has been your best friend, who's stood by you all this time. That's your support system, because you don't have your battle buddies on a daily basis any more."
And Joe and Mary came to a better understanding, in part by telling their story. "What I need," she said later, "is the reassurance that you're not going to leave again."
"I am sorry for the things I've done and the things I've put you through," Joe told her. "I have learned to make sure I reassure her, that I can provide security and comfort, that -- I'm here."
"And if I can keep a warrior from having the same feelings of hopelessness, anger, the feeling that no one cares -- then I will have really succeeded."
Before You Go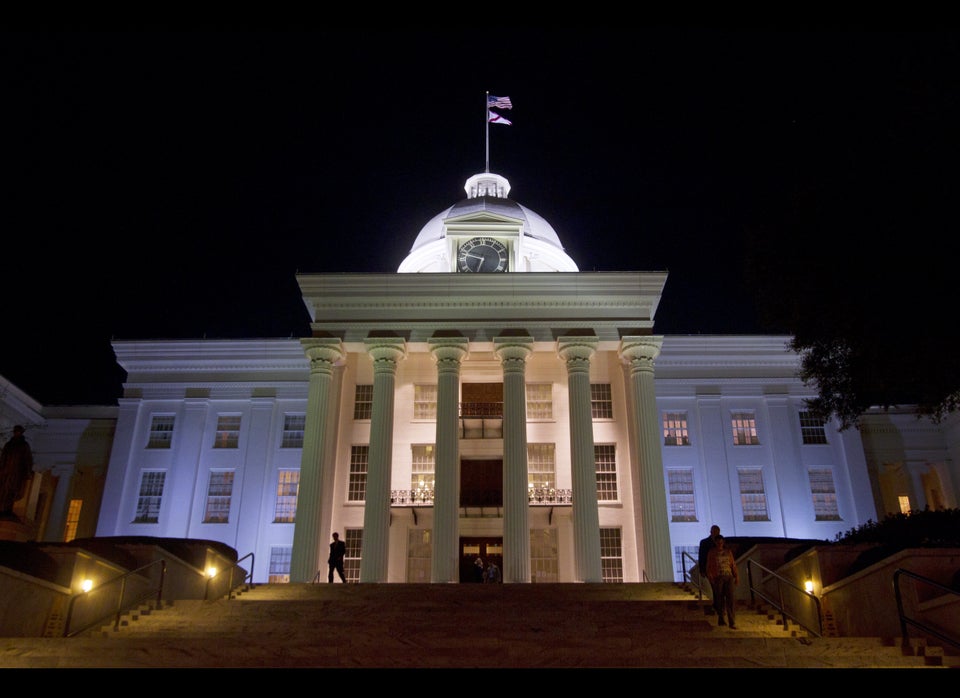 U.S. State Capitol Buildings
Popular in the Community