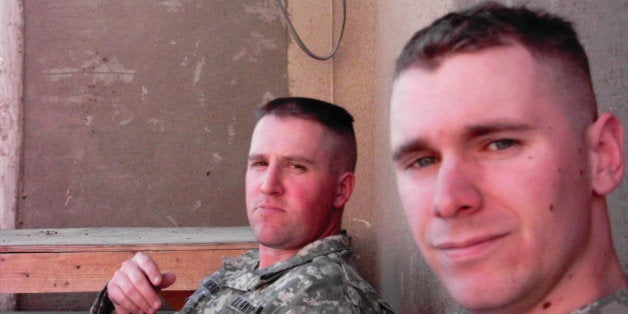 This article is part of a special Huffington Post series, "Invisible Casualties," in which we spotlight suicide-prevention efforts within the military. As part of the series, The Huffington Post contacted military service members and veterans who have considered suicide to learn what saved them from that irrevocable step.
Guys still fly across the country to show up at Travis Landchild's door in Vancouver, Wash., and he waves them right on into his garage for marathon counseling sessions. These are the soldiers of the 2nd Brigade Combat Team. They've never quite come home from that 2007 combat tour in Iraq, and Landchild, who deployed with them as a mental health specialist, is still providing therapy.
"It's tough here now, I still hear from guys," said Landchild, 32, who now runs a food cart across the river in Portland, Ore. "They're my guys, they're my brothers. They'll come once a year, and that's their counseling. I've done so much trauma counseling, I can see it, I can understand, no matter how horrendous it is."
But the burden on military health care providers like Landchild is crushing.
"I still have nightmares that are not mine," he said. "Plenty of nightmares where I'm going in, busting down the door, killing kids. That's not what happened to me; that's something that was told to me."

Landchild said PTSD is just a medical way of trying to describe a condition that isn't medical -- it's spiritual.

"War changes you for the rest of your life," he said. "For warriors, the rest of your life is a path of healing. One of the most important aspects of that path of healing is a new role in society. As combat veterans, we don't have a position in our society that we fall into, and therefore we can't heal."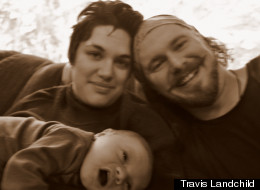 May 2011 photo of Travis Landchild, his wife Angela and their son Asher.
Landchild, an Eagle scout, enlisted in the Army after 9/11. "I wanted to do something I could do," he said. "It was not, 'I'm gonna go over there and kill 'em.' It was, 'I'm gonna help.''' Trained as a mental health specialist, he later deployed to Iraq with a psychiatrist, Capt. Peter Linnerooth, and with Brock McNabb, a soldier whose personality made him a natural mental health worker.
Arriving at Baghdad's sprawling Victory Base Complex in the summer of 2006, Landchild said the three found themselves responsible for the some 20,000 soldiers based there -- the battalions of the 1st Infantry Division, and those attached to them. "We get there," Landchild said. "And they're like, 'You're it.'

"And that's the whole freakin' psychological world in the military," Landchild said. "The military has to show that they're trying to take care of their soldiers, but they do the bare minimum necessary, just to make it look like they're taking care of people."

Given the comical scarcity of resources, and the team taking on responsibility for an entire division, Linnerooth effectively upgraded the trio, dubbing them "the division of mental health."
Landchild had trained at the in-patient psych ward at Madigan Army Medical Center outside Tacoma, Wash. "We were getting a lot of psychotic breaks, guys two months out from the desert," Landchild said. "So they come in, they've been heavily medicated for transport. So we give 'em some more, so they can sleep, let the meds wear off. They have another psychotic episode. So we fill them with drugs again, let them taper off, because 90 percent of the time they're going through withdrawal.
"If someone is going really freaking crazy, you'll take turns to tie them. It's, 'I'll take the coffee, you take that guy down.'"
In Iraq, there was pressure to treat soldiers quickly and get them back to the war.
"We just rock-and-rolled that deployment," Landchild said. "We started running Iraq."
Linnerooth had the team start conducting Behavioral Health Needs Assessment surveys
to arm themselves with numbers against higher-ranking obstruction. Landchild became the stats guy. It helped when you could go to commanders and say, 22 percent of your guys are suicidal. When you knew there were roughly 170 suicidal talk-downs, 27 psychotic breaks. When you'd given some 370 mental health debriefs -- three-day sessions after a service member was killed or wounded in action.
When in a 15-month deployment, a team of three would see a total of roughly 8,700 service members.
"How did we do it?" Landchild said. "You just do it cause you do."
Each team member had their own style, but they all broke the "etiquette of psychology," Landchild said.
"We broke all kinds of rules -– it's war," he said. "Joking about suicide all the time, it was beyond gallows humor. That wasn't healthy, but it was what kept us stable. The whole situation wasn't healthy. And it was less about mental health, and more about killing people efficiently. It was, 'How do I get this guy mentally stable in one hour or less.'"
They all built off a "masculinity base," Landchild said. "You can freakin' do this, you can handle anything, you are hard-core, card-carrying, red-blooded infantry, hoo-ah!" he grunted.
One time, he said, he told a surviving soldier who came to see him, "'You're gonna get out there and kill some motherfuckers for him.' Then you go to their commander, and you tell them, give em clearance to use .50 [caliber ammunition]. Just do it. They need to."

They could also make recommendations to change soldiers' job positions, which command generally respected, Landchild explained, because, "basically we said, 'You need to do this. Otherwise, if he kills himself, it's on you.'"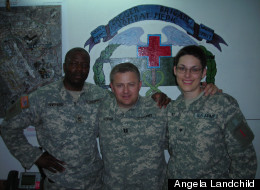 A picture of Angela Landchild (right) with her Brigade Surgeon Team, Sgt. 1st Class Sheppard (left) and Capt. Iverson (middle).
McNabb, the natural, did "epic pep talks," Landchild said. "He genuinely cared, and he worked with that. He'd talk to someone like he would a good friend and he'd help them get through it."

Linnerooth would encourage something therapeutic. "He'd have 'em write a letter to their fallen comrade's kid," Landchild described. "Something to do about it, the helplessness of that situation."
Landchild's specialty? "It was a lot of providing hope. That's a big chunk of dealing with nothing but helplessness, hopelessness, trauma. You give hope. You let them know there were some resources available," he said. "It was a lot of reminding them of their capabilities, having them talk about things they've accomplished, that they've done well, things they like in life. I'd tell em, 'Well, that doesn't sound like you're depressed! Just there's a bunch of shit you like in life.'"
In the midst a 15-month period that was one of the most violent spans in the Iraq War, they only evacuated some 27 people on mental health grounds, Landchild said.
One of the last was Linnerooth.
"We called ourselves the broken tripod because there was always a leg broken, it rotated between us," Landchild said. "There was plenty of times, we ran over, thinking Brock might be blowing his brains out. Plenty of times they'd check on me, or Brock and me would check on Pete.
"We would just hit a wall of 'We're so ready to be done.' And we kept breaking past more and more walls of 'I can't take any more.' Just this wall of 'I can't take it any more,' right in front of me, and we'd break through it."
Linnerooth got to a wall he couldn't break through.
"We had to get him out of there to keep him alive," Landchild said. "To me, I think we just prolonged his death. It is the demons of war that finally got to Peter later on."
Fifteen months. When they got back, they got out. Linnerooth retired. Brock's time was up.
While McNabb and Linnerooth continued work in mental health in the Veterans Affairs system for a time, Landchild said he couldn't, "because I don't know any other way than what we did in war, jumping into somebody else's cesspool with them while you're trying not to drown, too."
So now he has a food truck in Portland, and is trying to raise enough money for his family –- his wife, Angela, son, Asher, and six-week-old daughter, Valkyrie -– "so that we can do what we want to do."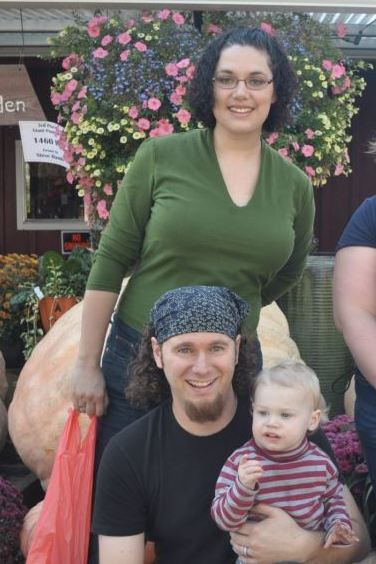 A photo of Angela, Travis and Asher from last October.
"I feel like I'm just starting at the place all my friends (my pre-army friends) were at 10 years ago," Angela, who just turned 30, wrote in an email.
Angel, as most know her, had a scholarship to the University of Colorado at Boulder to study Latin and Greek. But she dropped out, and later enlisted, on an impulse. Her test scores screamed military intelligence. She wanted to be a medic.
In February 2004, the former specialist deployed to Iraq, the first time. By September, she worked her first mass casualty trauma. "We spent 37 hours stopping bleeds, putting in chest tubes, medevacking the worst, and then digging shrapnel out of the rest of the boys and stitching them back up," she said. "They started calling me 'Doc' after that. Not many female medics earn that, so, I'm pretty proud."
She also earned her Combat Medic badge, for treating patients while being shot at. Later, she increasingly served as a liaison between the medics and brass. Of one boss, she said: "He'd pull me aside after talking to them and say, 'Wild child, what the fuck did he just say? Is that the head bone or the leg bone?'"
She got divorced. She became a victim of military sexual assault. The ensuing investigation got her caught up in a "stop loss" order in 2004, forcing her, like some other service members, to stay beyond her contracted term. She transferred units, and had deployed again to Baghdad when she met Landchild, in Kuwait.
Another medic was friends with the mental health guys and dragged her along, "despite many protests on my part," she said.
"They were all having a mustache-growing competition (cuz what else are you going to do in the sandbox?)," she wrote of their three-man crew. "So when I met Travis, he was this scrawny, geeky, kid with a horrible military haircut and a mustache that should have belonged to a 1970s philosopher/pedophile."
"And he HATED me," she said. "Probably because I was a sullen, bitter chick with a shaved head, who had just moved to brigade because of drama, and he figured I'd probably be his patient one day."
She finished her time in April 2008. He got out in August. He said they moved to Vancouver, a few miles south of where Travis grew up, because he loves the culture of the Northwest.
Five months ago, Linnerooth, after decades of saving lives, took his own.
The toll it takes, the depths of deception to just keep soldiers alive, still haunt long after, Landchild said. The demons don't leave his shoulder.
"The evil we were committing," he said. "Our mission was returning them to duty. The most horrible crux of the entire situation? We were the only three people out there that could be human beings, that could help them keep their soul while they still possibly had a chance at it. But we just pushed them to return to the mission." To see all the articles, blog posts, audio and video in this series, click here. If you would like to share your story, send an email to impactblogs@huffingtonpost.com.
If you or someone you know needs help, call the national crisis line for the military and veterans at 1-800-273-8255, or send a text to 838255.
REAL LIFE. REAL NEWS. REAL VOICES.
Help us tell more of the stories that matter from voices that too often remain unheard.