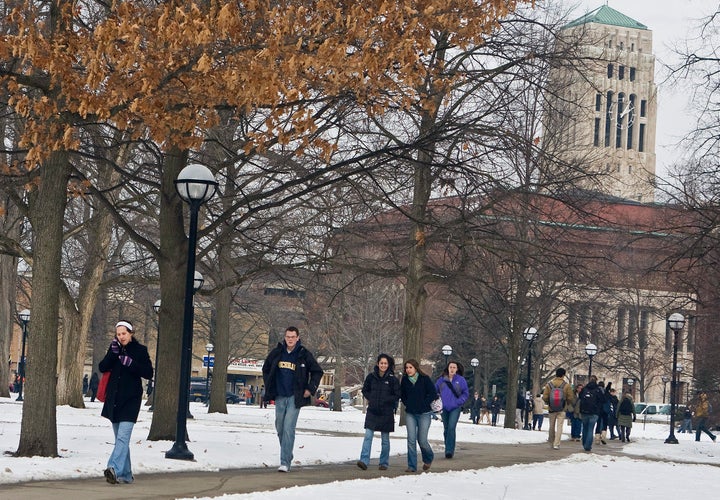 The Department of Defense has doled out increasing amounts of federal money in recent years to allow active-duty military personnel to pursue college degrees in their spare time.
But the Department does not have the proper controls in place to ensure the money is flowing to quality higher education programs, according to a report released Tuesday by the Government Accountability Office. In particular, government investigators noted that the Defense Department has very little oversight of online college programs, even though such courses represented 71 percent of classes taken by service members.
"The amount of tuition assistance funding going toward distance learning programs creates new oversight challenges for DOD and its military services, especially since DOD oversight has primarily focused on schools offering traditional classroom instruction on military installations," the report noted.
The GAO also found that the Defense Department does not properly gather information from other oversight bodies that track college quality, such as the Department of Education and college accrediting bodies. The report noted that the Defense Department requires colleges receiving federal money to be accredited, but said that there is little follow-up about problems that may be developing.
That means the Defense Department might not be aware if a school was on probation or facing sanctions because of problems such as misleading recruiting or marketing tactics.
There is also no comprehensive system to track complaints made by service members about particular schools, the report found, making it difficult to pinpoint problems that may be occurring repeatedly. The Defense Department has acknowledged the deficiencies found in the report, and officials noted that plans are in the works to establish more uniform oversight.
But those additional controls, such as requirements for student counseling and more disclosure of graduation rates, will not be in place until 2012.
The GAO's findings will be the subject of a Senate hearing Wednesday hosted by Sen. Tom Carper (D-Del.). The Defense Department's tuition assistance program, which provides up to $250 per credit hour for active-duty military, paid out $517 million to more than 377,000 service members in 2009, up substantially from $157 million in 2000.
Although the GAO's findings did not focus on any particular sector of higher education, for-profit colleges have come under heightened scrutiny because of the growing amounts of military and veteran benefit dollars going to their programs.
Sen. Tom Harkin (D-Iowa), who has held a series of hearings on the for-profit college sector over the past year, released a report in December noting a fourfold increase in the amount of Defense Department tuition dollars going to large for-profit education companies between 2006 and 2010.
Tuition benefits from the Department of Defense and the Department of Veterans Affairs are especially attractive to for-profit colleges because they are not counted as federal student loan and grant dollars. For-profit colleges must abide by a federal rule that prohibits a school from receiving more than 90 percent of revenues from federal higher education dollars.
With many for-profit colleges receiving more than 80 percent of revenues from federal student loan and grant dollars, active-duty military and veterans offer a way for schools to fulfill the 10 percent obligation. Executives at for-profit education corporations are often quizzed about military recruiting on quarterly earnings calls, and many companies have set up entire divisions dedicated to recruiting active-duty soldiers and veterans.
Overall, the industry has been criticized amid data that shows students at for-profit schools take on much more debt and default on federal student loans at much higher rates than other college students.
Even before the GAO report was released Tuesday, a lobbying group representing the for-profit college sector, the Coalition for Educational Success, released a highly critical statement rebuking Congress' investigative agency. For-profit colleges have been engaged in a legal and rhetorical battle with the GAO ever since last summer, when the agency released a stinging report that documented deceptive and high-pressure recruiting tactics used at numerous schools.
The GAO made revisions to the report a few months later that changed wording and elaborated on some of the findings - revisions that for-profit college lobbyists say undermined the entire report.
"After producing a substandard and discredited report in 2010, they test credulity by rolling out their 2011 version without ever taking responsibility for the lemon they rolled out last year," the statement from the Coalition read.
The GAO has stood behind the original findings of the report, saying the changes were simply clarifications.
Harkin, who will testify at Wednesday's hearing, said in a statement that Tuesday's GAO report renewed questions about the amount of federal money going to such schools.
"Because of the high costs, high withdrawal rates, and high default rates among the general student population, combined with troubling stories I have heard from veterans, I am deeply concerned that there is inadequate oversight," Harkin said.

Popular in the Community