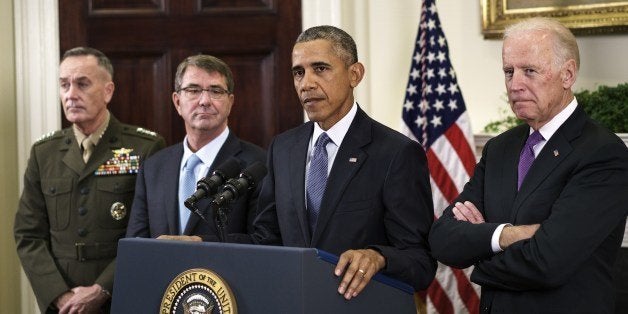 No two challenges have vexed President Obama more than his inability to pass comprehensive immigration reform and struggle to address rapidly changing national security challenges. With an obstructionist Congress well entrenched and the presidential election in full cry, we all know it's highly unlikely that the president will be able to make great strides on either of these issues before he leaves Washington.
While full measure solutions may not be possible, there is, however, a way for the president, without Congressional action, to provide tens of thousands of Americans a path to citizenship and leave his successor with a military better able to address the myriad of ongoing conflicts. He has the power to expand the scope and size of the Military Accessions in the National Interest (MAVNI) program to allow DACA-eligible youth to enlist and serve the country that they know as their home. The President talks about his "bucket list" and how immigration is a top priority. By expanding the MAVNI program, he has the opportunity to provide DACA-eligible youth an earned path to citizenship and help keep our military strong.
The best part? MANVI is already a program authorized under a statute by Congress. Expanding this program doesn't require an executive order.
The president can just do it.
Under an existing law [(10 U.S. Code 504(b)(2)], the Secretary of Defense is authorized to allow enlistment of persons not regularly enabled to serve if it is determined that "such enlistment is vital to the national interest." In other words, the president has the power to enlist individuals into our armed forces, regardless of their citizenship or residency status, if the Secretary determines that it is in our collective national interest. Pursuant to this authority, the Department of Defense established MANVI, which now allows individuals who have special language or medical skills to enlist regardless of their immigration status. Thus far, the MANVI program is restricted to 5,200 persons and allows individuals who have qualified under the Deferred Action Child Act (DACA) and entered the United States without documentation entered with the parents before their age of 16 to enlist.
There is a long tradition of foreign-born soldiers serving in the United States military. Immigrants have fought in American forces since the Revolutionary War. Significant numbers of Union troops in the Civil War were Irish and German-born men who fought with valor for the newfound country. Whether long-term residents or recently off-the-boat, immigrants have proudly stepped up when our nation has called on them to defend her and have been key components in fighting for our country and maintaining American military strength.
With the exception of the few who now qualify under the MANVI program, only persons with bona fide United States residency through alien registration or a holding a green card may enlist in the armed forces although they are not allowed to serve as officers. One group of able-bodied and talented youth who have been left out of military enlistment are age-eligible undocumented youth who seek to serve in the armed services. Often referred to as Dreamers, these are undocumented young people who came to the United States as youngsters and gained American values through our educational system and participation in every aspect of our society. In the long tradition of the immigrants who came before them, many would seek to serve and have many talents to offer for our voluntary armed services.
Through his executive actions, President Obama already has recognized the benefits that may be obtained by the inclusion of the Dreamers in mainstream American society. An expansion of the scope and size of the MAVNI program to allow more DACA-eligible youth to enlist would allow these individuals to serve the country that they know as their home, provide a potential opportunity to earn citizenship, and help keep our military strong. Our military deserves the best candidates at every level, from the infantryman to the cyber operator. By no fault of their own, the DACA-qualified youth came to this country and became red-blooded Americans. The president has the ability to expand this program and open the doors to citizenship for many DACAmented who are ready and willing to serve their nation.
Benjamin Hernandez-Stern is an attorney in Washington, D.C. and an officer in the U.S. Air Force Reserve. The views expressed by the author are his alone and do not represent the views of the Departments of Justice, Defense, or Air Force.
Calling all HuffPost superfans!
Sign up for membership to become a founding member and help shape HuffPost's next chapter