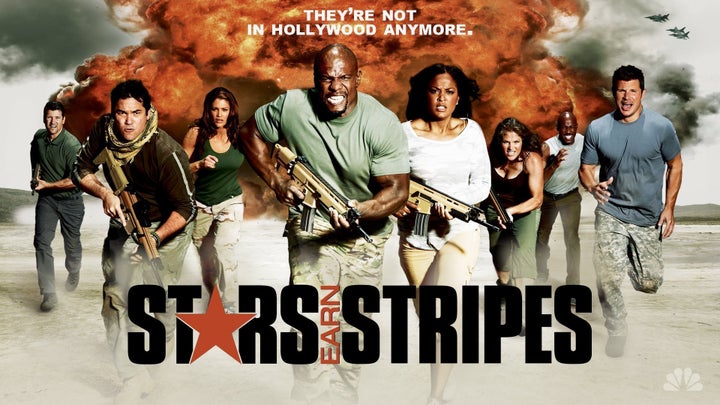 Army Wives: Alaska. Coming Home. Stars Earn Stripes. There's a lot of interest in the reality of military life. But even with all of these shows, I'm left wondering about what story they are telling because, for the past decade, most of the military families I know have been living a reality that I don't see on primetime.
Episode one of any show I've watched doesn't feature deployment number five which is a coming attraction over in my friends' living room next month. Where's the show called "Leaving Home," documenting the crying on the front end of a year apart? Note the crying kids in unmatched shirts in the background. Oh, and those beautiful homecomings. Those big, flag draped hangars filled with soldiers. I wish every real life reunion installment ended that way.
Maybe I could write an episode for a new series. I'll pull from one day last week:
Military spouse friends gather with their kids to play on a day off from school. That morning, news flickered across their Facebook newsfeeds that a friend had been killed in Afghanistan leaving behind a wife and young children. Camera pans to their tight circle of chairs, hushed voices, and finally to the women whose talk is interrupted by a text message. It's from another military spouse. She has received news that her husband who is deployed survived an attack. She was in the middle of Kindergarten orientation when the call came. The guy next to her husband was blown up. His legs may be gone. One mom pulls a granola bar out of her purse. Their discussion turns to the upcoming nine month deployment their husbands leave for on Monday. Most sit up straighter and say everything will be fine. Camera pans away. They leave the falling apart for the middle of the night when they find themselves alone in bed with their own thoughts hoping the kids don't wake up with fevers.
Beloved. Supported. Championed. The military family has become the darling of reality television along with a sanitized version of our service members' lives. The love we're supposed to feel from the networks quantified by the interest in showing our existence. But not by showing our reality.
Because if the entire truth was shown, instead of just pictures of daddy kissing baby for the first time, you'd get to see the young man who is failing in school because he couldn't come to grips with a father who is struggling with PTSD. Or the wife who is struggling with depression and is considering suicide. Veterans without homes. Soldiers who return to broken families. And the spouses, girlfriends, and parents who work to keep a semi-normal life in a very unpredictable existence.
Military families are resilient. We are proud and strong. We don't like to let the cracks show. Maybe that's why many military families appreciate being remembered with the shows that make the eight o'clock slot instead of showcasing the drama we have become so used to in our own world; shouldering the burden is kind of our thing.
So I'll speak for myself when I say that, while the networks sell our daily lives, I hope the public will not be duped by celebrities jumping out of a helicopter with no real bullets coming or wives in high heels cheering on their husbands' training. We don't air our struggles and ask for pity regarding our troubles but the public should be exposed to the true, unglamorous sacrifices our service members and their families' make. Not the staged glory.
Viewers may be drawn to visions of grand homecomings, breathtaking training, or wives in cute dresses and big smiles, but Americans also need to know the gritty reality our military service members and families face. And start tuning into a forgotten program:
The war in Afghanistan.
Even if you hear it may be cancelled, I understand there are a few spin-offs being planned starring our service members and their families for many years to come. I hope you'll check this old favorite out because, unlike the reality shows that are on now, as fewer viewers click into the show, the longer the program will be on the air.
REAL LIFE. REAL NEWS. REAL VOICES.
Help us tell more of the stories that matter from voices that too often remain unheard.