 When BettyLou Cummins became a teacher in Defense Department schools 34 years ago, she knew that her livelihood would depend on the federal government.
"It's been said that Congress is our school board," said Cummins, who teaches at Ramstein High School on Ramstein Air Base in Germany and serves as a vice president of the Federal Education Association.
But now, she said, that school board has failed her. "And the stress level is through the roof."
Over the past week, since Congress failed to prevent the implementation of across-the-board spending cuts known as sequestration, parents of students in Defense Department schools around the globe have heard all sorts of rumors regarding how the cuts will affect them. Concerned parents have approached teachers raising such concerns as whether school on Fridays might be canceled for the rest of the year.
The Defense Department's most recent communication with specifics about the cuts -- a Jan. 31 memo signed by Marilee Fitzgerald, director of Department of Defense Education Activities (DODEA) -- said the schools would consider "a furlough of up to 30 calendar days or 22 discontinuous workdays along with other actions." Those furloughs would come during the current school year.
The Federal Education Association, a national union for Defense Department teachers, has been trying to fight the furloughs. The group's president, Michael Priser, said there might be fewer furlough days because cutting too many days could cost schools their accreditation, thus jeopardizing students' chances of college acceptance.
Commander Leslie Hull-Ryde, a Defense Department spokeswoman, said in an email that "DoDEA's goal is to preserve the accreditation of its schools and insure a quality education for all of its students," but noted that teachers aren't exempt from furloughs under sequestration. So far, she said, summer school will continue as planned, spring sport schedules might have to be adjusted, AP exams will be given, and schools will close on furlough days unless that interferes with standardized testing. New curricular programs will be delayed.
Perhaps to quell another rumor, Hull-Ryde added, "I can tell you DoDEA is NOT doubling up on classrooms."
At the Defense Department's 126 international schools and 68 U.S. schools, teachers are waiting to learn more. "The teachers are putting on a brave face for the kids because we know that it's stressing them out as well," Cummins said. "We're worried because if our year is shortened, what are we going to leave out? I have my syllabus, and I have certain authors I teach. Do I have to leave out subjects or verbs?"
Furloughs would come on top of other cuts. Cummins, who has taught all around the world -- her last station was at Guantanamo Bay -- said that the military's school transfer program for teachers and administrators has already been ended. And she said Ramstein Air Base is in the midst of closing a school, with 250 teachers possibly losing their jobs.
Lisa Garmon Ali, who teaches at Feltwell Elementary School in England, is confronting similar questions. Ali, the Federal Education Association area director, said, "The school is trying to continue as normal while rumors fly around." Parents have asked her about school shutting early, worried that they may need to find extra care for their children, she said, "but we don't know anything right now."
Ali contends that furloughs aren't inevitable; she suggested cutting "unnecessary spending out of the school budget," such as school conferences, and slowing down construction products. Already, she said, her school, which serves the U.S. air forces stationed at RAF Feltwell, has cut back on professional development and a reading recovery program.
She's also concerned about the families. "How can these parents deploy to the best of their ability if they're not sure their child will have enough days left in the school year to graduate?" Ali asked.
Feltwell Elementary often faces rough weather, but in knee-deep snow or thick fog, teachers come to school. "We must report to work under any condition because not to report hurts the military mission," Ali said. "It seems odd that we're told we're mission-essential, but now, we can suddenly be furloughed."
She added, "We're being let down, and we don't know who's going to look after us."
Before You Go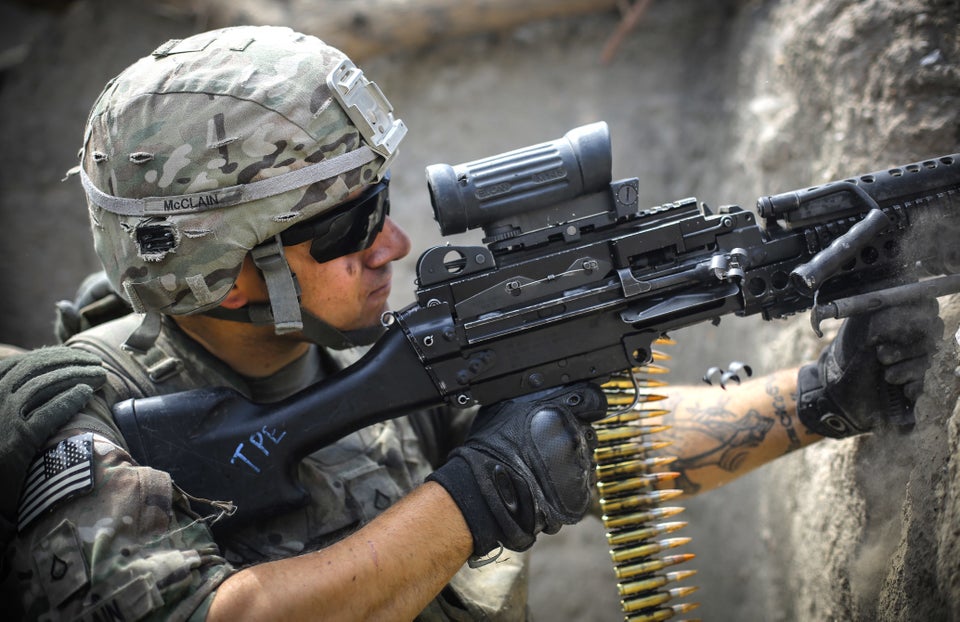 What Sequestration Would Cut
Popular in the Community