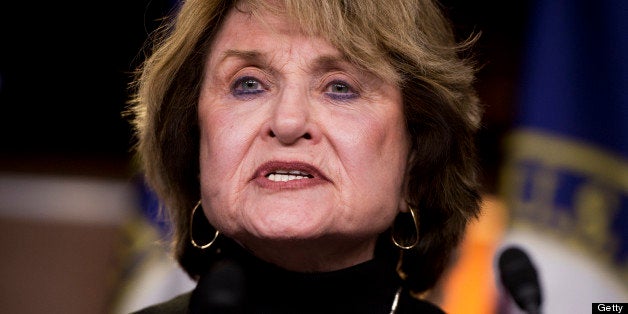 And the latest: an Air Force pamphlet on sexual assault suggesting to victims that when attacked, "it may be advisable to submit than resist."
Yet, as these recent sexual assault prevention slogans and strategies show, the Air Force brochure is not the first time the military has produced questionable or offensive educational material.
The pamphlet from the Sexual Assault Prevention and Response office at Shaw Air Force Base in South Carolina prompted outrage from Congress. The Pentagon decided to review and remove the material after a May letter from Rep. Louise Slaughter (D-N.Y.), who called for a review of all sexual assault prevention materials distributed to service members.
"We share your concerns over some of the materials presented, and the Air Force has withdrawn the brochure from circulation," Jessica L. Wright, acting under secretary of defense for personnel and readiness, wrote to Slaughter in a letter stamped June 20 and July 3 and made public on Tuesday.
"The Department of Defense is fully committed to a culture of dignity and respect, where every Service member is valued," Wright continued. "Our DoD and Service SAPRO staffs will continue to exercise oversight and quality control in this area to ensure these intended effects."
But critics point to the Air Force pamphlet as another discouraging marker of the military's struggle toward its stated goal of eliminating sexual assault.
"This brochure is indicative of the larger problem with DOD prevention messaging," Greg Jacob, policy director for Service Women's Action Network and a former U.S. Marine, told The Huffington Post. "These prevention materials are filled with stereotypes and rape mythology. For example, it completely ignores the fact that men are assaulted too.
"This is where the larger society was focusing rape prevention efforts 20 to 30 years ago when women were advised to not go out after dark, avoid alcohol, don't travel alone, wear a rape whistle," Jacob said.
Slaughter has been working on the issue for almost as long.
"The problem has gotten worse since I started working on it back in 1993," the New York Democrat told The Huffington Post in an email. She said she was encouraged by the response from Hagel and Maj. Gen. Gary Patton, who directs the sexual assault prevention office.
"It's really a problem with the culture, where victims of sexual assault receive de facto retaliation instead of the perpetrators, and where female service members are seen as unequal to their male counterparts," Slaughter said. "These offensive materials try to sweep the problem under the rug."
Patton's deputy director recently told The Huffington Post that sexual assault in the military reflects society in general, rather than a problem unique to the military.
"They are right now being bombarded with misogynistic values, Eminem lyrics that can't be repeated, ubiquitous porn, objectification of women on every website from your Yahoo website to every TV commercial that is out there selling cars or beer," Col. Alan Metzler said. "We understand that an environment that tolerates sexist behavior, sexual coercion, sexual harassment is an environment in which sexual assault occurs."
A week before Slaughter wrote her letter, Rep. Jackie Speier (D-Calif.) wrote to Hagel about offensive materials on a Facebook page titled "F'N Wook." It was overflowing with denigrations of Marine Corps women, including pictures with captions such as "this is my rape face," according to Speier.
James Amos, commandant of the Marine Corps, responded that the images were "deplorable," but said comprehensively addressing inappropriate activity online "requires manpower and technological resources beyond our current capabilities."
"Powerpoints, posters and pamphlets are not going to work," Speier, one of Congress' most outspoken critics on military sexual assault, told The Huffington Post Wednesday.
Speier said the military's sexual assault prevention materials show that "the people that they have doing the prevention work are a reflection of the military culture that has existed for decades."
She added: "If you really are serious about a prevention program, have some of these victims develop a prevention plan. It would look very different."
REAL LIFE. REAL NEWS. REAL VOICES.
Help us tell more of the stories that matter from voices that too often remain unheard.
BEFORE YOU GO
PHOTO GALLERY
The Faces Of Military Sexual Assault