WASHINGTON -- The witness table stretched across the front of the Senate Armed Services Committee hearing room Tuesday, ready for testimony from 20 people at the first full committee hearing on sexual assault in a decade.
A dozen are the highest-ranking military officials who are pushing back with increasing force against congressional proposals to remove or reduce chain-of-command power over sexual assault cases. Only four are independent counsel and victims advocates pushing for farther-reaching reforms.
Chairman of the Joint Chiefs of Staff Gen. Martin E. Dempsey reaffirmed the military's commitment to eliminate sexual assault from the U.S. armed forces, but said commanders should remain at the center of the military judicial system.
"Should further reform be needed, I urge that military commanders remain central to the legal process," Dempsey said in a brief statement. "The commanders' ability to preserve good order and discipline remains essential to accomplishing any change within our profession. Reducing command responsibility could adversely affect the ability of the commander to enforce professional standards and ultimately, to accomplish the mission."
Though Congress was not expected to take up the issue before a June 11 markup of the 2014 National Defense Authorization Act, a recent spate of high-profile sexual assault scandals and a grim Department of Defense report revealing the broad scope of the problem have pressured leaders. Chairman of the Armed Services Committee Sen. Carl Levin (D-Mich.) called the hearing to discuss seven pieces of legislation on military sexual assault introduced over the past three months. The bills were sponsored or co-sponsored by more than 40 senators.
"The problem of sexual assault is of such scope and magnitude that it has become a stain on our military," Levin said. He noted that while one sexual assault is too many, for the fourth year in a row, there were more than 3,000 reported cases of sexual assault in the military, according to the DOD.
"Every member of this committee wants to drive sexual assault out of the military. The question for us is: How can we most effectively achieve this objective?"
Tensions are emerging, amid various legislative proposals, between congressional and military leadership on how to address the issue. Suggested reforms include requiring special counsel for victims of sexual assault, and directing the secretary of Defense to establish a separate legal authority outside the chain of command to decide about cases.

Levin in his opening statement seemed to support the military's position that discretion over such cases remain within the chain of command.

"The key to cultural change in the military is the chain of command. The military services are hierarchical organizations: The tone is set from the top of that chain," he said, repeating the phrase "only the chain of command," several times throughout his statement. He cited the success of racial integration in the military and the repeal of "don't ask, don't tell" as evidence of the military's capacity for cultural change. "They can do it again."

Ranking member Sen. Jim Inhofe (R-Okla.) echoed Levin's cautions on dramatically reforming the role of commanders in military justice. "There is the risk of unintended consequences if we act in haste without thorough and thoughtful review," he said.
"It is absolutely the wrong way to go," Commandant of the Marine Corps Gen. James Amos said of removing the authority over sexual assault cases from the chain of command, as proposed by legislation from Sen. Kirsten Gillibrand (D-N.Y.).
"It will take the eyes off the commander on a problem that's enormously important, at a time that's critical … if I honestly believed that pulling the disposition authority would resolve … I would raise my hand right now and vote for it."
When pressed, all the chiefs and judge advocate generals expressed agreement.
Sen. Jeanne Shaheen (D-N.H.) questioned the argument that reforms to command authority would negatively impact "good order and discipline," noting that sexual assault erodes these same elements.
Many have argued that military sexual assault has received such sustained attention because of a greater number of female senators serving on important committees such as armed services. Expanding the number of women in the military and their opportunities for leadership is important to reducing sexual assault, some say.
"I'm wondering if you can respond to how sexual assault in the military that goes unpunished and unreported affects unit cohesion and morale, especially as more women join the ranks of our military," she said.
"We've got to deal with this," Chief of Staff of the Army Gen. Raymond T. Odierno responded. "Because we're going to rely on [female service members], going to depend on them more and more."
Gillibrand noted that commanders have the power over cases today, "and you don't have good order and discipline ... it goes to the heart of not having military readiness."
"My concern is this, you have lost the trust of the men and women who rely on you, but you will actually bring justice in these cases," Gillibrand said. "You say you could never support taking this out of the chain of command ... while you are all so dedicated and determined, not all commanders are objective. Not every commander wants women in the force, not every commander believes what sexual assault is, not every commander can distinguish what's a slap on the ass and what's rape."
Dempsey responded that he is aligned with his peers in the belief that, "we should try and fix this through our commander, not around him."

Nancy Parrish, president of human rights group Protect Our Defenders, pushed back against the idea that recent steps taken by the military and Congress to address the issue have made gains and need time to take hold.
"The argument currently circulating that sexual assault reform is an old problem, predominantly solved through recent changes in the law, is simply not correct," Parrish said in her prepared statement. "Congress must assume its responsibility and no longer approach reform based on what military leaders would like to accept. We cannot afford to simply continue to make marginal changes."
"Survivors have found their voice," said Parrish, one of the four independent witnesses to testify. "The American people are paying attention. There is no longer any doubt that change will come. The question is how long it will take, and, meanwhile, at what cost to our service men and women."
Sen. John McCain (R-Ariz.) spoke of a woman who approached him, saying her daughter intended to join the military and asking if he could give his support. Due to the severity of military sexual assault, he told her he could not.
"At its core, this is an issue of defending basic human rights," McCain, a veteran, told the long table of military brass. "We have to ask ourselves, if left uncorrected, what effect will this have?"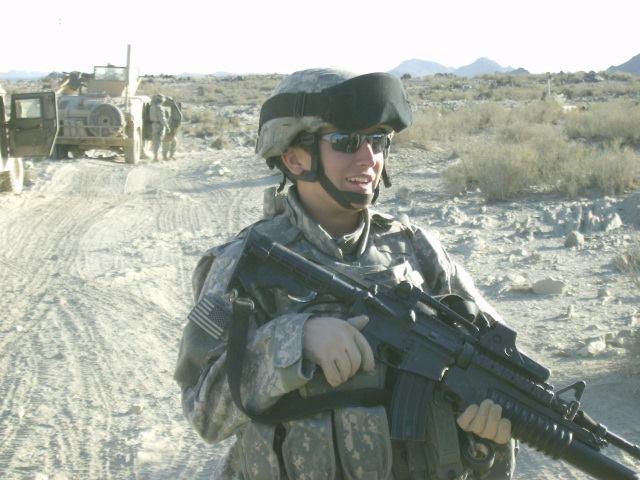 The Faces Of Military Sexual Assault
Popular in the Community