Trigger warning: This post contains description of sexual violence.
My name is Marcel and I am a survivor of military sexual trauma. I entered the Air Force on Nov. 30, 1981 when I was 21 years-old. I was stationed at Pope Air Force Base, in Fayetteville, N.C. Recently separated from my abusive husband, I was a single mother of two daughters, aged 2 and 5.
The rape happened on an ordinary evening in 1989. Bath time was finished and my daughters were tucked into bed -- fast asleep in the bedroom the three of us always shared.
I received a phone call from a male acquaintance. He outranked me and was known for being a gossip on base. He told me he had something important to tell me, and even though I said it was late, and asked if it could wait, he insisted he needed to tell me in person, that night. I remember that I was wearing a light blue cotton sweat suit.
It was about 10:30 p.m. when he arrived. I could smell greasy food and alcohol on his clothes. His eyes were bloodshot and he seemed agitated and nervous. I tried to get him to tell me what he'd come to say, but he skated around the topic and invited himself inside. He started asking me questions -- things I didn't want to answer -- about my personal life and my relationship with my husband.
He then proceeded to sit down beside me on the couch and started touching me. I told him to stop. He tried to kiss me. I could smell the greasy food and alcohol even more. I tried to push him off of me. He got forceful, pulling at my sweat pants. He pinned my head down at the top of the couch.
I was so afraid. All I could think about was my precious daughters sleeping in the bedroom with the door open, less than three feet away.
What if my daughters woke up and came out of the room? Would he hurt them? I was so frightened. I didn't want to make any noise. My body went limp.
When he was finished, he said, "I'll see you tomorrow." I was numb and in a daze. I wanted him out of my apartment. I felt dirty, filthy and worthless.
Like many military members who survive a sexual assault, the process of reporting the rape and seeking some justice was a long, despairing and ultimately fruitless effort.
I contacted the Fayetteville Police who collaborated with the Air Force Office of Special Investigation on my case. They interrogated me about the incident on a weekly basis. I was accused on numerous occasions of lying about what happened to me, and of being in a relationship with my rapist. The case eventually made it to the Cumberland County District Attorney's office but the charges were after some time, reduced to "misdemeanor assault on a female."
From my experience with the military and in my present job as a social worker, I've realized that many people don't fully understand or care to acknowledge the severe toll sexual assault has on victims. It is a crime that people would prefer to belittle or ignore, where the victim is often blamed and the trauma and shame are ongoing and unrelenting.
Every person in this country has a role to play in ending sexual assault. By simply learning how to start a conversation about it, and raising awareness, we can begin to cultivate a culture where sexual assault is seen as it should be: as unacceptable and inexcusable.
A new movement is bringing people, non-profits, corporations, survivors and bystanders together to do just that. It's called NO MORE, and it's a new symbol, like the pink breast cancer ribbon, that is helping break the silence around domestic violence and sexual assault once and for all.
This April, Sexual Assault Awareness Month, I want to give courage and hope to others who have survived sexual assault, especially members of the military. I want survivors to know they are not alone and that what happened to them was not their fault.
I also want to ask more people to join the NO MORE movement. By getting this symbol and sharing it with your friends, family members and coworkers, you can be part of the solution. The people behind NO MORE are working toward a day when no one has to go through the pain that I and millions of other mothers, sisters, sons and daughters, have suffered as a result of sexual assault.
Decide this month to make ending sexual assault part of your mission. It is an issue that impacts all of us, and we all have a stake in ending it.
For so many years I kept what happened to me hidden. I couldn't talk about it. I felt powerless and alone, like I couldn't make a difference. Today, I'm humbled to be part of something much larger than myself. Together we can make a difference. We can show survivors that we won't stop fighting for them until there is NO MORE sexual assault. I hope that you will join me.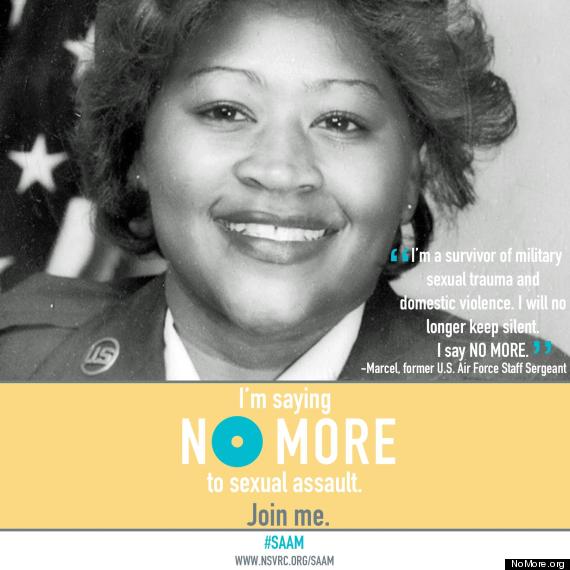 This post is part of a series produced by The Huffington Post in conjunction with Sexual Assault Awareness Month. Read all posts in the series here.
Related
Popular in the Community