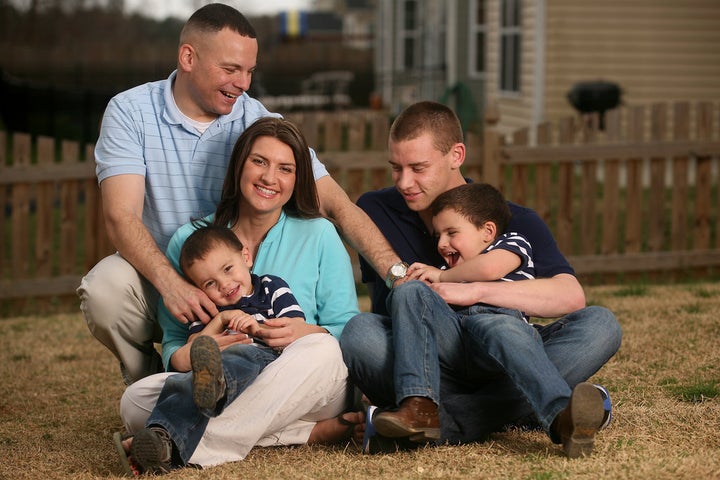 Depression is ugly. It can defeat a person. It does not discriminate based on color or creed, sex or religion. It either kills you or makes you stronger. In my case, it didn't kill me. Some days I want to scream, "You didn't get me, you ugly selfish disease," -- rather you led me to the highest point of my life.
As the Military Spouse Magazine 2011 Military Spouse of the Year, it's now my mission to help other service member's loved ones see the opportunities available to them. This is my story.
When I was 19, I left home to be with the man I would marry, a United States Marine. I could have stayed home and finished college, but young love drove me to no longer want to be distanced from him. I knew nothing about the military life except the few war stories I had read about Desert Storm when I was a young teen. Three months after loading up the U-haul to North Carolina, my Marine was deployed to Combat Arms training. It was a quick, crash course in suck-it-up. We got married a year later and my life as a military spouse began.
It's hard to understand the sacrifices the spouse makes. It's much easier to understand the heroics of the man in uniform.
For my husband's entire career, I have attended college. Sometimes with a full course load, sometimes taking just one class so that I could still feel like I'm exercising my brain. In addition, I hold many roles in life -- the single most important one as a mom to three boys. They range in age from teenager to toddler and the journey through motherhood is almost like the journey through the military: You're never quite sure what to expect, but you love being a part of every crazy minute.
Motherhood, for me, has brought challenges. In 2005, we were stationed in Yuma, AZ, hundreds of miles away from my family. My husband was called away all the time for his work, and the heat was so blistering you had to stay inside. Being at that duty station felt different. I didn't have friends, I couldn't find a job so we struggled financially, and I became pregnant with our second son.
During that pregnancy, I slept all the time. My son would come home from school and find the blinds drawn closed in the middle of the day. Homemade dinners had morphed into cans of Chef Boyardee. I was not only disconnected from my family, but also from myself. I had absolutely no idea that I was different until I read a memoir by Brooke Shields called "Down Came the Rain." She talked about her postpartum depression and I found myself nodding to the things she experienced.
I realized the combination of all of those life events at once had put me into a dark place; I was no longer the outgoing girl from Jersey who volunteered to help everyone. Now, I was the one who needed help. I met with my doctor and she put me on a low dose of depression medication. The small blue pill that was prescribed to me allowed me to get out of bed, go through the daily routine again, and eventually, come back to life.
By the end of 2007, I graduated college, began volunteering in a program for military families, and I was expecting our third son. Shortly after Christopher's birth, we were issued orders to a small town in North Carolina so my husband could be on recruiting duty. It was my time to pay it forward. When I landed at our current unit assignment, there were limited programs in place for military families geographically dispersed from a base. I wanted to find those spouses who felt like me -- perhaps our life circumstances didn't look the same, but the feelings of isolation and emptiness did. I knew I could help them.
I approached the Command about strengthening our support programs and I started a meal-delivery program that spans the entire state with the hopes of delivering a home cooked meal and a friendly face to families facing hardship. And I have travelled the East Coast educating Marine Corps spouses on thriving within military life. The greatest gift I have given myself is giving back. Today, I am back in school, watching my little men grow into different stages of life, and I am so passionate about the organizations I volunteer with that it keeps me up at night.
Then recently, on May 5, came the highest achievement of my life. Late last year, my mother nominated me for a spouse recognition award and by decision of the Military Spouse Magazine's community I was named the 2011 Military Spouse of the Year. I got to sit in a room with service members, spouses of all branches, senators and a Medal of Honor recipient and accept an award that allows me to represent spouses living all around the world. Over the next year, I will work to expand the career and educational opportunities for our military spouses, so that they can pursue what they are passionate about. Furthermore, I want to bridge the gap between the military and civilian communities. We all appreciate the gift that is freedom and today is a time when we can all serve our country in unique ways.
My hope is to teach people that nothing can keep you down; there is no lost opportunity in this life. You can become whatever you want to be at any point in your life. If you feel defeated, ask for help. And if you feel accomplished, reach out your hand to those who may be struggling. Over the next year, I will seek out those people who, like me, just need a light at the end of their tunnel.
Popular in the Community