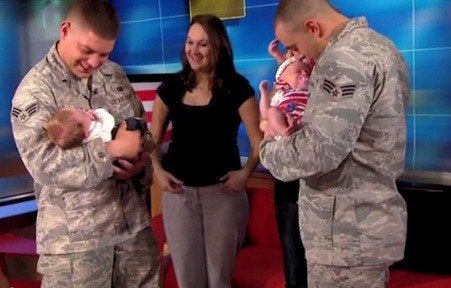 With over two million men and women having served in our armed forces since 9/11, there is no shortage of support for our troops, but what about the families they leave behind?
The spouses of service members are often left to pick up the work that is normally handled by both parents, and oftentimes it puts a huge burden on them, both financially and emotionally, in addition to the stress of knowing their loved one is serving overseas in harm's way. In addition, many spouses have had to give up their own career aspirations and job seniority to keep the family together as they move from duty station to duty station.
The unemployment rate for the military spouse community is a mind-blowing 26 percent, which is more than double the national average. There is also a wage gap of about 25 percent between military spouses and their civilian counterparts. The Department of Defense estimates that there are about 1.2 million military spouses, of which an estimated 85 percent would like to work. This means that about 265,000 of the 1.2 million are out of work.
The good news is that DOD and other organizations are sponsoring several initiatives and programs that are helping military spouses with their search for gainful employment and meaningful careers. In June of this year, the DOD initiated the Military Spouse Employment Partnership or MSEP.
The MSEP program brings the talented pool of military spouses and employers together, encourages employers to commit to hiring military spouses and already has close to 100 employer partners such as Microsoft, 3M, Amazon, Sears and CVS/Caremark, with more expected by year's end.
MSEP does not give military spouses preferential treatment; it simply helps level the playing field as they can sometimes be disadvantaged by the fact that the military lifestyle is mobile and comes with many unique challenges that could be barriers to meaningful employment. MSEP helps companies understand those challenges. To date, over 5,600 spouses have been hired via MSEP, with many more certainly to follow.
Another great service is the Milicruit virtual career fair, which allows the military spouse to meet and interact with employers from all over the country -- and at their convenience. Milicruit has teamed up with the Joining Forces Initiative, which was started by Michelle Obama and Dr. Jill Biden to mobilize all sectors of society to give our service members and their families the opportunities and support they deserve.
The U.S Chamber of Commerce is hosting 100 in person hiring fairs around the country with hundreds of industry leading employers in partnership with local chambers of commerce, Employer Support of the Guard and Reserve, the Department of Labor VETS, American Legion and several other organizations.
The National Military Spouse Network will host an employment summit on November 3rd and 4th in Fairfax Virginia, and will host other live events throughout the year.
The military spouse brings an enormous amount of strength, courage, loyalty and commitment to the workforce, and corporate America would be well served in taking a more active approach to seeking them out. They are not at all looking for a handout, but they surely deserve at least an equal opportunity to find suitable employment that would allow them to provide for their family while their loved one is serving our nation.

REAL LIFE. REAL NEWS. REAL VOICES.
Help us tell more of the stories that matter from voices that too often remain unheard.