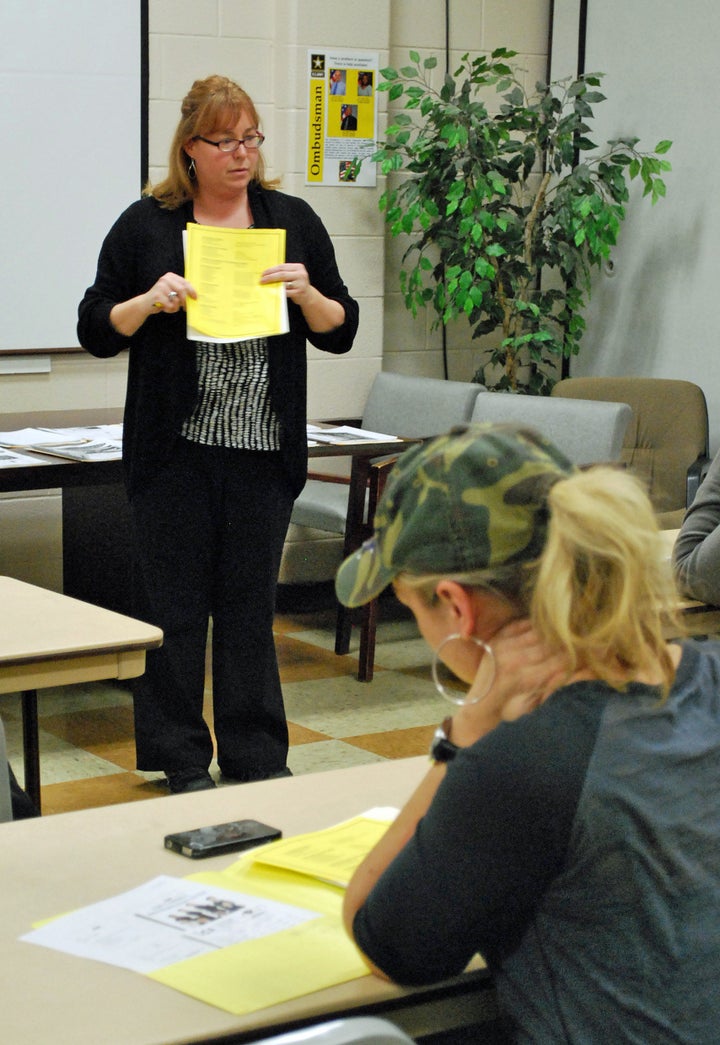 Imagine you are a hiring manager at a company. You have a shoebox-sized office, painted grey with a low-hanging white board covering one wall. On the board are pink and green sticky notes with names and notes - a paper conversation about your recent task: Find the perfect person for an emerging role at your company. The job requirements include logistics, e-commerce saavy, basic WordPress skills, knowledge of grant writing and a few other skills. Roger that, you say, and out in the great e-yonder you venture to hunt for a hungry new employee.
Fast forward a few weeks -- you've reviewed resumes, fielded calls from co-workers and possibly your superiors about their friend's son who is applying, you've lurked on Facebook pages and backstalked tweets. You are a due-diligence star.
And on your white board, you list your two candidates: Pat, who rocks a criminal record, and Terry, a military spouse.
A new Bullhorn survey is out and 39 percent of the 1,500 hiring managers admit that job hoppers are usually not their top candidates. "The single biggest obstacle for an unemployed candidate in regaining employment is having a history of 'hopping jobs,' or leaving a company before one year of tenure," the report read. The online site even had a cute little graphic that looked like the Monopoly 'get out of jail free card' that read, 'recruiters admitted that it was easier to place a job hunter with a criminal record (non-felony) that someone who has been unemployed for two years.'
"Congratulations Pat," you say to the former criminal. "We'd love for you to join our team."
The unemployment rate for military spouses is 26 percent. And even with the first lady and Jill Biden advocating on behalf of military spouses, we still are at a significant disadvantage. Dr. Vivian Greentree, the research director for Blue Star Families, has been presenting a Resume Building Toolkit at bases up and down the eastern seaboard. Her seminar is aimed at folks who have given their time to various volunteer organizations, most likely in different states, and who need to translate those valuable, but donated, hours into what Dr. Greentree calls "suggested resume phrasing."
For instance, serving on a Family Readiness Board was extrapolated to the following resume bullet:
Employed superior communication skills to interface with numerous and significantly varied stakeholders in order to determined and ensure appropriate levels of support were provided to a non-profit organization serving 1600 military families.

"Military spouses are taking advantage of the amazing programming that has developed around military spouse employment," said Dr. Greentree.
Our partnership with the US Chamber of Commerce's Hiring our Heroes program as well as the DoD's Military Spouse Employment Partnership have allowed us access to private, non-profit, and public sector employees who want to hire military spouses for their skills-based experiences and esprit de corps.
But military spouses still have to present their experience and know-how in ways employers understand. The resume toolkit is teaching them to take credit for their knowledge, abilities, and skill sets that the military community experience has instilled in them. Research has shown that 81% of military spouses volunteer and 10% volunteer over 30 hours a month and since there is often continuing education, certification and recurrent training that are associated with the volunteer positions they take, it's clear the hours served, however they are structured, are relevant.
Military spouses are valuable assets to their communities and their capabilities are easily translatable into employment situations with the right wording.
But this latest study isn't as much about recognizing that volunteer work is on par with traditional professional experience, it's more about the pockmarks in our work history and it cannot be reinvented or re-cast as easily.
I wonder: Should military spouses come up with a new resume format that distinguishes us, not for our geographic challenges, but for the skills that truly define us? A resume seems like such an archaic way to present diverse strengths and unique skill sets that milspouses possess. How do we level the playing field?
I recently interviewed some Chicago-area military spouses for an article that I'm writing. Our conversation was instantly easy -- like we had known each other for years. It was peppered with acronyms and humor that only milspouses find funny. So I wonder, perhaps it's a language issue? Perhaps as Dr. Greentree translates our experience into plain language, we too need to edit our vernacular? Or at least count militaryspeak as an official language. "I have a Master's in Business Administration and I speak two languages: Spanish and Military."
For many military families who have PCS'd (that means move to a new base) the job hunt will soon commence. After all, we've settled into our new homes, our kids into school, we've probably attended a few mandatory fun events and learned the best way to get to and from the commissary. Now it's time to pound the pavement and find a job. So what's the secret?
There is no easy answer. The solution can't be something the private, non-profit, or public sectors do separately, but it will take all of us, working together to change the conversation around military spouse employment. Let's hope there are more hiring managers out there who, next time around, will choose Terry.
REAL LIFE. REAL NEWS. REAL VOICES.
Help us tell more of the stories that matter from voices that too often remain unheard.