FLEMINGSBURG, Ky. ― Thirteen-year-old Mitch Kloepper was cleaning his rifle. Behind him, a drill instructor barked out orders and two teenage campers dropped to the ground to do pushups. "This is fun for a certain kind of person," Kloepper explained.
Most summer camps offer sports like soccer and baseball. Some include riflery. But at the Military Adventure Camp in Flemingsburg, Kentucky, kids ages 12-18 learn to shoot assault-style rifles and practice sniper skills and hand-to-hand combat.
The camp is a "military Disneyland" that teaches children discipline and confidence, said Jay Whitehead, its director. Situated among rolling fields in rural Kentucky about two hours from Louisville, it seems more like boot camp than summer camp. Campers, who dress in fatigues, stay in barracks-style houses and are expected to make their bunk beds with military precision.
Not all the barracks were up to standards on a recent visit. "I hope these kids haven't left a mess," Whitehead said, spotting a comic book left on a bunk. "They are going to get in trouble."
Days start at 5:45 a.m. and include grueling physical training. After breakfast, campers might navigate an obstacle course or carry inflatable boats down to a pond and paddle them as a team. Hours are spent on the shooting range practicing with assault-style rifles.
During one hot afternoon on the sniper course, the campers marched in formation, carrying their rifles at the ready. "Left, right, platoon, halt," called one camper to the group. An instructor told three campers to take their positions on the range. The trio lay on the ground and squinted through sights as they fired at the silhouettes of human torsos that were the targets.
"I wanted to find out what being in the military would really be like and this is the closest thing out there."
Aside from shooting, the campers are lectured on gun maintenance and how to march in formation. Activities include marksmanship, water survival training and learning how to rappel down cliffs. Most of the instructors have military backgrounds, Whitehead said.
"It's like hell week in the military," Whitehead said. "They learn how to march and about military ranks. We indoctrinate them fairly quickly into a military lifestyle."
The Military Adventure Camp is one of several specialized summer camps around the country that offer military-style training to kids. In Battleground, Alabama, the Extreme Military Challenge camp provides marksmanship classes on a "tactical training course." The Honor Code camps arrange summer training at or near military institutes. The Marine Military Academy, a private college preparatory school in Harlingen, Texas, offers a military-style camp that includes activities often associated with the Marines such as marksmanship and work with pugil sticks, which are padded, pole-like weapons used in military training. None of the camps have official ties to the U.S. military
The exact number of military-themed summer camps is hard to determine. The American Camp Association, one of the largest camp industry groups, does not have any military camps among its accredited members, according to a spokesperson.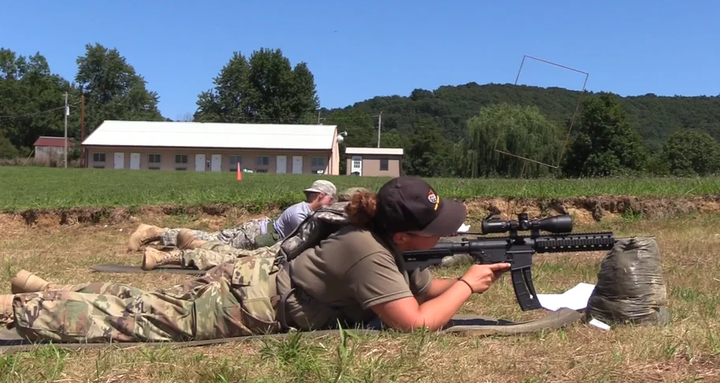 Many of the children who participate in the camp have parents or relatives who are currently serving in the military or are veterans, Whitehead said. Kloepper said his father is a former Green Beret who encouraged him to join the camp to give him a sense of what it is like to be in the military.
Some of the approximately 100 children who attended the various programs at this year's camps said they were considering a career in the military. The head of the Military Adventure Camp said many of its participants go on to military service, but he doesn't know exactly how many because the camp does not track its students once they leave.
Kloepper, an earnest, blond-haired boy from Oregon who enjoys track and field, said he wants to join the Marines because '"they are all about teamwork." He said he preferred the Military Adventure Camp to the more usual camp experience because he enjoys "pushing myself and it's good for my character."
Other campers said they participated in the camp to see if the military was the right career choice. Joshua Mendicino, 18, returned for a second year at the camp. He said he thinks he wants to join the military and found the Military Adventure Camp online while browsing for things to do over the summer.
"I wanted to find out what being in the military would really be like and this is the closest thing out there," he said.
"Some kids say they want to go home and I tell them that we will take it day by day and tomorrow we will call your mom. The reality is that if they go home, they have failed."
Kelsey Gaston, 14, said she chose the camp because she is trying to decide whether to become a homicide detective or join the military. During the school year she likes participating in sports, including track and soccer.
"I like being pushed," she said as she cleaned a pink camouflage rifle while wearing a T-shirt with the word "Army" emblazoned across the front. "The physical training is my favorite part of camp," she added. "It gets you in shape."
Not all of the children at the camp like the discipline and training, though. "Some kids say they want to go home and I tell them that we will take it day by day and tomorrow we will call your mom," Whitehead said. "The reality is that if they go home, they have failed."
The camp has various programs including "ranger school" and a "cadet tactical leaders course." An airborne course teaches skydiving. About 20 children attended the latest sniper course, in July.
Gun control advocates fear the combat-style firearms training offered at some camps like this encourage violence. The gun training is a sign of the growing popularity of military-style weapons among civilians, said Josh Sugarmann, executive director of the Violence Policy Center, a gun control advocacy group. "The gun lobby is trying to get younger and younger kids hooked on assault-style weapons," he added.
The sniper course offered at the camp is taught using rifles with scopes so that campers can aim from a distance at human-shaped paper targets. The children are also taught traditional sniper skills, such as how to move long distances while concealing themselves. In the military, snipers are soldiers who fire from long range from a hiding place.
"We have had them go through an exercise where they will crawl across a part of the property here from point A to point B because that is what a real sniper would do in order to shoot," Whitehead said.
Sugarmann warned that the sniper training taught to kids at the Military Adventure Camp could be used to commit violent acts outside of camp, adding that the course is "inappropriate and dangerous." Although most military summer camps offer some type of marksmanship course, the Military Adventure Camp appears to be the only one to offer sniper training.
Whitehead said the camp emphasizes firearms safety, and although the guns look like assault-style rifles, they fire the smaller and safer .22-caliber rounds rather than larger military ammunition. Many traditional summer camps offer riflery courses using bolt action rifles that fire a single shot at a time but assault-style guns at The Military Adventure Academy can rapidly fire multiple rounds and look and handle like military weapons. Sugarmann said the use of .22-caliber rifles doesn't change his view that such weapons are inappropriate for children. Those assault-style rifles can still fire many rounds quickly, he said.
"There is this myth in this country that the .22-caliber is little more than a BB gun, but in our opinion that is not true," he said. "It's a lethal round."
The camp participants seem to relish the thrill of danger, real or imaginary. Campers come from across the United States and even a few other countries. David Gerard, 17, traveled from France to participate in the sniper course. He plans to join the French military.
"We don't have anything like this in France," he said as he waited his turn to fire a rifle on the gun range. "There are much stricter controls on guns in our country."
On the rifle range, Gerard lay flat on his belly. Squinting through his scope through the glare of a summer day, he and two other campers aimed at human-shaped targets at the end of a field. On command from their instructor, the campers fired.
"Got him," Gerard said, spotting the hole in his target. "In real life he would have been dead."
Sign up for the HuffPost Must Reads newsletter. Each Sunday, we will bring you the best original reporting, long form writing and breaking news from The Huffington Post and around the web, plus behind-the-scenes looks at how it's all made. Click here to sign up!
Popular in the Community