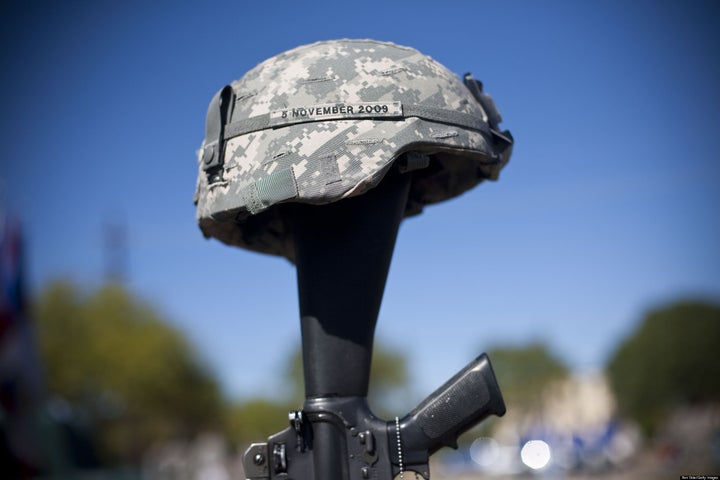 A recent article in the New York Times chronicles the tragic suicides of several Fort Hood soldiers. The military's suicide rate is at an all time high and Admiral Mullens, Chairman of the Joint Chiefs of Staff, recently stated that with many more warriors returning home from Iraq and Afghanistan, suicide in the military is expected to spike even further.
Having been stationed at Fort Hood with the First Brigade Combat Team, First Cavalry Division, I have deployed and experienced firsthand the aftermath of soldiers returning home from war. With numbers of these men and women wounded mentally, emotionally and psychologically, devastation is often not far off.

I recently collaborated with the President of the National Bible Association, Mr. Richard Glickstein, to produce The Military Bible and The Manual for Spiritual Fitness, which is an attempt to meet the difficult challenges associated with combat from a spiritual perspective.
While visiting me at Fort Hood, Mr. Glickstein and I met a young waitress who told us that her husband went off to Iraq for 15 months and came back a changed man. He had not touched her or their daughter in the six months that he had been home. Later that same day, we were on post in a meeting when a captain on duty, who had recently returned from Iraq, had a nervous breakdown. By the time Richard had returned home, another young soldier from Fort Hood had gotten drunk and, with three war buddies, had played Russian roulette and killed himself. Richard later said, "I came away from my visit at Fort Hood a year ago thinking that PTSD and suicide were not a problem in the military but rather an epidemic. This war trauma is not only destroying the lives of our precious young fighting men and women, its aftermath is severely injuring the parents, spouses, children, relatives and friends of these soldiers."
The problem of PTSD is becoming so pervasive that at a number of recent murder trials, PTSD is being raised as a defense for the accused. I suspect that there will be many other social consequences due to the trauma of a war that has no real end in sight.
The military is working diligently to help alleviate the problem. They have increased the number of mental health professionals threefold, have initiated a vigilant suicide prevention program and in the case of Fort Hood, have developed a "Resiliency Center", a holistic approach to help returning soldiers. At the Resiliency Center can be found caring health care professionals, physical fitness experts, and the leader of the West Point oriented cognitive learning center who are all eager to help soldiers and their families.
Many military personnel are sometimes hesitant to come forward for help and the suicide rate has not declined since these measures have been taken up. There are several issues which inhibit a soldier from seeking professional help for this war-related injury. The military drills and trains an individual to be able to perform beyond their threshold of pain. For the purpose of war this is necessary, but this conditioning can be counterproductive for soldiers who are suffering with PTSD and can cause them to try to tough it out on their own. Secondly, soldiers can be reluctant to seek help in the military because they are concerned it will sidetrack their military career. Mental health professionals at the Resiliency Center must, for security reasons, report a solider suffering with PTSD to superiors. While this may help to protect a soldier from injuring himself or others, the lack of anonymity can influence military personnel to not seek the help they need.
This is the reason for efforts such as the Military Bible and the Spiritual Fitness Manual, which are currently being used in the armed forces on a voluntary basis. Through peer-to-peer engagement and reflection, persons who are struggling with PTSD or suicidal ideation might be willing to self-refer and get the help they need and deserve.
But more is needed.

We believe that the mental, emotional and spiritual pain people experience, the 'psych-ache' caused by the extreme hardships of numerous deployments and the violent exposure to the brutalities of war, have diminished the quality of life for many who now serve our nation.
Military chaplains and other health professionals are constantly being trained to discover and engage people who may be entering that critical time where suicide becomes a possibility. Every soldier who is now serving in the military has been introduced to techniques for assisting, caring and escorting to safety those buddies and friends who are discovered to be suicidal. Through creative spiritual fitness programs, people are being introduced to alternatives to suicide that can also provide hope and a sense of enduring purpose.
One hundred thousand returning Vietnam vets have committed suicide. The numbers of that tragedy should not be visited upon by our returning personnel from Iraq and Afghanistan. Resources from inside and outside the military need to be continuously enlisted to provide care to our fighting men and women and their families, and that may mean protecting the identity of the one seeking care.
I firmly believe that it will take an active caring nation along with the military to stem the tide of this growing onslaught to spare our heroes of any greater tragedy. But much more is needed, and this is a war on the U.S. home-front that will continue long after our foreign conflicts have ceased.

Related
Popular in the Community