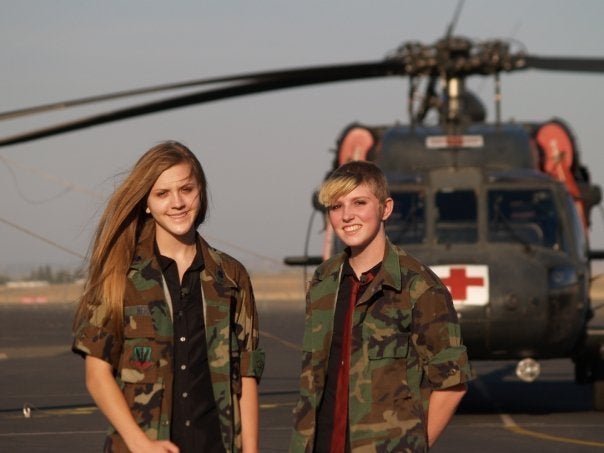 Moranda Hern was 15 years old when her father, Lietenant Colonel Rick Hern, was deployed to Bagram Air Force Base in Afghanistan. In the months that followed, she found herself feeling increasingly more isolated and lonely.
"My friends don't have parents in the military for the most part, so they didn't really understand what I was going through," Moranda said. "I thought I was the only one who was experiencing these feelings."
Moranda had long hoped to follow in her father's military footsteps. At 12, she began attending camps and events with the National Guard and California Army, and during a National Guard Youth Symposium in Missouri in 2007, she met another girl, Kaylei Deakin, with whom she had an immediate connection. "Meeting Kaylei was kind of this 'aha' moment for me. I learned I wasn't the only one going through these things."
She and Kaylei wanted to turn their own feelings of confusion over their fathers' deployment into a movement -- one that brings military children across California together.
"Military kids get each other," Moranda said. "There's a real understanding there."
Together, they attended The Women's Conference in California in 2008, which laid the groundwork for The Sisterhood of the Traveling BDUs -- itself a play on the popular teen novel and Army-slang for battle dress uniforms.
Moranda and Kaylei began organizing their first conference for the organization right away, all the while finishing up high school classes and applying for colleges. "I was still, like, trying to get my driver's license," Moranda remembers.
With help from mentors like Major General Mary Kight of the California National Guard and grants and training, they scheduled speakers, workshops, and a semi-formal "Purple Carpet" event. Soon the girls raised enough money so that all conference participants could attend for free.
It took a lot of work, but seeing these hundreds of girls coming together and supporting each validated Kaylei and Moranda's mission.
"The last night of the conference we had an Open Mic, and every girl stood up and spoke about their own experiences," Moranda said. "They thought their fathers had deployed because they didn't love them; they talked about eating disorders and self-esteem issues. They cried and laughed and all these things. But they left the conference knowing that someone was fighting for them."
Moranda's goal is to expand the program nationwide, aiming for at least three more states to take on Sisterhood conferences in the coming months. But she'll have a lot on her plate, considering she's now a freshman at the Air Force Academy. Kaylei is pursuing a life in the military, as well, currently training with the Marines in Fort Leonard Wood.
"I'm also a diver and we travel around to compete," Moranda adds. "So yeah. I'm really busy."
Support the Sisterhood or learn more by going to their website.
This story is part of Military Families Week, an effort by HuffPost and AOL to put a spotlight on issues affecting America's families who serve. Find more at jobs.aol.com/militaryfamilies and aol.com.
Related
Popular in the Community