WASHINGTON -- The Pentagon is lifting its ban on transgender people serving in the U.S. armed forces, effective immediately, Defense Secretary Ash Carter announced Thursday.
The new policy means transgender service members may no longer be involuntarily discharged or denied reenlistment based on their gender identity. Those currently on duty who have been keeping their gender identity hidden may now serve openly.
"This is the right thing to do for our people and for the force," Carter said at a press conference at the Pentagon. "We're talking about talented Americans who are serving with distinction or who want the opportunity to serve. We can't allow barriers unrelated to a person's qualifications to prevent us from recruiting and retaining those who can best accomplish the mission."
The historic policy change, seen by many as the last step of President Barack Obama's 2011 repeal of the military's "Don't Ask, Don't Tell" policy, is being phased in over the next year. The military is setting up a process for service members to transition genders while serving. The new policy also imposes standards for medical care, and outlines responsibilities for commanders to develop guidance, training and specific policies going forward.
An overview of the Pentagon's implementation plan is available here.
Carter said the nonprofit RAND Corporation estimates there are between 2,500 and 7,000 transgender people currently on active duty, and between 1,500 and 4,000 in the reserves. (A 2014 Williams report put the total number at 15,500.) Those numbers may seem relatively small compared to the 1 million-plus Americans serving, he said, but the military invests in all of its people.
"We're talking about talented and trained Americans who are serving their country with honor and distinction," said Carter.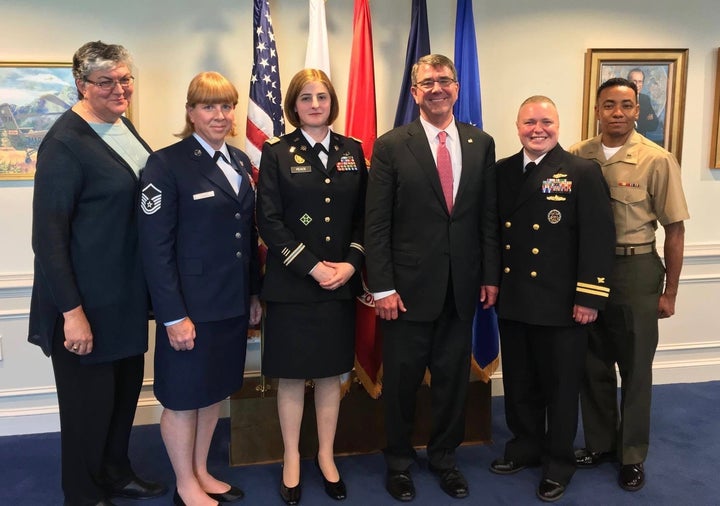 The Defense Department has been moving toward this shift for years. The Army took steps in March 2015 to make it easier for transgender people to serve, and different branches later loosened their policies.
Sheri Swokowski, a retired U.S. Army infantry colonel, is among those who have been waiting for this day to come. She's the highest-ranking transgender veteran in the country, and when the Pentagon held its Pride Month event in June 2015, she made a bold statement by showing up presenting as female, while wearing a new dress uniform bearing the infantry brass and braid associated with her uniform as a male soldier.
Without saying a word, she sent the message to military leaders in the room that transgender service members do exist and should be allowed to serve openly.
"I just want to be a visible symbol for those out there that are forced to, I won't say lie, but not be authentic in order to serve the country that they love," Swokowski told The Huffington Post at the time. "They are very brave. I'm sure they're trying to do the best they can and keeping their fingers crossed that, sooner or later, the Defense Department is going to get on board and accept transgender people."
In an interview on MSNBC after Thursday's announcement, Swokowski said she doesn't expect the roll-out process to be particularly complicated.
"The military teaches us to anticipate change, accept it when it occurs and commit to it, and get on with the mission," she said. "There was no big deal when 'Don't Ask, Don't Tell' was repealed, and I think this will be exactly the same thing."
Before You Go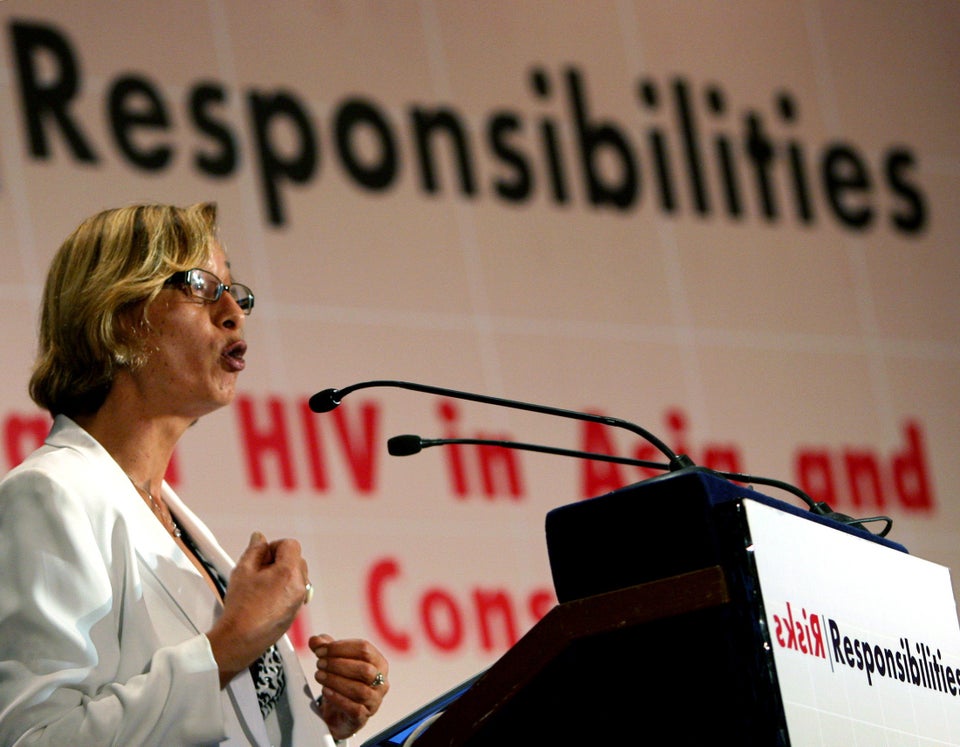 History-Making Transgender Politicians