WASHINGTON -- While many in Washington continue to obsess over the fact that White House tours are being canceled due to sequestration's budget cuts, service members around the country have a much bigger concern -- the end of a program providing them with tuition assistance to further their education.
The Air Force, Army, Coast Guard and Marines have all suspended their Tuition Assistance (TA) programs, while the Navy is still reviewing its options, according to the Defense Department. G.I. Bill benefits will still be available; those are intended for veterans, although active-duty members can still use them.
"Tuition Assistance ... enhances the professionalism of the Active, Guard, and Reserve forces by helping servicemembers more fully develop their skills, serves as an important tool to retain them in the military, and prepares those who choose to leave the military for a successful transition into the civilian workforce," wrote Hagan.
Rep. Mike Fitzpatrick (R-Pa.), meanwhile, introduced a bill on Monday to restore funding to TA programs by cutting foreign aid to Egypt. Senate Armed Services Committee Ranking Member James Inhofe (R-Okla.) also intends to introduce an amendment that would reverse the suspension, according to his office. Hagan plans on cosponsoring that provision.
The TA programs are incredibly popular. In fiscal year 2012, for example, 201,000 soldiers took advantage of the Army's TA program. It provided $373 million, helping 2,831 soldiers earn associate degrees, 4,495 earn bachelor degrees and 1,946 earn graduate degrees.
Pentagon spokeswoman Cmdr. Leslie Hull-Ryde said the TA program was "important to the department and our service members" but declined to comment on Hagan's letter, noting that Hagel responds directly to correspondence he receives.
She added the services' decision came after the Pentagon comptroller issued guidance last week recommending that the military consider significant funding reductions in the TA program due to the current budget environment.
While service members currently enrolled in programs will not be affected, they will not be able to submit new requests for tuition assistance moving forward. The change has been a blow to members of the military around the country.
"I would say having college paid for probably made up about 80 or 90 percent of the reason I joined," said Barre.
Trent Edwards, commander of the 42nd Air Base Wing at Maxwell Air Force Base, told WSFA in Montgomery, Ala., that the TA suspension will make it harder for him to do his job and attract new people to the armed forces.
"Education is a very big selling point for the United States Air Force and what we do with technology and education is top of the world so that creates additional challenges for our recruits," he said.
The Veterans of Foreign Wars sent a letter to Hagel about the TA programs' suspension and urged him to reinstate the funding.
"Since each service made the announcement to cut TA, VFW has heard from concerned service members through every medium at every level of our organization, wondering what they should do next," said Ryan Gallucci, VFW deputy legislative director, in a statement to The Huffington Post. "In only a few days, the decision to cut TA has proven detrimental to troop morale, and has the potential to negatively impact military readiness if we don't fix it. The sole function of TA is to develop a highly-professional force. When I had the opportunity to use TA in the Army, it made me a better soldier, which helped my unit. That is why I was personally disappointed to see the military cut it so quickly under sequestration."
A petition on the White House website calling for the government to reinstate the funding has nearly 90,000 signatures, meaning it has almost reached the 100,000 threshold needed to receive an official response from the administration.
At least one college is adjusting its policies in response to the programs' suspension. Columbia College of Missouri has announced that it will defer tuition charges for the term beginning March 25 while military students look for other funding, according to WIFR in Illinois. The college will also offer "a no-liability withdrawal policy or an extended six-month payment plan" for those unable to get new assistance.
"This is an opportunity to show our military students how much we value their service to our country as we support the goal of higher education for all," said Mike Lederle, assistant dean for military and federal programs, told WIFR. "Columbia College has been a leader in military education since 1973, and we will continue to serve our service member students and assist them during this period of transition."
On Wednesday, Pentagon spokesman George Little blamed the decision to suspend TA on Congress' failure to prevent sequestration's $85 billion in across-the-board spending cuts from going into effect.
"Let me be clear: We are here because of sequestration on tuition assistance," he said. "If sequestration were averted, we may be facing a different set of choices on these and other programs. These are the unfortunate outcomes."
Before You Go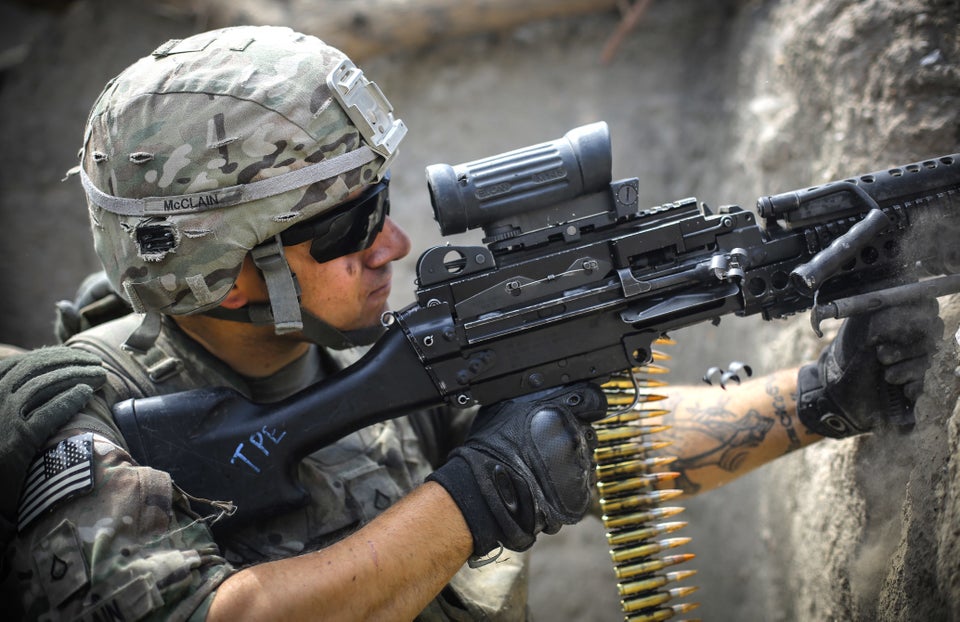 What Sequestration Would Cut
Popular in the Community