WASHINGTON -- Congress voted to protect the military's popular Tuition Assistance program on Thursday, directing the Defense Department to find money to fund it.
After sequestration's steep budget cuts hit the federal government, the Army, Air Force, Coast Guard and Marine Corps all announced that they would be suspending TA, which provides up to $4,500 per year for service members to continue their education.
The move sparked an uproar from members of the military, veterans and lawmakers.
On Thursday, the House approved a continuing resolution to keep the government running. It included an amendment -- first introduced by Sens. James Inhofe (R-Okla.) and Kay Hagan (D-N.C.) -- barring the armed services from cutting all funding for the TA program. It instructs the Pentagon to find money elsewhere in its budget for the education assistance. The measure was also approved by the Senate on Wednesday.
"I'm pleased the House has passed my bipartisan amendment with Senator Inhofe to restore Tuition Assistance as part of the continuing resolution," Hagan said in a statement to The Huffington Post. "I look forward to the President signing this legislation into law so we can keep our commitment to our service members. The brave men and women who serve in uniform have never given up on our country, and now we have signaled that we won't give up on them."
The Coast Guard, however, is exempt from this amendment, meaning its TA program will remain suspended. Inhofe and Hagan's provision covers only the defense budget; the Coast Guard gets its funding from the Department of Homeland Security.
Groups including Student Veterans of America, the Veterans of Foreign Wars and the American Legion have been advocating for a restoration of funding. A petition on the White House's "We the People" website garnered more than 100,000 signatures, which is the level needed to receive a response from the Obama administration.
SVA executive director Michael Dakduk said he was happy to see that Congress "values tuition assistance" and applauded Congress for acting.
"I want to thank Sen. Inhofe and Sen. Hagan for their amendment and their bipartisan efforts to revive this valuable education program," he said in an email.
"By passing a continuing resolution that reinstates tuition assistance, Congress showed that they clearly understand the program is a win-win for the military," added Ryan Gallucci, VFW deputy legislative director. "TA not only develops competent, well-rounded leaders, but also boosts troop morale and quality-of-life. On Monday afternoon, it seemed as though hope was lost on reinstating TA through the continuing resolution, but thanks to the unrelenting advocacy of service members and veterans, we moved both the Senate and the House to do the right thing."
In the past, spokesman George Little has decried the failure of Congress to prevent sequestration from going into effect, blaming those cuts for the fact that TA was being suspended.
"Let me be clear: We are here because of sequestration on tuition assistance," he said last week. "If sequestration were averted, we may be facing a different set of choices on these and other programs. These are the unfortunate outcomes."
Doug Wilson, who was assistant secretary of defense for public affairs until last year as the Pentagon was dealing with the run-up to these deep budget cuts, said sequestration is likely to get more painful as the public becomes increasingly aware of its consequences.
"I think there's general agreement that sequestration is a kind of stand-on-your-head, very bizarre approach to the real issue, which is how do you achieve both deficit reduction and sound financial footing -- which has to do both with cutting spending and having enough revenue to invest in the programs in which you need to invest," he said.
"Sequestration has had a negative effect on tuition," he continued. "It's going to have a negative effect in education and health and other areas involving our men and women in uniform. That's just the bottom line. I don't think it's going to get better before it gets worse over the course of this year."
Defense Secretary Chuck Hagel is scheduled to host a roundtable with military and veterans leaders on Thursday, where topics are expected to include the TA program.
The House passed the continuing resolution 318-109. The legislation includes sequestration's $85 billion in across-the-board spending cuts, meaning that while the TA program was saved, many other government programs will not be so lucky.
UPDATE: 5:03 p.m. -- Pentagon spokeswoman Cmdr. Leslie Hull-Ryde responded to Congress' amendment:
We agree with Congress that the tuition assistance program is an important one, both to the department and our service members. This program enables the professional and personal development of our service members and also facilitates their transition to the civilian workforce. However, because of the current fiscal situation, we are evaluating programs across the department.

As always, whenever the president signs legislation proposed by Congress into law, we will comply.

If enacted, this legislation would require the services to make difficult and very thoughtful decisions on how to fund tuition assistance throughout the remainder of FY13 without impacting readiness.

Each service is responsible for funding and administering tuition assistance funding. The services have had to make difficult choices to preserve readiness.
This story has been updated to specify that the Coast Guard is not covered by the new amendment.
Before You Go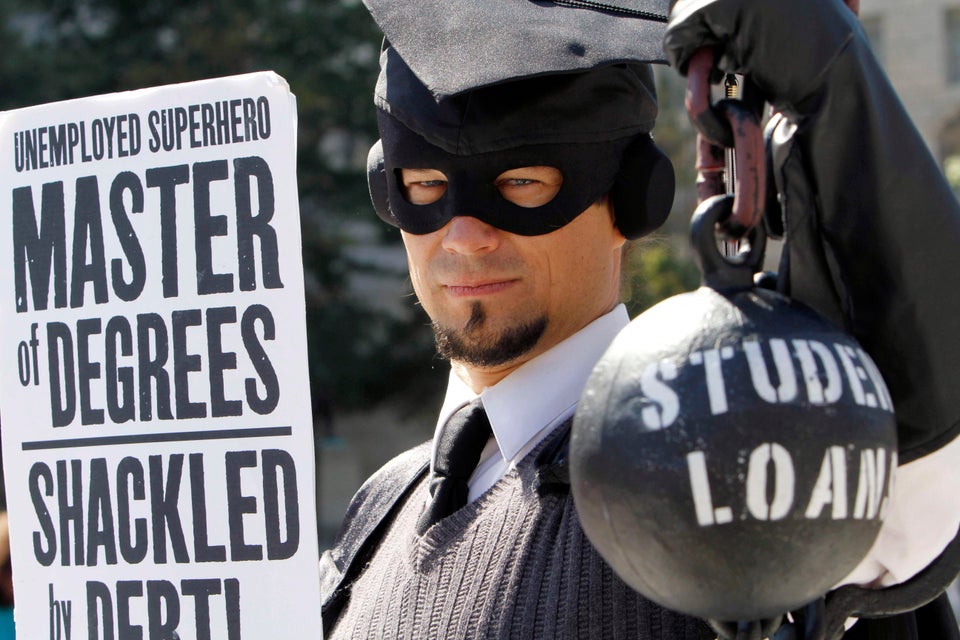 Iraq War: What Else Could America Have Spent $800 Billion On?
Popular in the Community