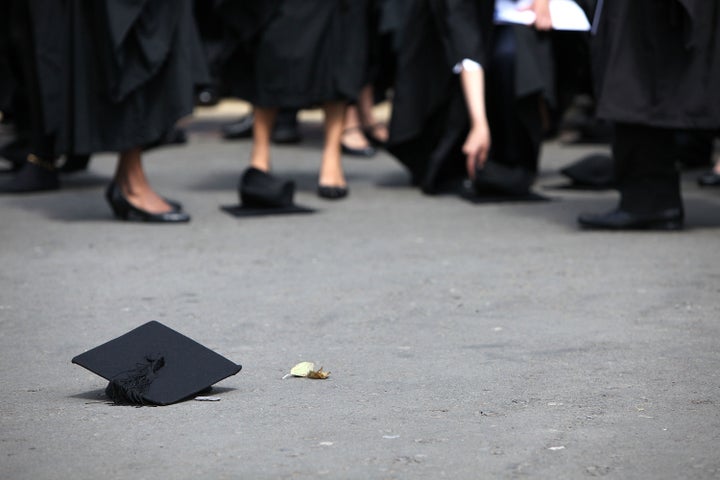 NEW YORK -- Cameron Baker, a 27-year-old Air Force veteran, knew it was finally time to make his exit from military life. After two deployments to Iraq and three additional years spent as a private contractor, Baker had grown not only hyper-vigilant, but plagued by anxiety, rage and despair. His days were pockmarked with what he describes as "pretty horrific violence occurring at regularly scheduled intervals."
At 18, he left his childhood home in Arlington, Texas and joined the Air Force. If Baker hadn't enlisted, he predicts that he'd still be in Texas, working at a dead-end, minimum-wage job. But once out, Baker enrolled at South Plains College, a community college in nearby Levelland, where a 3.9 grade-point average landed him a spot in the honor society. Subsequently, Baker flashed across Columbia University's radar -- where he, along with hundreds of other high-achieving veterans, were recruited to attend its School of General Studies, many as part of the Yellow Ribbon Program, which is a provision of the Post-9/11 G.I. Bill.
Since its passage in 2008, the revamped G.I. Bill provides veterans who have served for a minimum of three years since Sept. 11, 2001 with full tuition at public two- and four-year schools. Money is allocated on a state-by-state basis and capped according to the highest amount of public in-state tuition. The Yellow Ribbon Program acts as a supplement so that eligible veterans can afford to attend private institutions. The money can also be used to cover out-of-state public schools and graduate or doctoral programs. In this way, the promise of the Yellow Ribbon Program was that it would enable veterans like Baker to attend private institutions free of cost.
Baker arrived at Columbia's Morningside Heights campus with a specific understanding: Between money provided by the Post 9/11 G.I. Bill (presently capped at $1,010 per credit hour for a full-time student in New York State), in addition to Columbia's contribution of $5,100 as part of the Yellow Ribbon Program, and the V.A.'s matching grant, not to mention a separate stipend for housing and other incidentals, he'd be able to earn a bachelor's degree without having to incur any personal debt.
Beginning Aug. 1, 2011, the current crop of students at Columbia, not to mention other veterans from across the country, will see their tuition capped at $17,500, regardless of the state in which they reside. However, the Yellow Ribbon Program will still be available to offset some of the increased costs.
For Baker, and many of his classmates, taking on increased debt simply isn't an option.
"I come from a very low socio-economic background," explains Baker, who along with 119 in the current class of 203 veterans at the School of General Studies, qualifies as needing the most financial assistance. "My family can't afford to help me out. I mean, at this point, I'm the one who's supposed to be helping them out."
The new law won't just impact veterans at Columbia. According to the U.S. Department of Veterans Affairs, the tuition cap of $17,500 will affect veterans enrolled at or planning to attend any private or foreign institution. Also, for veterans in some states, especially those attending public schools, the new cap will actually represent an increase in available funds.
Nationwide, according to the U.S. Department of Veterans Affairs, $9.9 billion has been allocated since the inception of the Post-9/11 G.I. Bill. Between August of 2009 and July of 2010, 547,945 veterans have used the new bill to pay for college.
"Our veterans can't afford to have the rules changed on them midway through their college careers," said Schumer in a statement. "This bipartisan bill is an urgent priority. If we fail to act, veterans across the country will face the equivalent of a tuition hike at the start of the fall semester."
Miller released a similar statement, adding: "I am also pleased that this bill is fully paid for and does not increase the deficit or create new spending."
Schumer's legislation would exempt those enrolled prior to Jan. 4, 2011. Miller uses April 1, 2011 as his start date. Finally, while Miller has specified that it will pay for the increased cost by freezing the cost of living increases in the housing allowance for two years in order to cover the cost of the bill, Schumer has yet to indicate such an offset.
Meanwhile, veterans at Columbia are still holding out hope.
Columbia University has more veterans on its campus than any other school in the Ivy League. The School of General Studies, which was established in 1947 to educate the large number of young men returning home from World War II, has 203 veterans presently enrolled.
Peter J. Awn, dean of the school, has overseen its program for 14 years.
Prior to the Yellow Ribbon Program, the School of Graduate Studies enrolled 60 veterans during the 2008-2009 academic year. Since the revamped G.I. bill, and increase in resources, the numbers have more than tripled.
"For current students, they came in under one set of parameters, and they never had to worry about their finances," says Awn. "Lo and behold, the rug's been pulled out from beneath them. It's now our responsibility to help them regroup and walk through what they can afford financially and what they can absorb in terms of loan debt."
Despite Columbia's hefty $6 billion endowment, Awn concedes that he's not sitting atop a pot of liquid cash. He's actively trying to solicit contributions from both foundations and wealthy individuals to help bridge the gap. A donation of $1.2 million would ensure that the current class could continue as planned -- and graduate debt-free. According to Awn, should Columbia be able to expand its current grant of $7,000 per student, the V.A. has agreed to match it dollar for dollar.
From his office overlooking Broadway, Awn is certain the change in the new law will negatively impact young veterans hoping for a shot at an Ivy League degree. As a consequence of reduced aid, he predicts that future enrollment numbers will plummet.
For the time being, Awn is holding out hope that the currently enrolled veterans at Columbia might be grandfathered in. Still, he worries: "In the current climate, of everyone getting thrown under the bus, why worry about throwing vets under the bus?"
Last year, the New York Times chronicled Baker's struggle with post-traumatic stress disorder. What ravages him now is a worry of a different sort -- namely, how he'll afford the increased cost of tuition come fall.
When he arrived on Columbia's campus for the first time over a year ago, he never imagined that financial worries might mean he wouldn't finish.
To complete his degree in political science over the next year and a half, Baker faces between $50,000 and $60,000 in student loans. It's a gamble he's unwilling and unable to make. And unless federal legislation is passed to amend the existing law, whereby exempting currently enrolled students, he will likely be forced to drop out.
What Baker doesn't have is a contingency plan.
"You need your veterans to come back and better themselves so they not only integrate, but better engage with society," says Baker, whose closely shorn buzz cut is one of the last visible remnants of his prior life. "Why, when we have the opportunity to enter an institution like this, are we not allowed to finish what we started?"

Related
Popular in the Community