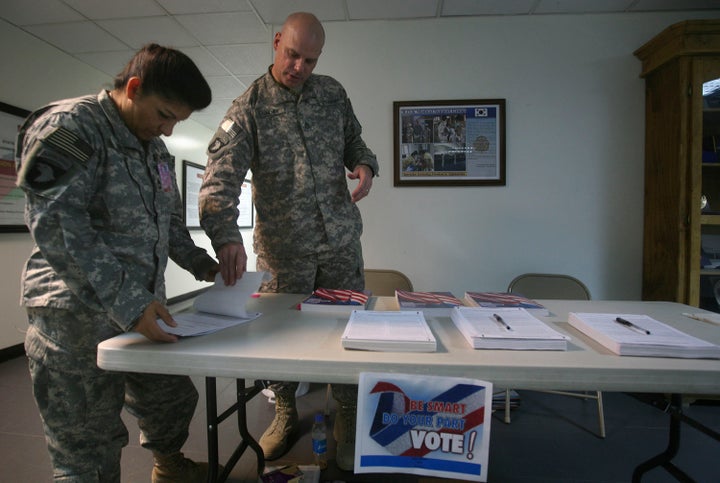 A new report from the Department of Defense inspector general finds that an initiative to accommodate voters on military bases isn't being implemented effectively. The study also suggests that legislation intended to increase outreach to military personnel is putting a misguided emphasis on in-person resources.
According to the 2009 Military and Overseas Voter Empowerment Act (MOVE), military facilities not located in war zones are required provide an office that service members can visit in order to receive hands-on assistance with the voting process. Such facilities are designed to ensure that troops have access to voter registration and absentee balloting materials, as well as a staff member to help walk them through the process.
In the recent report, auditors with the Department of Defense inspector general tried to get ahold of the offices created for this purpose using listed contact information, and found that only about half were operating.
Out of the 229 Installation Voting Assistance Offices listed as operational on websites across the branches of military, investigators were able to contact only 116. On Air Force and Coast Guard bases, auditors failed to reach at least 60 percent of the offices.
According to the study, funding was a primary issue.
"We concluded the Services had not established all the IVAOs as intended by the MOVE Act because, among other issues, the funding was not available," the report concluded. "Officials pointed out the law did not authorize DoD additional funding for this initiative and estimated IVAO costs could exceed $15-20 million per year."
Instead of recommending measures to increase military compliance with the MOVE Act, however, the Department of Defense inspector general proposed a shift of emphasis to more modern tools and online outreach, as well as a provision that would relieve some military facilities from the costly mandates of the legislation and give more discretion to military leadership.
"They suggested assistance might be provided more effectively and efficiently by targeted advertising, technology, like Twitter and Facebook, and online tools, supplemented by well-trained unit voting assistance officers, who are already in place," the study suggested, noting the high numbers of younger military personnel who could be targeted through this cheaper method.
Pamela Mitchell, acting director of the federal voting assistance program, reportedly agreed with the recommendation in an official response to the report.
While the study provides a potential prescription for the future, its findings of non-compliance on bases comes amid a previous report showing that military personnel are requesting absentee ballots at extremely low rates this election cycle as compared to 2008. Only 16 percent of eligible personnel had already requested ballots In Florida, the state that reported the highest percentage of ballot requests.
REAL LIFE. REAL NEWS. REAL VOICES.
Help us tell more of the stories that matter from voices that too often remain unheard.
BEFORE YOU GO
PHOTO GALLERY
Voting Laws That Make People Angry