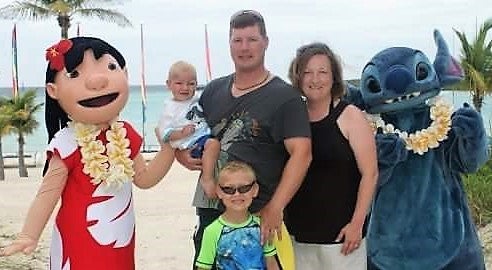 Danielle is 37 years old, and a widow.
Her husband, Greg, passed away 10 months ago, on March 5, 2016, leaving behind Danielle and their two young boys.
Their love story began just following September 11, 2001. Danielle and Greg were both in the military. They met and fell in love fast when he was on leave from the Marine Corp. Danielle left for the Air Force soon after meeting Greg and the two maintained a long distance relationship, exchanging letters and speaking on the phone.
Greg was slated for deployment to Iraq, but got injured, paralyzing his foot, while training in Japan and was discharged. Greg moved to where Danielle was stationed. They got married and, soon after, Danielle discovered she was pregnant with their first child.
"He was amazing," said Danielle. "He cooked, cleaned, and was so romantic. He would get up and make me breakfast every day and iron my uniform. He was unlike any other man I ever met."
Now a disabled Marine, Greg went back to college, earned his second bachelor's degree, and became an elementary special education teacher, working with children with Autism.
After four years, Danielle was out of the Air Force, their little family moved, and Greg secured another teaching position. Greg received the "Rookie Teacher of the Year" award at the conclusion of his first year there, beating out all other first-year teachers in the entire school district.
Two years later, they relocated again when Danielle was hired by the FAA and they welcomed their second son nearly five years into their marriage. That is around the time Danielle began to notice changes in her doting husband's behavior.
As our nation has come to rely more heavily on pharmaceutical drugs, the U.S. military has followed suit, prescribing drugs on both the battlefield and home front in a vast network of V.A. hospitals and clinics.
Veterans taking prescribed drugs may become dependent and spiral into full-blown addiction.
Since being injured in Japan, Greg remained on a wide variety of prescribed pain pills (opiates), as well as Adderall and Xanax, the entire fourteen years of their marriage.
"I would notice him nodding off," recalled Danielle. "Then one time he ran to the store with my son and after they returned he passed out in his truck while it was still running. One day, when he was really messed up, I dropped him off at rehab."
For the majority of Greg's time overusing pain medication, Danielle did not tell anyone, even their own family.
"Only a handful of friends and family knew the struggles in our household. Most had no idea that the boys and I had spent the previous two Christmases alone. They didn't know the hours we spent at the doctor's office trying to find the right drugs and balance."
The first time Greg entered rehab, it was to get off Xanax.
When people are addicted to Xanax, they cannot escape it without experiencing painful withdrawal. In fact, it is so painful and harmful that Xanax withdrawal has been linked to death. Users can shock their systems if they try to stop taking Xanax cold turkey, so a supervised weaning off of the drug is encouraged.
Rehab didn't help. Danielle would come home late from work to find her husband passed out and the house a mess. Her children would tell her they hadn't eaten dinner.
"Even during all of that, I never really thought of him as a drug addict," she said. "To me, drug addicts were people who stole from their loved ones and lived on the streets. Addicts weren't people who got their drugs from a doctor."
"We were working together, as a couple, with his pain management doctor to find a happy balance between him and myself," added Danielle.
It didn't work. The second time Greg entered rehab, it was for opiates that were being prescribed by his doctor. He got out of another 30-day treatment center and got his prescription filled before his doctor could find out.
Greg received a shot of Vivitrol, but lied about receiving the second shot. Danielle was unaware of this until the first time Greg overdosed on a combination of Morphine and Seroquel. He also had marijuana, benzodiazepines (Xanax), and amphetamines in his system.
Xanax is considered to be more toxic than other benzodiazepines. In one study published by the British Journal of Pharmacology, the length of stay for 131 people who overdosed on Xanax was 1.27 times longer than people who overdosed on other "benzos." Of those who overdosed on Xanax, 22% were treated in intensive care units – 2.06 times more than other cases.
"I was stunned and embarrassed when the doctor asked me if I knew my husband had been shooting up," admitted Danielle. "I thought he had gotten the second Vivitrol shot. I thought he was only on a nerve pill."
Danielle learned Greg had been "double dipping" between the V.A. and his pain doctor.
The V.A. had prescribed him Seroquel and when he combined that with everything else his pain doctor had prescribed, he overdosed. Even more heartbreaking, their 12-year-old son discovered him clinging to life while Danielle was out of the house.
Greg would go on to survive his first overdose, after spending 16 days on a ventilator, an additional week in the hospital, and four months of rehabilitation.
Danielle practiced "tough love" and kicked him out. He went to live with his parents and entered another in-patient rehab, this time a V.A. facility. Danielle hoped that this would be her husband's wake up call.
"I believed things were going to change. I believed we had finally gotten the fresh start we all deserved."
Danielle believed her prayers had finally been answered. The family was happy again. They were able to spend Thanksgiving and Christmas together.
"I let my guard down. I forgot what addiction was and how it sneaks up on you," said Danielle. "I forgot that every day is a struggle and a choice. I forgot that it doesn't matter where you live, what you do for a living, how much money you have. I forgot that addiction never forgets about you. It's always there, hovering, hunting you down."
Greg was clean for nearly nine months before relapsing.
This time, there wasn't a prescription; there was heroin.
"The 'H' word," Danielle mumbled. "The word I feared. The one word that I used to assuage my own fears, to tell myself that my husband wasn't an addict because he wasn't using heroin."
Her young children would go on to tell her that they had witnessed him shoot up in the kitchen and fall asleep while driving.
During this time, Danielle joined a support group and began going to meetings. She learned how to set boundaries and learned how to no longer enable.
"I reacted quickly," said Danielle. "I kicked him out of the house (again), thinking if I stuck to my guns, he would clean himself up. I mean, he had to, right?"
After Greg expressed to Danielle he no longer wanted to live, Danielle invited him to come over and see his children.
"I didn't recognize the man at my door," said Danielle. "It was like his soul was gone. He had track marks all over his arms and he was so thin. He looked like hell."
That day, Danielle discovered a letter Greg had written her, expressing how sorry he was for hurting her and their family.
"In the letter, he told me it wasn't my fault that he couldn't just stop," said Danielle. "I just know that once I realized it was never my battle to fight, I found peace. Nothing I could have done or said would have changed the outcome. He had to want it. Just because he didn't, doesn't mean he didn't love us."
Greg then entered rehab for the third time, and though only lasting there two weeks, Greg was clean and staying at a hotel near Danielle's home. He had lined up a job interview and had gone over for dinner every night for two weeks. Danielle and Greg had even gone on a date. Things seemed to be looking up, so Danielle agreed to let Greg watch their kids while she worked one Saturday.
"When I got home, I knew he was high," she said.
Danielle barely spoke to Greg the rest of the evening before she went to bed around 10:00 p.m. Greg was watching a movie with their sons and then was to go back to his hotel.
At 10:30 p.m., Greg entered Danielle's bedroom to see if she needed anything before he left.
At 11:10 p.m. that night, nearly a year to the day of his first overdose, Greg overdosed and died in Danielle's bathroom. Once again, their son discovered him, slumped on the toilet, a needle in the sink that was still running.
What Danielle would go on to uncover in the days and weeks following his death were heart wrenching.
"There were so many drugs in his hotel room," recounted Danielle. "Credit cards showed he was taking out cash advances. He spent nearly $1,100 dollars on drugs the last week he was alive. The person listed in his phone as his sponsor, was actually his drug dealer. It's amazing all the lies you discover after someone dies."
Danielle feels as though she lost a stranger, not the man she married.
"Now, I'm the woman whose husband came for a weekend visit with his children and died in her bathroom," said Danielle. "I forgive him though. I am at peace because he is no longer struggling and neither am I. I'm free to find myself again. I'm free to be happy. I am free because I am no longer ashamed."
Ten months later, and Danielle and her children are doing well.
"One day I will heal from all of this because if I was strong enough to survive the last few years of my life, I'm strong enough to live again."
Popular in the Community