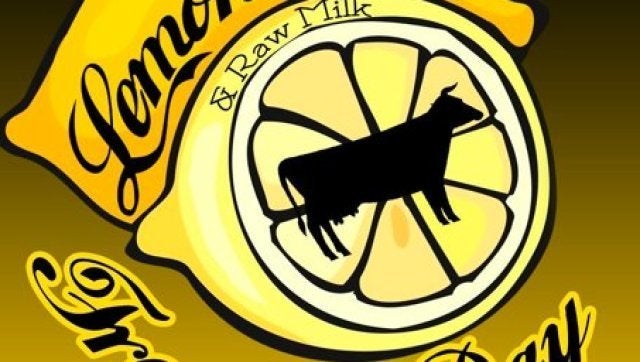 Civil disobedience sometimes comes with a milk mustache.
Call the police -- there will also be a picnic, and other activities; here's the Facebook event page with a full schedule.
One organizer, Eddie Free, has long been a fixture of the "voluntaryist" -- don't call him a libertarian -- scene staging protests and getting arrested for things like dancing at the Jefferson Memorial. (He helped convince TPTB in New Jersey's Asbury Park to start allowing beach-goers to wear bathing suits on the boardwalk. Someone at a bathing suit party Free held after the change in law was then arrested for going nude.)
For Saturday's protest, Free has collaborated with Robert Fernandes of Lemonade Freedom and Liz Reitzig of the Raw Milk Freedom Riders in what they describe as a fight for fundamental liberties to buy, sell and consume as they see fit.
Free says he's willing to be arrested -- again -- but hopes it will not come to that. "I hope the state will stand down and let us act like the free people we are."
"This is about self-ownership and voluntary exchange," says Fernandes. "If someone is selling a product, such as lemonade or raw milk, and someone wants to buy that product, then no third party should have any say in the matter."
Support HuffPost
The Stakes Have Never Been Higher
Related
Popular in the Community