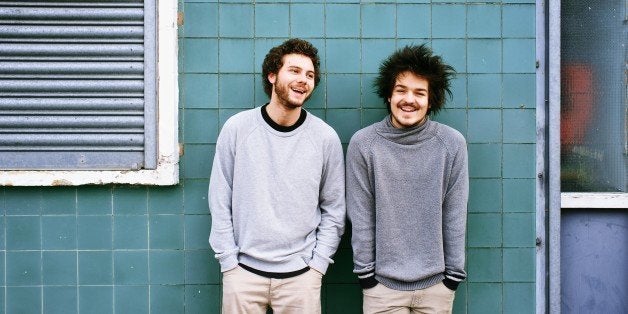 Just before I became the last and only male interview of the day for German duo Milky Chance, singer-songwriter Clemens Rehbein joked, "Now we can talk about manly things like tattoos and emotions."
After explaining the meaning behind my own tattoos, it's Rehbein's turn, showing off a lyric from one of his songs and an origami cup made from a 20-pound paper that he once folded at a bar. It reminds him of the amazing experiences he had in London as well as "not to drink too much."
This personal, but matter-of-fact resolve is so telling of Rehbein and his partner Philipp Dausch's unique brand of music. On one hand, there is a blend of folk, bluesy indie rock and reggae tones. On the other hand, there's electronic beats that pull from deep house and, as it is said in Germany, elektro-schranz, which essentially translates into electro-trash (their interpretation is not the fast techno style for which the term has been popularized).
While these two elements are certainly disparate and seemingly incompatible, Rehbein and Dausch have tailored a sound that has a little more spice than the "folktronica" you might hear on a Beck album. Pitting Rehbein's gruff vocals and somber lyrics against four on the floor beats, their debut album, "Sadnecessary," will make you think about how everything went wrong with your most recent ex, or how you haven't shown your family enough love lately, but instead of hiding in your bed and crying, you exorcise the pain through dance.
"On the one side, you're sad now, but on the other side, you're happy, looking forward to turning that sad feeling into a hoping mood," Dausch said, explaining the term "Sadnecessary." "And that's just what it pictures in the music: a sad melody with sad lyrics, but the whole song has a happy and danceable mood."
"It's always about balance," Rehbein added.
Things are moving quickly for Milky Chance: They racked up over 86 million views on the video for their single "Stolen Dance" and they recently performed their very first U.S. show -- which sold out within 10 minutes of the tickets posting -- in New York. Rehbein and Dausch previously played in a jazz quartet together for three years. After school finished, two of the members went abroad, forcing the band to break up. Rehbein had been writing songs on the side the whole time and then recruited Dausch, who had worked an internship in sound engineering, to join him.
"Sometimes it's hard to realize," Rehbein said. "It takes some time to get it because it all happens so fast. This was a very big step for us to come here."'
Digging into the album's title track, there's a line where Rehbein sings, "Mirror, mirror, who is the happiest? / Is it the lover or is it the beloved?" He explained that he found himself pondering over the question of whether it is more desirable and beneficial to give or receive love. "The last thing [Dausch's] grandpa said to him was, 'In life, it's more about giving love because you get back as much as you give,'" Rehbein said.
However, for Rehbein and Dausch, it's important to keep the lyrics vague, focusing more on the ideas and feelings than the specifics. "We're always very happy to see people put their personal stories into the songs and just take what they need from them," Rehbein said.
Dausch added: "The idea of sharing music is probably the most important thing for us within making music and being musicians. By giving this the biggest space of interpretation, we give the biggest possibility of sharing it."
When asked if there was any song on the album that they connected with the most, they both replied they couldn't single any one out. "It's kind of like a diary writing songs,"Dausch said. "You don't have a favorite page, it's all just experience."

Before The Beat Drops is an artist introduction series dedicated to bringing you the rising acts before they make their break. Our unlimited access to music of all kinds is both amazing and overwhelming. Keeping your playlists fresh, we'll be doing the leg work to help you discover your next favorite artist.
Calling all HuffPost superfans!
Sign up for membership to become a founding member and help shape HuffPost's next chapter
BEFORE YOU GO
PHOTO GALLERY
Artists To Know In 2014