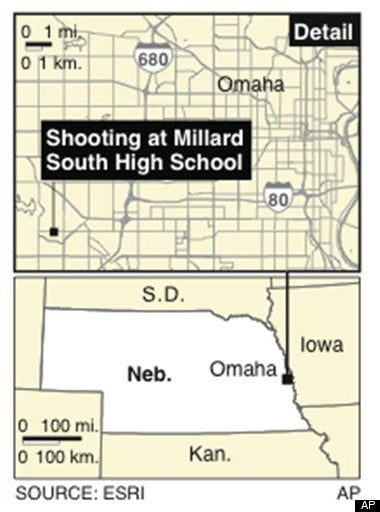 A high school student shot his principal and was later found dead this afternoon in an incident at Millard South High School in Omaha, Nebraska.
The Omaha World-Herald reported that the school's principal Curtis Case and one other adult were injured in today's shooting. Police said that one person was transported from the scene by helicopter and another by ambulance.
Parents were instructed to pick their students up at nearby Divine Shepherd Lutheran Church just after 1:30 p.m.
UPDATE: The Omaha Police Department says that the suspect in the shooting was a senior at the school and confirms he was found dead in a car after the shooting.
UPDATE: (2) Omaha.com reports that the shooter was Robert Butler Jr., son of Omaha Police Det. Robert Butler.
UPDATE: (3): Here was the shooter's final Facebook status update, per Omaha.com:
"Everybody that used to know me I'm sry but Omaha changed me and (expletive) me up. and the school I attend is even worse ur gonna here about the evil (expletive) I did but that (expletive) school drove me to this. I wont u guys to remember me for who I was b4 this ik. I greatly affected the lives of the families ruined but I'm sorry. goodbye."
UPDATE: (4) The Omaha World-Herald has identified the second victim as Assistant Principal Vicki Kaspar, who is currently in critical condition at Creighton University Medical Center.
Principal Curtis Case is also at Creighton, in serious but stable condition.
Omaha Mayor Jim Suttle expressed his condolences to those affected by the shooting.
"Tragedy descended on our city. I'm calling on the people in our great metropolitan area to do two things: we need prayers and we need hugs."
During the fall of 2010, Butler was transferred from Lincoln Southwest High School, where he spent the majority of his youth, to Millard. His former principal, Rob Slauson, said that Butler was "a fairly normal, average" teenager.
"He was popular with students and seemed real pleasant."
UPDATE: (5) The Omaha Herald-World now reports that Assistant Principal Vicki Kaspar has died. She would have turned 58 on Thursday. Principal Curtis Case was last listed this evening in serious but stable condition at Creighton University Medical Center.
UPDATE: (6) The Associate Press reports that the 17-year-old gunman was removed from school earlier on the day of the shooting.
Police said Butler was cited for criminal trespassing after driving his car on the Millard South High School football field on Jan. 1.
On Wednesday, the school reopened from winter break. The Omaha World-Herald reports that Assistant Principal Vicki Kaspar pulled Butler from class that morning to give him a 19-day suspension because of the trespassing.
Related
Popular in the Community