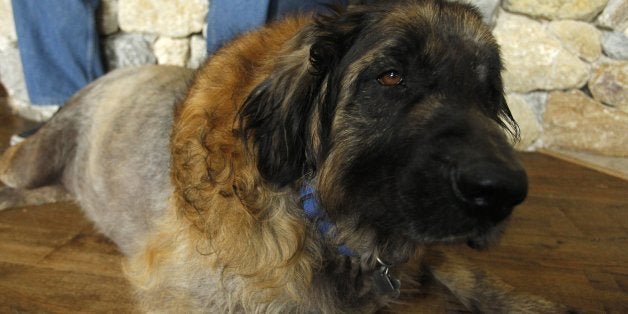 Sid the dog is said to be "doing pretty well" after having recently been discovered in a filthy cage at a Texas veterinarian's office -- a half-year after the veterinarian told Sid's owners their 170-pound Leonberger had been euthanized.
"He's got one surgery left to go. Some rehab," says Jim Eggleston, an attorney who represents Sid's owners, Jamie and Marian Harris, in a $1 million lawsuit against the veterinarian and his practice, the now-closed Camp Bowie Animal Clinic in Fort Worth.
"Thank God he didn't have room," says Eggleston.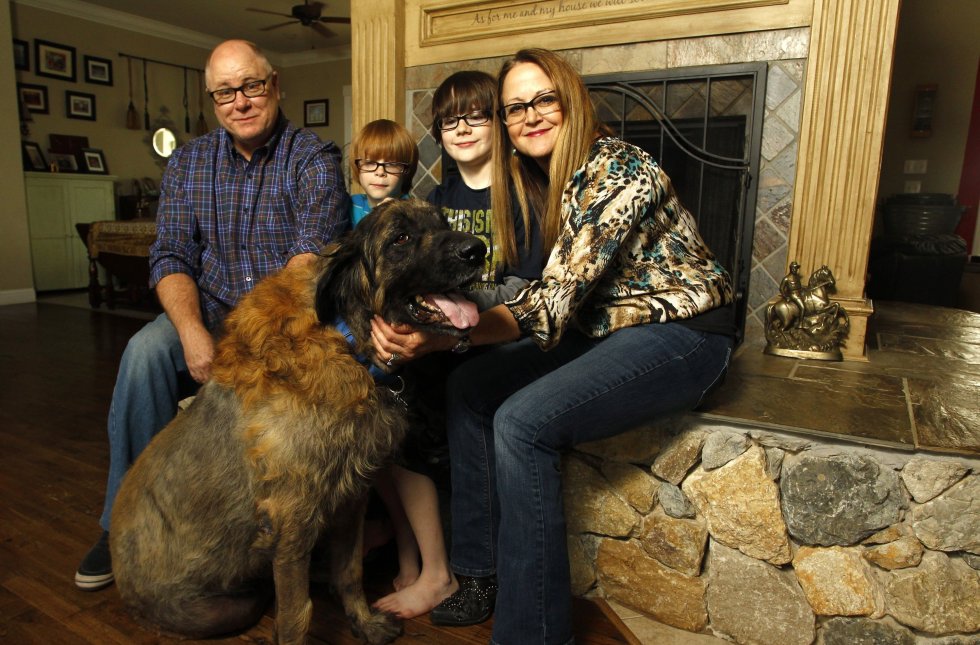 The Harris family, including Jamie, from left, Cole, Case and Marian, pose with their dog Sid at their home in Aledo, Texas, April 26, 2014. Photo credit: Richard W. Rodriguez/Fort Worth Star-Telegram/MCT via Getty Images
In their petition filed in state court, the Harrises say that Tierce -- their trusted, longtime veterinarian -- kept Sid at the clinic for several months over the summer of 2013 while treating the dog for a "minor, anal-gland issue."
That fall, when the family went to collect their pet, they found him unable to walk. "He could not lift his hind quarters at all and simply slid himself across the floor to get to Mr. Harris," reads the complaint.
Tierce allegedly first told the Harrises that Sid was having a reaction to some medicine, then said X-rays had revealed a congenital spinal defect that was "degenerative and incurable." (The family now believes that Sid was injured when a clinic employee flipped the dog onto his back.)
The Harrises say the veterinarian advised them to euthanize Sid. They agreed, after being told the procedure would be painless and Sid would be buried on the Tierce family farm.
On April 22, 2014, Mary Brewer, a veterinary technician formerly with the clinic, contacted the Harrises to tell them that Sid "(a) was still alive; (b) was being confined in a cage almost 24 hours a day in unsanitary conditions (typically being removed from his cage only once each day and for not more than 15 minutes); and (c) was being used for blood extraction," according to the complaint.
Brewer has also said that Sid and other animals had been used for medical experimentation, though no details have emerged, Eggleston tells HuffPost.
"We trusted the vet. We said our goodbyes," Marian Harris told ABC News. "We had even talked about burial arrangements, and then six months later I get a call that he's still alive."
The family went to the clinic and recovered their dog. Another vet examined Sid, and concluded he'd been "abusively kenneled," resulting in various ailments -- mange and muscle atrophy among them. The new vet said it also appeared Sid had been used as a "regular blood donor" and determined the dog "definitively had no congenital spine defect," according to the Harris' complaint.
The arrest warrant didn't mention Sid. Instead, it detailed Tierce's alleged cruelty to his own dog -- a border collie police found in obvious pain with a missing foot, a dislocated leg and two dislocated shoulders. The dog was lying in a box on the floor of Camp Bowie, in what was described in the warrant as a "deplorable" environment, with animal organs in jars "throughout the clinic," as well as "stacks of drugs, trash, laundry, paperwork" and insects in exam rooms.
The border collie was euthanized after being taken away from Tierce, as were two other dogs. One of those dogs had been caged for as many as three years after the dog's owners were told their pet was put down, Tierce reportedly said in a statement to the veterinary board.
"The only criminal charges so far," says Eggleston, "have been about his own dog."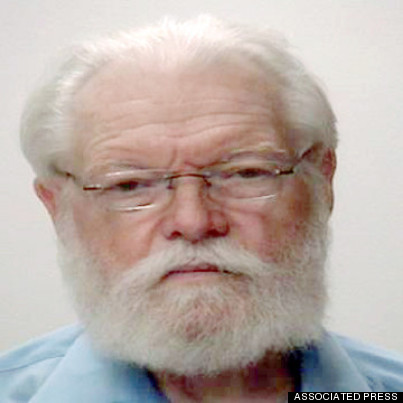 Fort Worth veterinarian Dr. Millard Tierce. Photo credit: AP Photo/Tarrant County Sheriff's Office
The Fort Worth Star Telegram reports that Tierce's attorney, in his opening statement at the veterinary board hearing last week, claimed his client had been wrongly characterized as a "vampire running a shop of horror":
He asked Tierce why he kept jars of animal organs throughout the clinic. Tierce said he kept them around in case he needed more biopsies from them, but he knew he kept them too long.

"I'm a hoarder," he said. His parents survived the Great Depression and never threw anything out, and "it's my nature," he said.

Tierce said he knew he needed to purge the clinic of clutter.

"Truth is, I don't particularly care to manage," he said. "I'd much rather do surgery and care for my patients."
"If I'm not M.L. Tierce, veterinarian, I am nothing," he reportedly said. "I'm asking for the opportunity to continue to be a veterinarian."
HuffPost couldn't reach Tierce's lawyer for further comment.
"I'm sure you are all aware of the hoarding tendencies, disorganization and overall general mess of the place... I know that even without seeing patients the staff will still have a hard time getting things in order," wrote one. "My idea to help Dr. Tierce is to volunteer to help get the place up to code and organized."
Calling all HuffPost superfans!
Sign up for membership to become a founding member and help shape HuffPost's next chapter