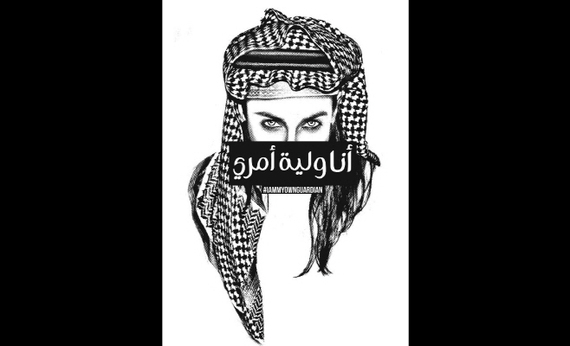 [Poster graphic calling for the end of Saudi Arabia's controversial guardianship system, which puts women under the authority of male relatives. The work of Saudi artist and activist Ms. Saffaa, which reads "I am my own guardian," is spreading through social media./ Source: Twitter.com/mssaffaa]
By AsiaToday reporter Lee Mi-hyun - "As women we must stand up for ourselves."
This was what Pakistani social media star Qandeel Baloch wrote on her Twitter just one day before getting murdered by her brother this summer.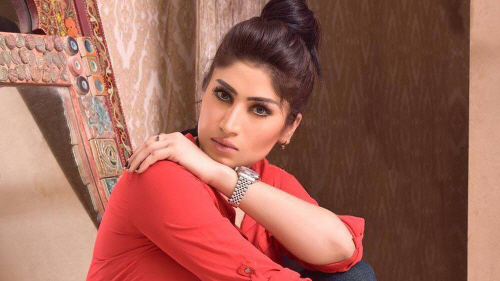 [Qandeel Baloch / Source: Facebook]
The model referred to herself as a "modern day feminist." She had risen to fame for posting raunchy photos and daring remarks, such as "I would perform a live strip tease online if Pakistan won a cricket match against rival India."
Pakistanis say that the Baloch "honor killing" case was the result of male chauvinism in Pakistan.
According to the Human Rights Commission of Pakistan, more than 1000 women have been victims of honor killings in Pakistan in the last year alone. Among the honor killing cases are a 20-year-old woman killed for making a phone call to a man in last April and a 16-year-old girl killed for helping her friend run with her lover in May.
On October 6, Pakistan's parliament passed a new law to close a loophole that allowed the perpetrators of honor killings claiming to uphold customs of Islam to go free. Islamic provisions in Pakistani law allow a victim's family to forgive the perpetrator of a crime. That provision was regularly exploited in cases of honor killing. The bill came nearly three months after the murder of Baloch.
The legislation was first introduced in 2014, and a spate of high-profile honor killings added to pressure on authorities to prosecute such cases and tighten laws. The New York Times said in its opinion column that the anti-honor killing law is "a product of a long fight by Pakistani activists and feminists and progressive lawmakers."
Baloch was well aware of the opposition she faced but she continued to post defiant tweets. Even on the eve of her death, she wrote: "I will fight for it. I will not give up. I will reach my goal & absolutely nothing will stop me." Protests among Pakistani women have been held across the country right after her death.
Women in Saudi Arabia, whose restrictions on women are internationally infamous, have started to use social media to change laws and institutions against women.
Under Saudi Arabia's unique system of male guardianship, every Saudi women must obtain permission from a male guardian, typically a father or husband, to participate in social activities concerning education, employment and more.
Currently, Saudi women are practicing feminist movement by using Internet and social media, the communication tool of Millennial generation, to fight for equal rights. The Huffington Post pointed out that Millennials tend to carry out feminist movements through social networking sites or online signature campaigns rather than giant official organizations, unlike their Baby Boomer parents.
By the end of September, nearly 15,000 women in Saudi Arabia signed an online petition demanding that the country abolish its male guardianship system. The Twitter hashtag, #IAmMyOwnGuardian, went viral.
Saudi female artist Ms. Saffaa, who first created and promoted the hashtag, praised Saudi women for their courage to continue their resistance movement while risking life and arrest.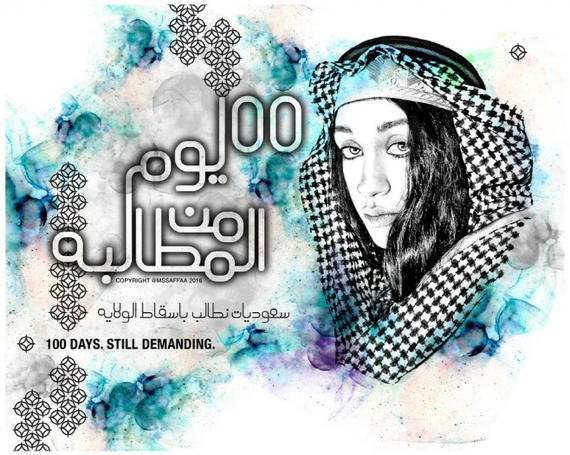 [The piece by Ms. Saffaa commemorates 100 days since the creation of the #IAmMyOwnGuardian hashtag, which protests guardianship laws in Saudi Arabia./ Photo courtesy of Ms. Saffaa]
In the meantime, Saudi Arabia is a country where women's rights are being improved rapidly in response to changing public sentiment and government policies.
More than 80% of Saudi women cast their vote, and 17 women were elected to public office in the country's first-ever elections open to female voters and candidates on Dec. 12, 2015.
Saudi Arabia's Vision 2030, led by the country's millennial crown prince Mohammed bin Salman, contains a plan to increase the employment rate of women and to expand their social advancement.
In India, which is infamous for violations of women's human rights, films are encouraging social change in the treatment of women.
In many Bollywood films, women have been portrayed as an object that has to be won or rescued by the hero.
However, some of recently released Bollywood movies not only destroy stereotypical portrayal of women and portray the reality of Indian women, but also offer a discourse on issues of feminism.
Released in September, movie Pink is creating a sensation as India's first truly feminist film. The movie tells Indian women that they are free to dress and live as they wish.
Director Aniruddha Roy Chowdhury said, "It wasn't just the crimes that made me want to do something. It was also moral policing."
Lipstick Under My Burkha, the second film from director Alankrita Shrivastava, traces the lives of four women, including a burkha-clad college girl and an oppressed housewife. The director said the movie is about ordinary Indian women, not "goddesses" or "victims" seeking liberation in patriarchal society.
In China, feminism is driven by cultural changes.
According to the New York Times, female-oriented bookstores have gained traction in China in recent years like an earlier wave of feminist bookstores that sprung up in the United States and Canada in the 1970s.
The feminist bookstores, that are located in Beijing, Shanghai and Chengdu, host discussions on defining feminism and whether women should shave their armpits.
The Chinese authorities seem to stand for gender equality, however they arrested five female activists who tried to start a campaign against sexual harassment last year. Although the activists are released now, the government will monitor and limit their activities.
The LA Times reported that a number of Chinese feminist activists - most of them social media-savvy women in their 20s - have begun to fight against sexual discrimination in China.
They've occupied men's public toilets to protest unfairly sized female restrooms and donned blood-spattered wedding dress to protest domestic violence.
Foreign media outlets also reported about Korea's feminist movements that are active in both on and offline. Quartz, an American online media, reported that activities against deep-rooted women discrimination are taking place in Korea mainly with online feminist group called Megalia.
In the meantime, female politicians in Asia have recently begun to play big roles.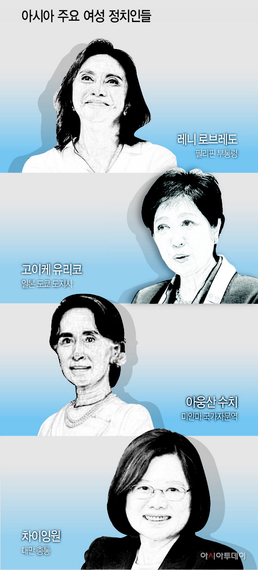 In the beginning of this year, Democratic Progressive Party chairman Tsai Ing-wen made history as the first woman to become the president of Taiwan. In March in Vietnam, senior Communist Party official Nguyen Thi Kim was elected to be the first chairwomen of the National Assembly - the country's fourth most powerful position.
In Philippines, congresswoman Leni Robredo was elected as vice-president in May, beating her rival Marcos Jr., the son and namesake of late dictator Ferdinand Marcos. In Japan, Yuriko Koike broke the glass ceiling as the first female governor of Tokyo back in August. In September, Japanese opposition party Democratic Party elected first female leader Renho Murata. During the campaign, she said, "As the first woman leader, I would like to break the glass ceiling and create a new generation of the Democratic Party by assembling everyone's power."
Support HuffPost
The Stakes Have Never Been Higher
Related
Popular in the Community