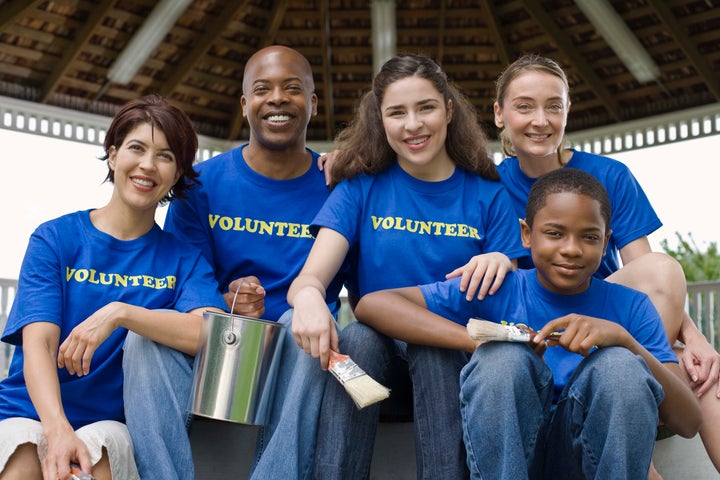 Over the past few months, more than 200 emerging leaders from around the country competed for a shot at one of 15 Millennial Impact Grants, totaling $110,000. These community-focused entrepreneurs were part of the first-ever Millennial Impact Challenge, run by IGNITEgood and supported by the Heartfelt Foundation and The Huffington Post. It was a nationwide search for the best public service projects launched and developed by innovators under the age of 33.
Five winners were be selected by a team of Generation Y expert judges--more on the selection committee here. Another five winners were chosen by public vote on The Huffington Post Impact--more than 24,000 votes were cast for the 10 Readers' Choice Award finalists. And finally, the Directors of IGNITEgood chose 5 additional recipients for the Director's Choice Award.
And now, without further ado, it's time to meet your winners.
JUDGES' CHOICE AWARD WINNERS
OPPORTUNITY: Detroit Youth Food Brigade, Amy Berkhoudt, age 26, and Noam Kimelman, age 26, Detroit, MI
Started by an 11th grade teacher who was frustrated by the lack of healthy meal options available to her students, the Detroit Youth Food Brigade cultivates the next crop of community food producers in the Motor City. Supported by local food industry experts and 10 neighborhood markets in downtown Detroit, the Brigade offers home-grown high school students 60 hours of hands-on training in business development, marketing and sustainable food production as well as a stipend of nearly $600 to help launch their seed-stage ventures and tackle pressing social challenges like food security. They are focused on instilling empathy around the food system and creating solution-based thinkers within the Detroit community.
Website: www.detroityouthfoodbrigade.com
Facebook: www.facebook.com/detroityouthfoodbrigade
EDUCATION: ScriptEd Inc., Maurya Couvares, age 28, and Elizabeth Davidson, age 28, New York, NY
Realizing that software development jobs are expected to grow by 30 percent by 2020, two former Teach for America corps members launched ScriptEd Inc., a nonprofit dedicated to preparing underserved students with the skills they need to contribute in tomorrow's workforce. ScriptEd bridges the "digital divide" by offering free after-school computer science and web development courses in low-income schools. Students learn JavaScript, HTML and CSS and are even challenged to create their own website or video game. Once students have completed the ScriptEd Foundations course, they're invited to pursue summer internships at technology-focused firms.
Website: http://scriptednyc.org
Facebook: http://www.facebook.com/scriptednyc
HEALTH & WELLNESS: Life Do Grow: Philadelphia Urban Creators, Alex Epstein, age 22, Philadelphia, PA
Inspired by post-Katrina rebuilding efforts in New Orleans, this youth-led nonprofit is championing a movement to revitalize vacant and abandoned land in north-central Philadelphia, an area which suffers from high rates of obesity, diabetes, asthma, drug-related incarcerations, violence, and unemployment. Philadelphia Urban Creators relies on social media awareness campaigns and peer-to-peer outreach to recruit young activists--as young as eight years old--who encourage civic engagement and co-create productive and innovative community spaces like urban farms and gardens.
Website: www.phillyurbancreators.org
Facebook: http://www.facebook.com/pages/Philadelphia-Urban-Creators/210097399024597?fref=ts
GREEN: El Departamento de la Comida / The Department of Food, Tara Rodriguez Besosa, age 28, San Juan, PR
El Departamento de la Comida is a growing nationwide network of locally-grown organic food producers and enthusiasts that promises fair pay to farmers and fresh selections for consumers. Puerto Rico is a country that imports more than 85 percent of it's foodstuffs, and its public health infrastructure is forced to deal with high rates of hypertension, diabetes, obesity and cancer; El Departamento de la Comida works to address these challenges by promoting alternative, pesticide-free growing methods, small business and personal health.
Website: www.eldepartamentodelacomida.com
Facebook: http://www.facebook.com/eldepartamentodelacomida
WORLD: Angaza Design: Eradicating Kerosene with Pay-As-You-Go Solar, Lesley Silverthorn Marincola, age 26. Redwood City, CA
There are 34 million East African households that are reliant on expensive and toxic kerosene fuel for energy, so Angaza offers consumers an affordable, accessible mobile-phone based payment plan for clean solar energy. The pay-as-you-go system is integrated with regional mobile money systems and cellular networks, enabling Angaza to efficiently receive energy payments and gather diagnostic data on consumer energy use. This information is then used to design marketing efforts as well as new product offerings, including a program to support local women entrepreneurs as solar vendors in East African villages.
Website: www.angazadesign.com
Facebook: https://www.facebook.com/AngazaDesign
READER'S CHOICE AWARD WINNERS
OPPORTUNITY: BOULD, Shane Gring, age 26, Denver, CO
BOULD is pioneering a tuition-based service-learning program that equips the next generation of building professionals with the experiences and tools to launch green careers,while simultaneously building affordable green homes for low-income families. BOULD is partnering with 1,500 Habitat for Humanity affiliates across the United States to transform their affordable-housing projects into green "learning laboratories." By 2015, BOULD will have trained more than 1,600 LEED-certified professionals, prepared to tackle the environmental challenges of today and tomorrow. They will also have assisted in the construction of 250 green-affordable homes that will save low-income families over $50,000 in reduced utility costs over a typical mortgage.
Website: http://www.bebould.com/
Facebook: www.facebook.com/beBOULD
EDUCATION: Educate Lanka Foundation, Manjula Dissanayake, age 30, Silver Spring, MD
Educate Lanka Foundation (Educate Lanka), founded in 2007, is a nonprofit that believes education is a fundamental human right. Educate Lanka empowers underprivileged students in Sri Lanka with education through a peer-to-peer micro-scholarship model, which features a technology platform to make giving back easier for philanthropists worldwide. It also provides community-level liaisons, who serve as mentors and monitor the progress of student participants. One hundred percent of sponsor funds are transferred directly to Educate Lanka students--the nonprofit aims to fund nearly 3,000 by 2015. Educate Lanka plans to replicate this successful model in other developing countries across the world starting next year.
Website: www.educatelanka.org
Facebook: www.facebook.com/educatelanka
HEALTH & WELLNESS: Watsi, Chase Adam, age 26, San Francisco, CA
Watsi is the first global crowdfunding platform for healthcare, enabling anyone to donate as little as $5 to directly fund medical treatments for people in need. Since its launch two months ago, Watsi has processed over 700 donations totaling more than $25,000 in life-changing medical care for 26 patients around the world. Watsi donors have fully funded treatment for a 9-year-old girl in Nepal with severe burns, an 18-year-old boy in Ethiopia with a heart defect, and a 52-year-old woman in Guatemala with cancer. Watsi's emphasis on social giving allows donors to volunteer, share stories, and track their impact online. In a world where one billion people cannot afford medical care Watsi is revolutionizing the way everyday people participate in the fight for global health.
Website: http://watsi.org/
Facebook: http://www.facebook.com/Watsi.org
GREEN: Re-Nuble, Inc., Tinia Pina, age 28, Lorton, VA
Re-Nuble is a social-impact start-up helping to turn other people's trash into community treasure. It develops organic-recycling facilities that source organic food waste from local businesses including restaurants, hotels and landscaping companies and transforms it into all-natural fertilizer and clean, renewable energy, which is then sold for local agribusiness, horticultural users, and utility companies. Re-Nuble is currently in operation in the D.C. metro area, but hopes to reach other Mid-Atlantic cities, including Baltimore and Philadelphia, within the next three years. Healthier food, fewer pollutants and cleaner communities fueled by renewable power--that's Re-Nuble's dream.
Website: www.re-nuble.com
Facebook: http://www.facebook.com/pages/Re-Nuble/198603170179370
WORLD: Semilla Nueva, Curt Bowen, age 25, Boise, ID
Semilla Nueva is a nonprofit that helps rural communities, and Guatemalan farmers in particular, increase their incomes, gain economic independence, and protect their lands with technical assistance and collaborative agronomy. Semilla Nueva breaks cycles of poverty with a farmer-to-farmer solution. They then help village and local governments form their own education programs to continue teaching the community. The nonprofit trains community leaders--called promotores--to experiment with new growing technologies, track their findings and share their results to help farmers in the region cut costs, increase yields, and earn more income. Instead of breeding dependency with more aid, Semilla Nueva leaves communities empowered and on the road to independence.
Website: www.semillanueva.org
Facebook: www.facebook.com/Semillanueva
DIRECTOR'S CHOICE AWARD WINNERS
Random Farms Kids' Theater, Anya Wallach, age 33, New York, NY
Random Farms Kids' Theater (RFKT) produces the anti-bullying musical, "The New Kid," written for children in grades 2-8. The theater company tours elementary and middle schools in New York, New Jersey and Connecticut, casting troupes of young people as actors. To date, RFKT has performed for about 20,000 students at approximately 80 schools--it's free to cast members and affordable for participating schools. This upcoming year, which marks the beginning of its fifth season, they already have another 24 performances booked at 17 schools, which will bring RFKT's anti-bullying awareness programming and theater performance training to more than 25,000 additional community members.
Website: www.randomfarms.com
Facebook: http://www.facebook.com/pages/Random-Farms-Kids-Theater/328483591809?ref=ts&fref=ts
Young Invincibles, Aaron Smith, age 30, Washington D.C.
Young Invincibles (YI) is an organization that seeks to amplify the voices of young, low-income Americans and expand opportunity for the millennial generation. YI engages in education, policy analysis, and advocacy on the issues that matter most to this demographic, focusing on education, economic opportunity and, of course, health care. With 20 million uninsured young Americans in the United States, YI developed a free mobile app to help people aged 18-34 take control of their health, wherever they may be. Through the "Your Health Care Finder" app and resources like the "Getting Covered Toolkit," YI keeps low-income youth informed about their insurance options and new legislation as well as personalizes the health care experience with GPS location services.
Website: http://younginvincibles.org/
Facebook: https://www.facebook.com/together.invincible
Charity Miles, Gene Gurkoff, age 33, New York, NY
Charity Miles is an iPhone and Android app that empowers users to earn corporate sponsorships for charity by walking, running or biking. Users simply choose the charity of their choice, from Habitat for Humanity to the United Nations World Food Programme, before hitting the pavement to raise money for their cause. GPS tracking records distance covered--bikers earn 10¢ per mile, walkers and runners each earn 25¢ per mile all up to Charity Miles' initial $1,000,000 sponsorship pool. Its community of users is encouraged to be active citizens, doing good and living better, and has grown to more than 10,000 members in only three months.
Website: http://charitymiles.org
Facebook: http://facebook.com/charitymiles
One Degree, Rey Faustino, age 30, San Francisco, CA
One Degree's mission is to connect low-income kids and families to high quality poverty-fighting resources. One Degree offers the public a Web application to help low-income people learn about local support services, share their experiences with community-focused organizations and more effectively pick the programming that best suits their needs. They also extend their programming to schools, One Degree's community hub, where trained volunteers assist underserved youth with support, guidance and a human connection.
Website: www.1deg.org
Facebook: http://facebook.com/1deg.org
Canvas Art Project, Jade Floyd, age 30, Washington, D.C.
Canvas Art Project provides free art supplies and curriculum to D.C. public school teachers for use in classroom instruction. The founder, Jade Floyd, believes that a high-quality arts education is critical for students' growth and future success. Her organization raises funds from to bring music, theater, the visual arts and supplies to students at no cost to schools or teachers, providing thousands of students with more creative educational programming in communities with limited resources.
Website:Coming Soon
Facebook: Coming Soon
IGNITEgood™ is a new initiative of the Heartfelt Foundation. We are a launch pad for emerging leaders who want to change the world through service. We help scale-up their impact, while building a movement of millennials who are dedicated to making a difference in their communities. By supporting leaders who work to engage people in service we can ignite a movement for positive change.
The Heartfelt Foundation, founded in 1979 by John-Roger, is a volunteer-driven international service organization and division of MSIA, is a nondenominational, ecumenical church.
Popular in the Community