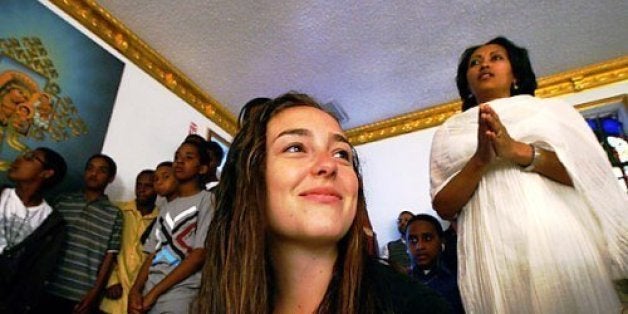 Over the weekend I attended an interfaith conference on climate change and the role of religious communities in caring for the Earth. Some of my idols were there -- leaders, teachers and activists who live the tenets of faith-based action that inspire me to do the work that I do. I felt honored to walk among them.
But as the weekend progressed and speakers took to the podium one by one, I began to feel a creeping sense of unease. Where were all the young people? Where were the millennials?
I waited hour after hour expecting a representative of my generation (defined by Pew as 18-33 year olds) would approach the stage. But the moment never came. I left at the end of it feeling grateful for the genuine interfaith fervor I had witnessed but sad for the missed opportunity to engage millennials on a topic they feel passionate about.
You may have heard: Millennials are leaving religion. Roughly one-third of us are unaffiliated with any religion -- the highest percentage of any generation, at any point, recorded by the Pew Research Center.
We're leaving for different reasons, probably in large part our fatigue with outdated social mores. But I imagine it also has something to do with our marginalization in many religious organizations.
Rachel Held Evans, a prominent Christian blogger who is 33 and says she identifies as a millennial, has written about this dilemma. In her own faith, evangelical Christianity, Held Evans says young people are leaving the church because they find it to be "too political, too exclusive, old-fashioned, unconcerned with social justice and hostile to lesbian, gay, bisexual and transgender people."
She goes further to say that "style updates" aren't going to fix the problem. We don't want church rock bands and fair-trade coffee -- because such offerings only makes us feel pandered to and not really valued for our contributions.
"What millennials really want from the church is not a change in style but a change in substance," Held Evans writes.
What is more, we want a voice in our faith communities. Held Evans offers the simple suggestion that religious leaders actually sit down with millennials and ask them what they are looking for and what they would like to offer. I could not agree more.
Despite the staggering statistics on our non-belief, I am continually awed and humbled by millennials' faith. Throughout my work with religious communities in college, my interfaith activism, my own explorations of faith and now my work as a religion writer I have had the pleasure of knowing dozens of spiritual young adults. They come from all religious and spiritual traditions, from all over the world, from diverse races and ethnicities.
We are not passive receptacles of ancient wisdom but active practitioners of faith in a world that seems to grow less certain and more hostile by the minute. We are optimistic, freedom-loving and largely liberal. We forge new networks of social connection and, although many of us avoid traditional religion, nearly 80 percent of us believe in miracles.
Including millennials in a conversation about faith-based climate activism -- and any other spiritual and social topic for that matter -- is not only logical but necessary. We make up a quarter of the U.S. population at 77 million strong, and we have come of age in post-9/11 world where religious literacy is more crucial than ever.
Not only that, but we are a generation raised on green education, recycling programs and environmental awareness. We are deeply committed to caring for the Earth -- as demonstrated by the more-than-50,000 students who turned out for the People's Climate March on Sunday.
Despite our best intentions, millennials are routinely written off by older generations as superficial, lazy and entitled. We often get blasted for our lack of civic fervor (especially when people forget that the youth vote was instrumental in electing the current president.) But these stereotypes miss the crucial ways in which we are engaged -- including our faith.
I love being a millennial. We are creative, daring, playful and intelligent. We are making the most of a deeply troubled world and finding new ways to express ourselves and spread love at every turn.
If any religious leader or conference organizer would like to invite us to the table to discuss matters of faith, ecology, politics and social justice, we would be happy to join. It would no doubt be a fruitful discussion.
Related
Popular in the Community