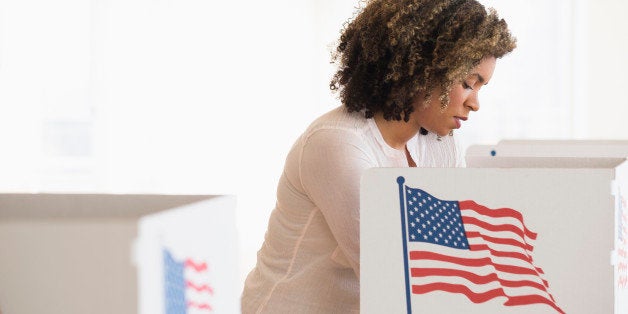 It's day 5,287 of the 2016 presidential campaign, or at least that's what it feels like. And what a long, strange trip it's been. But here we are, barreling into the home stretch and already wincing at the impact. It's easy to get disillusioned with the endless back and forth of the candidates, the bad behavior, the cheesy campaign ads, the 24/7 talking heads on cable news, and the 3 a.m. Twitter rants. Yet, if necessary, I'd deal with it all a million times over given what's at stake.
Yet with so much on the table in this election, the United States consistently suffers from historically low voter turnout. This election year, a lot of attention has been given to what's being called the Rising American Electorate, a moniker coined by the Voter Participation Center, which is made up of unmarried women, people of color, and millennials. Women make up half the population and are the majority of voters, yet young women are not exercising their full electoral might. According to research by CIRCLE, since 1972, when 18-and 19-year-olds won the right to vote, young women have been more likely than young men to vote. But overall, young people (including young women) are dropping off at the ballot box. Voter turnout in 2012 was 45 percent for people between the ages of 18-29, down from 51 percent in 2008. Those six points are a big deal!
At the American Association of University Women, we've always believed that when women vote, we change the conversation. Candidates know they need the women's vote to win, so we have a real chance of driving the discussion on the issues we care about. But that conversation is only influenced by those that actually show up at the ballot box. That's why the AAUW Action Fund has our It's My Vote: I Will Be Heard campaign. We concentrate on registering and turning out the vote, with a special focus on younger women voters. We connect via policies younger women have identified as critical, like equal pay, violence against women, student debt, and more. There's a lot on the line, and we've made some progress, but that momentum stalls with every absent vote. What's that have to do with younger women voters, you ask? Everything.
I have a friend who diligently counts down every single day till the day she finally pays off her student loans. Her target date is by the time she's 65. And she's far from alone. Student debt is a major problem for our country's students. It's (finally!) worked its way up to becoming an issue on the major party platforms. Both parties are giving it attention, with different plans to solve the student loan crisis. These decisions will impact people's futures and the future thickness of their wallet. But the way forward depends on you. Want the student loan crisis addressed? VOTE!
For many millennials, aside from the crushing weight of student debt, they also had to deal with entering the workforce during the Great Recession and seriously subpar job market. Major decisions will be made concerning the economic security of young women in the new presidential administration, Congress, and state legislatures nationwide. Elected officials could finally make moves to update our equal pay laws. By passing the Paycheck Fairness Act and the Pay Equity for All Act, officials can help to close the gender pay gap which impacts younger women's ability to pay back student loans and save for retirement. And these gaps are so much worse for young moms and women of color. Other issues like paid leave and minimum wage also greatly impact the economic security of younger workers. We've seen action, good, bad, and mediocre, on these issues in certain states and cities. Want elected officials to focus on economic and workplace policies that benefit ALL workers? Want to see the gender pay gap close in your lifetime? Want to be able to buy your own home and pay off your college loans? VOTE!
We also must talk about the pressing issue of the Supreme Court vacancy. After the sudden passing of Justice Antonin Scalia, the high court was left with an empty seat. The president nominated moderate and popular federal appeals court judge, Merrick Garland, for the position. The Senate GOP responded to the pick by opting not to hold a confirmation hearing till after the election. While that seat sits vacant, important cases languish. Cases concerning young women's access to birth control, legal immigration, transgender civil rights, and voting rights will decide the path forward (or backward) for young Americans in particular. With the Senate GOP showing no signs of changing course, the next president will be filling the current (and future) Supreme Court vacancies. Continuing the trend: to ensure a full Supreme Court that is equipped to decide cases that impact women and families, you must VOTE!
Your vote not only decides who's sitting in the Oval, gubernatorial, or city council member office. It will impact the trajectory of our country and how it influences your daily life. That old trope of every vote counting is true. It will affect how long it'll take you to pay back student loans, your access to reproductive health services, the assurance that you're receiving equal pay for equal work, and above all, that your right to vote is respected and upheld. If you don't vote, you don't have any skin in the game. You can kiss the chances of action on your issues good-bye, and your right to complain about it, too.
The only one that can hold candidates and elected officials accountable is you. Hold their feet to the fire on Election Day by voting. Hold them accountable all year long by keeping engaged and letting them know that your vote put them in office, and if they don't speak to issues impacting women, you'll help show them the door. So show up at your local polling place November 8 and bring a friend or five. Your vote is your voice. Don't be silenced.
Calling all HuffPost superfans!
Sign up for membership to become a founding member and help shape HuffPost's next chapter