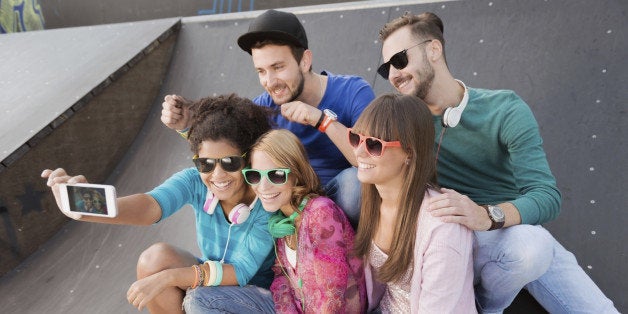 We live in a cyber-world full of texting and emojis, and we like it that way. We think that tweeting is more important than thinking. We believe that a college degree should put us in a high-paying, high-level job right out of college. We are impatient. We Instagram a lot, usually about things that don't really matter... what we're eating for brunch, our outfit, and our latest and greatest vacation photos, usually consisting of a shot of our toes in the sand with a sunset in the distance. I know what you're thinking... that millennial generation is full of themselves, and you are probably right. How will the next generation develop interpersonal skills when all we do is hide behind our phone or computer screen?
Now, while I agree the millennial culture can seem a bit extreme at times, our fun-loving attitudes and trend setting ways have led to some good in the world.
In a world driven by social media and the desire to create the next "viral video," we do funny stuff, and make sure everyone in the world has an outlet to view it.
Here are a few of my favorites:
The time when a news anchor quit her job while on the job.
The time when the Lion King Cast performed a surprise show on the subway.
We are starting to make being fit and healthy cool again.
Every day my Facebook newsfeed is full of people making positive changes to their health and exercise routines. Whether it's trying out a new workout regimen such as Cross Fit or Pure Barre, or taking the 24-day Advocare Challenge... it is inspiring to see young people creating positive change in regard to health and wellness. While many argue what the best options are for living and maintaining a healthy lifestyle, it is clear we have health and fitness top of mind.
We've proven that with drive, determination, and little bit of humor and wit anything is possible.
Thirty-year-old Instagram sensation, Josh Ostrovsky, most commonly known as, "Fat Jew," has 4.4 million followers. You can read about his story here.
Twenty eight-year-old Jenna Mourey, aka Jenna Marbles, grew famous from her YouTube video, "How to Trick People Into Thinking You're Good Looking," attracting 5.3 million views in the first week.
Claudia Oshry, most commonly known as, "Girl With No Job" on social media is a 20-something Internet celebrity with you guessed it, no job. Her crazy antics and carefree attitude proves that girls truly do just want to have fun.

We (well, they did... not me) made fashion and beauty blogging a thing.
Women and men everywhere can stay up-to-date with the latest fashion and beauty by simply scrolling through Instagram on their phone. Bloggers around the world are providing us with affordable, budget-friendly options to look and feel great. The best part about this? Their expertise is completely free to the user! It's like having your own personal beauty and fashion consultant at your fingertips... literally.
A few of my favorites are below:
We aren't afraid to tell it like it is.
Female powerhouses such as Taylor Swift, Lena Dunham, and Amy Schumer have proven that openness and honesty is the best policy. As much flack as Taylor Swift gets for writing songs about her exes, she isn't afraid to hold back on her feelings and has a 19 million dollar New York penthouse to prove it. Two of my other favorites -- Dunham and Schumer -- are fearless and funny. The two embody female empowerment, and use their platform to promote positive change.
So, what am I getting at here? Are the millennials fakin' it until we make it? Possibly... but we are not afraid to go for what we want, and that is something that should not go unnoticed.
Calling all HuffPost superfans!
Sign up for membership to become a founding member and help shape HuffPost's next chapter